PLAYBILL.COM'S THEATRE WEEK IN REVIEW, March 8-14: Rocky Opens on Broadway, Will Eno Has Two Plays in NYC and MTC Season Take Shape



Photo by Matthew Murphy
It features a score by Broadway babies Lynn Ahrens and Stephen Flaherty and a book by Thomas Meehan (author of another feel-good entertainment of the era, Annie). Alex Timbers—hithertofore Mr. Edge, with credits including the offbeat musicals Bloody Bloody Andrew Jackson, Peter and the Starcatcher and Here Lies Love—directs in what could be called his mainstream entertainment debut.

Reviews were mixed on the score and storytelling, but held back no adjective when getting to the show's final 15 minutes: that is, the fight. And, what a fight! The term "game-changer"—almost never dragged out in theatre criticism these days—was used more than once. Lead actor Andy Karl, too, was wreathed with praise.

"Something electric happens at the end of Rocky that gets theatergoers on their feet and writers scuttling for exclamation points," wrote the Post. "A boxing ring descends from the rafters, then glides into the orchestra! There's hooks, punches and blood - and a Jumbotron! And then: "Adriaaaaaaaan!" Director Alex Timbers earns his keep right there. If you could win a Tony based on just 20 minutes, Rocky would be a shoo-in. Problem is, that finale is preceded by an hour and a half of less thrilling moments."

"While the songs in this musicalization of the career-making 1976 Sylvester Stallone movie come and go without leaving much of an impression," offered the Hollywood Reporter, "the stage magic that director Alex Timbers and set designer Christopher Barreca work with the finale fight is so visceral and exhilarating that it sends the audience out on a high. Of course, having an indestructible story with underdog characters worth rooting for doesn't hurt either...The ace up the show's sleeve, however, is...talented lead Andy Karl, who sticks close enough to the Stallone model in his characterization as Rocky Balboa while at the same time injecting fresh vitality and humor into the role."

"For a show that ends with the most impressive 20-minute boxing match ever seen in a Broadway musical, Rocky lacks conflict," complained Variety. "Everyone is basically nice, even the gangsters, especially Andy Karl in a career-breakthrough performance as Rocky Balboa… in this earnest show, co-written by Stallone and Broadway veteran Thomas Meehan and directed with more conscientiousness than flair by Alex Timbers, one of the theater's most inventive forces."

The influential AP published one of the most negative notices: "The puzzling show Rocky opened Thursday at the Winter Garden Theatre, both lovingly faithful to the 1976 film written by and starring Sylvester Stallone and one that seems to forget it's supposed to be a musical midway through Act II… Which begs the question why this material screamed out to be a musical in the first place."

***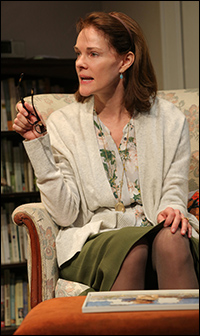 photo by Joan Marcus
It was a Will Eno kind of week. The playwright's The Open House, featuring Hannah Bos, Michael Countryman, Peter Friedman, Danny McCarthy and Carolyn McCormick, officially opened at the Signature Center March 3.
The play was described (and Will Eno plays always need a description because their nature and intention are rarely readily apparent) as such: "People have been born into families since people started getting born at all. Playwrights have been trying to write Family Plays for a long time, too. And typically these plays try to answer endlessly complicated questions of blood and duty and inheritance and responsibility. They try to answer the question, 'Can things really change?' People have been trying nobly for years and years to have plays solve in two hours what hasn't been solved in many lifetimes. This has to stop."
Uh-huh. Reviews were split the way they often are with Eno plays, between the converts and the still-unpersuaded. "If there is a theme," wrote New York magazine, "Eno does not signal it, any more than he provides exposition or explanations. His is a highly purified dramaturgy: Albee seen and raised. The Open House shares with earlier Eno works such as Thom Pain (based on nothing) and Middletown a gem cutter's interest in formal precision and symmetry rather than content."
The Daily News was less frustrated, saying, "Director Oliver Butler gets five impeccable performances from his cast, but Eno creates the delight in this story about permanence and leaving a mark." The Times, meanwhile, both liked and disliked it: "You've probably never seen a fractious family stage the uncanny disappearing act that takes place in The Open House,… By the conclusion of Mr. Eno's mordantly funny but disappointingly hollow comedy, the nuclear family onstage has been nuked into nonexistence, to be replaced, after a fashion, by a new clan that happens to look suspiciously like the old."
Meanwhile, the starry Broadway premiere of playwright Eno's The Realistic Joneses, featuring Michael C. Hall, Toni Collette, Marisa Tomei and Tracy Letts, began performances March 13 at the Lyceum Theatre.
The play is about two suburban couples who share more than a surname—and maybe a lot more.