PLAYBILL.COM'S THEATRE WEEK IN REVIEW, Nov. 16-22: Spider-Man to Fly Off Broadway and A Gentleman's Guide Opens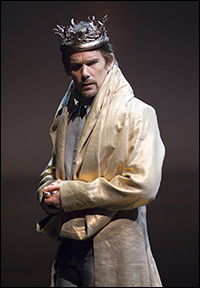 Photo by T. Charles Erickson

Some like the visual aspects of O'Brien's production — "bold visuals and eerie soundscapes, by turns cinematic and operatic," wrote The Hollywood Reporter — but most were perplexed, if intrigued, by the three gender-bending Witches, played by Byron Jennings, John Glover and Malcolm Gets and the reasons as to why they "play unusually central roles in the action," as Time Out New York put it.

A couple critics liked Hawke, but most faulted him for lacking power and charisma in his portrayal and for a vocal performance that was "occasionally mumbled or rushed." Or, as the Times put it, "he delivers Shakespeare's poetry like a moody, glue-sniffing teenager reciting Leonard Cohen lyrics to himself."

***

Up in Toronto, Disney opened its Broadway-bound Aladdin at the Mirvish Theatre.

The Toronto Star thought the show's creators still had some work to do. While praising "Casey Nicholaw's show-stopping staging of 'A Friend Like Me' and James Monroe Iglehart's blessedly bravura performance as the Genie," the paper added that, "as it now stands, nothing before or after it in Aladdin lives up to those six sublime minutes. It's not that the show is actually bad. The people involved with it are far too talented for that. But they have forgotten the one basic thing that made earlier Disney musicals a success: we cared about the fate of the leading characters."

The Globe and Mail were in agreement, praising Iglehart and designer Bob Crowley's flying carpet tricks, but complaining that the show otherwise lacked heart and magic. "Here is an action-adventure romance where the suspense and the soul has disappeared," said the review.

Aladdin's limited Toronto run goes through Jan. 5, 2014. Broadway previews will begin Feb. 26, 2014, at the New Amsterdam Theatre towards an official opening March 20, 2014.

***

The Visit lives.

The Williamstown Theatre Festival will produce the never-say-die John Kander and Fred Ebb musical as part of its 60th anniversary season.

As she did in Chicago in 2001 and later at the Signature Theatre Company in Virginia, Chita Rivera will star as Claire Zachanassian, the revenge-minded millionairess in the musical adaptation of Friedrich Durrenmatt's play.

Presented July 31-Aug. 17, 2014, the show will be staged by John Doyle.