PLAYBILL.COM'S THEATRE WEEK IN REVIEW, Oct. Nov. 2-8: After Midnight Earns Raves, Midsummer Opens at TFANA and Two Shows Announce Closings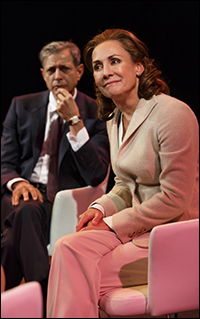 Photo by Joan Marcus

As far as the critics were concerned, the show was both a suitable ice-breaker for the new theatre and a return to form for Taymor.

The New York Times said, "this production is a happy consummation for a company that, under its founding artistic director Jeffrey Horowitz, has devoted more than three decades to conjuring epic landscapes in small spaces." The Hollywood Reporter warned that "Many of the tricks here will be familiar to those who have followed Taymor's career — the billowing fabric, the masks, the shadow play and mime, the influences of Balinese and Japanese theater traditions," but added "what stunningly descriptive visuals they are, weaving the story in bold, vivid strokes." Variety cheered, "This is a high-concept show, beautifully designed and erected on the scaffolding of a conviction that Shakespeare's play is all a dream — that all of life, in fact, is a dream."

***

Elsewhere Off-Broadway, at Lincoln Center Theater's Mitzi E. Newhouse Theater, was the world premiere of Domesticated, the first new play by Bruce Norris since he slayed the theatre world with his award-winning Clybourne Park. The drama starred Laurie Metcalf and Jeff Goldblum as a political couple embroiled in turmoil.

Critics were generally impressed, though many considered the work not as satisfying or successful as Clybourne Park. All, however, praised Goldblum and Metcalf.

"Make no mistake," said New York magazine, "This latest provocation from the author of the Pulitzer Prize-winning Clybourne Park is more than a gloss on Eliot and Silda Spitzer, the most obvious of many possible models for his Bill and Judy Pulver. Norris is in it for something much bigger than a takedown of political hypocrisy...What happens to Bill and Judy — Jeff Goldblum and Laurie Metcalf, in brilliant, unimpeachable performances — is both hilarious and awful...Certainly the director, Anna D. Shapiro, has staged the play with enormous punch."

Hollywood Reporter opined that "while not as incisive or ingeniously structured as the earlier work, this is a tart, provocative comedy of the most corrosive kind, driven by scathingly funny dialogue. Anna D. Shapiro's super-streamlined production for Lincoln Center Theater boasts a terrific cast, with a superbly matched Jeff Goldblum and Laurie Metcalf facing off as the warring husband and wife under a sticky spotlight."