PLAYBILL.COM'S THEATRE WEEK IN REVIEW, Oct. Nov. 2-8: After Midnight Earns Raves, Midsummer Opens at TFANA and Two Shows Announce Closings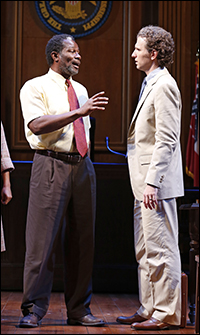 Photo by Carol Rosegg

The New York Times was less sanguine, commenting, "Mr. Norris hasn't created characters as much as antithetical positions, which in turn are stripped down to a set of inalterable physical impulses. If we tune out as they rant on and on, it isn't because we're afraid to listen to the truth; it's because they keep saying the same thing."

Newsday, meanwhile, turned in the unique observation of the day, saying, "Metcalf's Judy, a compassionate and opportunistic socialite in beige folds of silk, surely has the saddest, most expressive dimples in the theater."

***

Two Broadway shows called it a day this week.

The producers of A Time to Kill, the first Broadway play adapted from the work of legal thriller writer John Grisham, announced the drama, which left critics cold, will play its final performance at the John Golden Theatre Nov. 17.

And First Date, the new musical about, yes, a first date, said it would play its final Broadway performance Jan. 5, 2014, at the Longacre. It will have played 34 previews and 174 regular performances at the time of closing.

***

Alan Jay Lerner and Frederick Loewe's Gigi, the film musical that was later adapted for the Broadway stage, will play a pre-Broadway engagement in the Eisenhower Theater at The John F. Kennedy Center for the Performing Arts in January 2015, it was announced.

Directed by Eric Schaeffer in a re-envisioned adaptation by British playwright Heidi Thomas, the musical is aiming for a Broadway bow later that year.

Though the show won a Tony Award in 1973 for its score, the musical is still best remembered as the 1958 film starring Leslie Caron and Louis Jordan. The story — about a young girl who is being trained as a courtesan — hasn't aged well, but the warmly remembered score includes "The Night They Invented Champagne," "I Remember It Well" and that borderline creepy classic "Thank Heaven for Little Girls."

***

Terence Archie, Dakin Matthews and Danny Mastrogiorgio have been added to the cast of the Broadway premiere of Rocky, the new musical based on the famous film about a boxing underdog, which will begin previews in February 2014 at the Winter Garden Theatre.

Archie originated the role of heavyweight champ Apollo Creed in the world-premiere production of Rocky in Hamburg, Germany. He will leave the Hamburg production (where he sang in German) Nov. 24 to repeat his work on Broadway. Matthews will play Rocky's trainer, Mickey, portrayed by Burgess Meredith in the film. And Mastrogiorgio is Rocky's girlfriend Adrian's ne'er-do-well brother, Paulie.

As previously reported, Andy Karl and Margo Seibert will star as Rocky Balboa and Adrian, respectively.

Featuring a score by Lynn Ahrens and Stephen Flaherty and a book by Thomas Meehan, Rocky will be directed by Alex Timbers.