Potting Potter: Daniel Clarkson and Jefferson Turner Cast a Spell Off-Broadway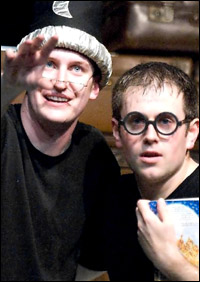 photo by Geraint Lewis
Interspersed throughout the show, which is styled in the form of British pantomime, are pop-culture references and mentions of the latest "Potter" craze. Over the course of Potted Potter, audiences have seen the character of Dumbledore sing "I Am What I Am" from La Cage aux Folles, when Rowling revealed that the Hogwarts headmaster was gay; the character of Harry exclaim that he wanted to be "naked and run with horses," when Radcliffe appeared in the West End and Broadway productions of Equus; and the team admit that they had "99 Problems, But the Snitch Ain't One," in reference to the popular rap song by Jay-Z.
Although the "Potter" series and movie adaptations have come to an end, the die-hard "Harry" fans live on. "There's a group called 'The Group That Must Not Be Named' based in New York," said Turner. "Someone [from the group] wrote a blog [online that] said, 'We make the jokes the fans would make.' It's almost like they approve of what we're doing."
Following their stint in New York, Clarkson and Turner — who still find themselves reading about Harry's adventures at Hogwarts (Clarkson's favorite book is "Harry Potter and the Order of the Phoenix"; Turner's is "Harry Potter and the Goblet of Fire") — bring their "Potter Experience" to fans across the States. One seat, they said, is always left open for the "Potter" creator, herself — Ms. Rowling.
"If she ever came to see the show," beamed Clarkson, "I think I'd just stand there with a big smile on my face, trying to get her to sign my books."
(Michael Gioia's work frequently appears in the news, feature and video sections of Playbill.com. Write to him at mgioia@playbill.com.)
Watch highlights from the show: