Red, with Alfred Molina and Eddie Redmayne, Splashes Onto Broadway



Photo by Johan Persson
The Olivier Award-nominated play, under the direction of Donmar artistic director Michael Grandage, began its U.S. debut March 11 at the Golden Theatre. Red is playing a limited 15-week engagement.

Molina (Art, Fiddler on the Roof) plays Rothko in the 90-minute play, which features Redmayne as his young assistant. Redmayne earned an Olivier Award for his performance. The two created their roles in the world premiere production in late 2009 at the Donmar in London.

Red — set in Rothko's Manhattan studio as he is creating his dark red (and black) murals for the Four Seasons restaurant in the Seagram building, in 1958 — marks the Broadway debut of playwright Logan (Never the Sinner and the films "Gladiator, The Aviator" and "Sweeney Todd").

The Rothko paintings prompted the play, screenwriter-playwright Logan told Playbill.com's Stage to Screens column.

"We filmed 'Sweeney Todd' at Pinewood, so I was in London for months on end," Logan said. "I would walk about the city, and I went to the Tate Modern where, at that point, the Rothko Seagram paintings were. I just absolutely fell in love with them, and that's what led me to write the play. When I thought about the way the colors in the paintings vibrate back and forth, I thought it would be a great two-hander because it sorta represents and mirrors his work. Once I came up with the idea of Rothko and his assistant, everything fell into place."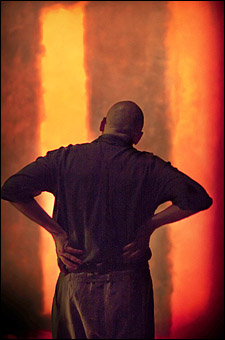 photo by Johan Persson

Logan admitted, "I'd never had any desire to write about an artist. I think that's a treacherous landscape. The danger is you either become pompous or you become superficial.

"I think biographies that try to cover an entire life are dramaturgically unsound, but to find the one instant or the one series of events in a person's life that might represent the entire life is compelling theatre. It just seemed to me the Seagram murals were so dramatic and such a landmark in his life that this was the way to explore the themes I thought were interesting, which really didn't have much to do with Mark Rothko. It had more to do with my feelings about art and theatre and mentors and fathers. Mark Rothko became the vessel for things I wanted to explore."

In 1958, New York artist Mark Rothko received the art world's largest commission to create a series of murals for The Four Seasons restaurant in the new Seagram building on Park Avenue. According to production notes, "Under the watchful gaze of his young assistant, Ken, and the threatening presence of a new generation of artists, Rothko faces his greatest challenge yet: to create a definitive work for an extraordinary setting. Red is a moving and compelling account of one of the greatest artists of the 20th century, whose struggle to accept his growing riches and praise became his ultimate undoing."

The production is designed by Christopher Oram, with lighting design by Neil Austin. Composer and sound designer is Adam Cork.

Tickets ($116.50-$25) are available through Telecharge.com by phone at (212) 239-6200 or online at Telecharge. The Golden Theatre is at 252 W. 45th Street.

Visit RedOnBroadway.com