Remembering "Mr. Broadway," Gerald Schoenfeld


*

When you enter the House of Schoenfeld in the East 70s, it's like walking on to the stage set of The Royal Family, where three generations of an acting dynasty cavorted and made clever talk among themselves from curtain down to curtain up.

You can see from the doorway a huge sunken living room, accessible by a small spiral staircase. The walls are done up in rich mahogany and dotted with photos and pottery that could be the European haul of Charles Foster Kane were they not really the work of the lady of the house. Resting between pillows on the centerpiece sofa is a puppet facsimile of the late lord of the manor, Gerald Schoenfeld — a welcome-to-the-neighborhood gift from the Avenue Q gang at the Golden Theatre when the Plymouth and the Royale next door became the Schoenfeld and the Jacobs in '05.

There is no question that Mr. Broadway lived here, although (as The New York Times noted Nov. 25, 2008, in the first line of his obituary) nobody ever called him that in his 84 years — even though he had earned (and lived!) that title for almost 35 years. Consequently, no one's squawking that Applause Books named his memoir "Mr. Broadway: the Inside Story of the Shuberts, the Shows, and the Stars."

Rebuttal? I think not. For two dozen of those years, he shared the presidency of The Shubert Organization with Bernard B. Jacobs, a fellow lawyer he had brought aboard eons earlier. Together, they ran the largest theatre-owning enterprise in the country, rescuing their Broadway houses from the encroaching sleaze of Times Square and fortifying their Main Stem hits with hits from Off-Broadway and abroad.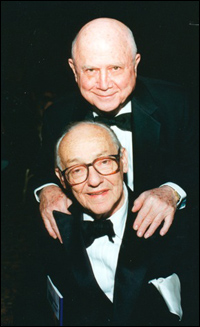 photo (c) Anita & Steve Shevett, courtesy of the Shubert Archive.)
Late in life, Schoenfeld had (or took) time to reflect on his life in the theatre and write it down, finishing his autobiography a month before his death. It lay dormant for six months of grieving. Then, the keeper-of-the-flame gene kicked in for his widow, Pat, who promptly took a hands-on, pro-active part getting the manuscript to market, overseeing its editing, accuracy, picture selections and production.
"Partly, I guess I didn't want to face it after his death, but also I really didn't know what to do with the book," she confesses. "I knew that it was in manuscript form and I knew that he'd been talking to editors about it, but I never read it while he was alive. He'd say, 'You want to read it?' And I'd say, 'Sure' — then he wouldn't leave it out for me. I'd hear him reading pieces of it, like when he'd speak to Tim Rice over the phone. I knew I'd read it eventually. I knew I'd get around to it, but he wasn't ready for me to be involved with it. He didn't want me involved in show business.
"The important thing was that he got it down on paper. People kept urging him to write it. 'Don't worry about it. Just write it. You can dot the i's and cross the t's later.' So that's exactly what he did. It's all his writing, his words, too. Anything that we edited or added is in his voice. I certainly know his voice well enough to do that.
"When I did start to read it, I realized I had to get an editor. I must have spoken to 100 people before I found Jeffrey Robinson. I read some of his books, and he was perfect. He knew nothing about theatre, but he really loved learning about it."