SECOND FLOOR OF SARDI'S: A Drink With 2012 Tony Award Nominee Kathleen Marshall



Photo by Joseph Marzullo/WENN
*

Kathleen Marshall lives in two worlds these days, one created by Cole Porter and the other by the Gershwin brothers.

Marshall's revival of the Porter perennial Anything Goes opened in April 2011 at the Stephen Sondheim Theatre, where it still plays today. Her Nice Work If You Can Get It, a new, Prohibition-era story wrapped around songs by George and Ira, meanwhile, opened this spring at the Imperial Theatre. She was nominated for Tony Awards for Best Direction of a Musical and Best Choreography for both shows.

Though all the concerned parties are long dead, Marshall is diplomatic and won't say which composer's universe she prefers. "Porter's probably a little naughtier than Ira Gershwin," is all she offered. "And Ira, though witty, is more optimistic and romantic."

Staging musical revivals — and that is Marshall's specialty, so far — means having to deal with estates. Porter and the Gershwins had no progeny, so the folks in charge of these vast musical legacies are not necessarily the people you'd expect.

"Neither George nor Ira had kids of their own, so it's done through nieces and nephews and grandnieces and grandnephews," Marshall said. "On the Ira side, there's a gentleman named Mike Strunsky. On the George side, there are several people. The main guy we deal with is Marc Gershwin," the son of Gershwin brother Arthur. With the Porter estate, "It was mostly a lawyer."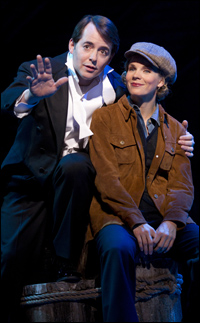 photo by Joan Marcus
Over the past year or so, Marshall has monopolized the time of two women who are arguably the greatest musical theatre actresses of their generation: Sutton Foster, the original Reno Sweeney of Anything Goes (she left the show in March, for a TV series); and Kelli O'Hara, who plays bootlegger Billie Bendix in Nice Work.
So how do they compare?
"I feel like they both can do anything," said Marshall. "When Kelli and I did The Pajama Game a few years ago, people said, 'Oh, she's an ingenue. Is she right for this?' In Nice Work If You Can Get It, she does some unexpected things, too. She dances a lot in this show. She has a lot of comedy. And people don't always expect that from Kelli. And Sutton is fearless. She'll do anything.
"What I think is similar about them," she continued, "is they are very together, real, normal people in real life, who are very easy-going and unassuming. And yet they somehow have this magic onstage. They have this wonderful, ineffable star quality that's compelling. And I think it's because they both bring a sort of honesty to what they do, and a clarity. It makes an audience connect with them and root for them."
Nice Work is Marshall's 16th Broadway show. Her first was two decades ago, when she assisted her big brother, Rob Marshall, on Kiss of the Spider Woman. She graduated to full-fledged choreographer on 1995's Swinging on a Star, and director-choreographer on 2003's Wonderful Town. Rob's been largely absent from the Broadway scene since making his mark as a film director with "Chicago," but Kathleen continues to keep the Marshall torch burning in Times Square. (Still, Rob's got a Sardi's caricature, but his sis has been kept waiting. Doesn't seem fair, somehow.)