See Jane's Run: "Glee" Star Jane Lynch Turns Fantasy Into Reality With Annie



Photo by Matt Hoyle
When it comes to the "Little Girls" in her life, Jane Lynch has swapped Cheerios for orphans. Best known as cantankerous high school cheerleading coach Sue Sylvester on FOX's "Glee," the Emmy-winning actress makes her Broadway debut as boozy and belligerent orphanage matron Miss Hannigan in Annie. She fills in for Katie Finneran (who left the hit revival to star in a new NBC sitcom) through July 14. Fully dressed with a smile backstage at the Palace Theatre, Lynch explains why, despite initial fear, she thinks she's gonna like it here.
Tell me about the first time you stepped out onto the Palace stage.
I remember thinking, "Judy Garland was up here, Liza Minnelli was up here." This theatre's been around for 100 years, and I'm so proud to be part of its history. It's loaded with ghosts, and I can't wait to meet some of them.
You earned an M.F.A. in theatre from Cornell University and you're a veteran of Chicago's Steppenwolf Theatre Company and The Second City. In 2009 you also appeared Off-Broadway in Love, Loss, and What I Wore. Was Broadway a goal?
I guess not. The idea of being on Broadway was like the idea of hosting "Saturday Night Live"—a preposterous fantasy. I never thought I would be lucky enough or good enough for Broadway. I'm surprised I've done so well because my expectations of myself are not that high. I've always lowered the bar for myself. I did not expect life to hand me such wonderful things.
Some people may be surprised to learn that you have so much previous stage experience.
I've wanted to be on TV since I was a kid, but I'm a stage person first. I've been doing plays forever. Of course, Broadway is the pinnacle, the best of the best, and I'm so glad to be in this brother/sisterhood.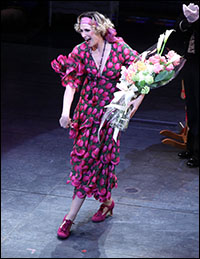 photo by Joseph Marzullo/WENN

What was the first Broadway show you ever saw?
It was Slab Boys with Sean Penn and Kevin Bacon in 1983, while I was in my last year of grad school at Cornell. When you get down to it, Broadway's just theatre like any other theatre, but you do feel the magic of Broadway. When the lights came up, I remember just looking at the actors, thinking, "Oh my God, they're so lucky."

In your memoir, "Happy Accidents," you describe your life and career as a series of happy accidents. Do you consider Annie one of them?
Yeah, I didn't set out to do this. Way in the back of my mind, I thought, "I'd love to play Miss Hannigan someday." I'd love to play Mame and Mama Rose too, but will that ever happen? Probably not. When my agent said we'd gotten the call about Annie, I started to create reasons in my mind why I couldn't do it, so I told her no. I was in a coffee shop about a week and a half later, sipping a macchiato by myself, and I went, "What is the matter with you, Jane? You're making up excuses because you're afraid." When I called my agent to tell her I'd do it, she said, "I knew you'd come around, so I never told them no; I've been working on the deal."

What were you afraid of?
That I was going to fail. That it's a huge deal and everyone would be watching. I love being the person who surprises everyone, like, "Who's that?" Now that people know who I am, they're like, "Alright, Jane Lynch, prove to me you're worth the hype."

You go into horrific detail in your memoir about how miserable you were after moving to New York City briefly during the '80s. Are you more excited about being in NYC this time around?
Oh, yes. The difference between now and 1984, when I first lived here, is that now I'm staying in a very nice hotel, people drive me places, I get good dinner reservations… People smile at me on the street now, as opposed to how mean the city felt in 1984.