Seth Numrich Trades War Horse's Country Lad for Big-City's Golden Boy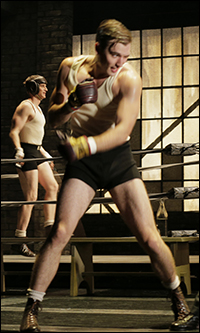 Photo by Paul Kolnik
While boxing was Odets' metaphor for Hollywood — the potential for fame and monetary success — Numrich says he could easily relate to the life of a musician. "There's no job security but you do it because you have a passion for it, like being a stage actor," he says, pointing out that he's had one Off-Broadway role since War Horse ("it paid less than unemployment") and has no role lined up after this show ends its run, which is both "exciting and scary."
Of course, so far Numrich has led a more charmed life than Joe Bonaparte. He grew up in the Twin Cities, where his father worked in theatre, and where by age 12, Numrich was acting at the Guthrie Theater alongside Laila Robins in David Esbjornson's production of Tennessee Williams' Summer and Smoke. "That's when I realized it was possible for me to be a professional actor," he says.
Numrich was home-schooled and graduated high school at 15; on a whim he traveled to Chicago for Juilliard's regional tryouts, figuring it would be a valuable lesson and he'd come back the next year. "I had less invested than most people so I wasn't terribly nervous," he says. "That's what fooled them."
He became the youngest Juilliard drama student ever, which was "scary" at first — "I felt an obligation to prove they hadn't made a mistake," he says, adding that initially "I took myself too seriously."
His first big breaks came back-to-back, and in perfect sequence. After he was cast in War Horse, he had six months to get nervous about starring on Broadway. Then he landed a supporting role as Lorenzo in the Broadway production of The Merchant of Venice. "It was great because I wasn't terribly responsible for how good it was," he says, adding that it was "inspiring" watching the whole ensemble, but especially Al Pacino. "He was constantly exploring the role to keep things fresh. He'd even call occasional rehearsals to work on a particular moment."
Now Numrich is establishing his credentials as a leading man, thanks to what Sher calls his "his courage and his piercing intelligence — he takes different strands and connects them together."
But Numrich isn't thinking of Joe Bonaparte as a star turn. Instead he admires the approach of Odets and the Group Theatre, working together to create new works. "I want to live up to the work of the play when it was first performed," he says, praising Sher's approach. "Our work in the rehearsal room feels reflective of the Group. Bart really gives us time to grapple with the big ideas of the play and do it as an ensemble."
(This feature appears in the December 2012 issue of Playbill magazine.)