Shlomo Carlebach's Daughter Brings Her Father's Music to Broadway in Soul Doctor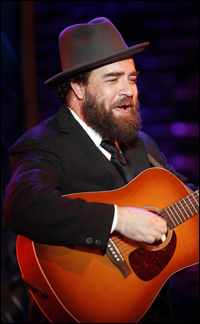 Photo by Carol Rosegg
Thirty days after his death, after the traditional period of Jewish mourning, she physically took over a year of shows he had booked; 20 years later, she's still at it. "His agent asked if I would, and I didn't hesitate, because I was terrified that the world would forget him.
"It took me a while to stop crying. It was one massive funeral. People would say, 'He was my best friend,' and I'd ask, 'How long did you know him?' 'I met him once.' He had a way of looking in your eyes and validating whatever your wishes were. When he looked at you or embraced you, you felt it was possible—and beautiful inside.
"He said, 'Singing is like praying twice,' meaning there are two things that happen: One is that you actually express a prayer, and the other is that the melody is its own prayer and that... elevates whatever you're saying because you're actually feeling more through the music. My father was the master of that. People on the outside may not know who he was—but, in our world, my father was Elvis."
Neshama Carlebach is not the only one keeping her parent's flame alive. Lisa Celeste Stroud—Nina Simone's daughter, billed simply as Simone—is also offering technical advice. Simone, interestingly, made her stage debut in a national tour of Jesus Christ Superstar, playing a character named Soul Sister.