Singing the Praises of Arranger Hugh Martin, Who Gave Blondes a Special Musical Curl


*
One of the joys of bringing to life the delightful score of Gentlemen Prefer Blondes, music by Jule Styne and lyrics by Leo Robin, is getting to hear the imaginative vocal arrangements of the incomparable Hugh Martin. Martin, who passed away just last year at the age of 96, had a long and eventful career as a composer and an arranger both on Broadway and in Hollywood. In the 1930s and 1940s he changed the sound of Broadway shows by introducing the tight jazz harmonies that were being used by popular vocal groups heard on the radio. In doing so, he energized the theatre and helped lead musicals forward into a new era.
Hugh Martin is probably best remembered for composing some timeless songs for the 1944 M-G-M musical, "Meet Me In St. Louis." "The Trolley Song," "The Boy Next Door" and "Have Yourself a Merry Little Christmas" brought him much acclaim and also helped forge his long friendship and musical partnership with Judy Garland. Martin, with various collaborators including Ralph Blane, also composed five Broadway musicals, including Best Foot Forward (1941), High Spirits (1964), and the stage adaptation of Meet Me In St. Louis (1989).
As a vocal arranger, he worked on more than 20 Broadway shows, arranging the music of Richard Rodgers, Vernon Duke, Harold Arlen, Cole Porter, and others, including Jule Styne, who provided the tuneful score for Gentlemen Prefer Blondes.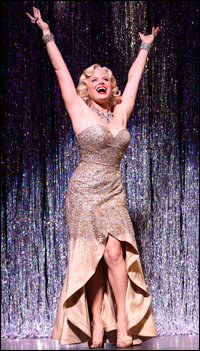 photo by Joan Marcus

Born in Alabama in 1914, Martin started the piano at an early age and came to New York as a young man in the 1930s. He soon met one of his earliest influences, the singer and arranger Kay Thompson (who also earned fame later in life as the author of the "Eloise" books). Thompson hired Martin as an accompanist and later as a singer. In his 2010 memoir, "Hugh Martin: The Boy Next Door," Martin writes, "When I tell interviewers that 99 percent of what I know about vocal arranging I learned from Kay, I am not whistling Dixie." If one listens to both of their work, it's clear that Martin absorbed Thompson's inventive playfulness and wit as an arranger.

In fact, Martin's first job as a vocal arranger on Broadway was thanks to Thompson. In 1937's Hooray for What!, Martin was a singer and Thompson, who was the arranger, gave him her blessing to arrange one song, a male quartet. This experience emboldened him to write a letter to one of his idols, Richard Rodgers. Martin quotes his own letter in his memoir:

"It is precisely because your songs are so great that I dare to ask this question: why do I never hear anything resembling a vocal arrangement when I go to see a Broadway musical? … When I go to the movies, I hear all sorts of inventive treatments that seen to me to enhance the quality of the songs …. I find that I enjoy the surprises that musical movies give me when they elaborate on the simple verse and two chorus routines…"

This was a pretty gutsy letter for a 24-year-old to write to one of the masters of Broadway. But it shows that Martin was interested in bringing the modern sound of Hollywood and what he was hearing on the radio to the stages of Broadway. In the 1930s, the sound of Broadway was still largely rooted in the European operetta tradition, and even the lighter scores of Rodgers and Hart or Cole Porter often employed utilitarian and straightforward choral arrange¬ments. There weren't a lot of musical "surprises", as Martin said in his letter.