Something to Shout About: Comedian Lewis Black Is Back On Broadway


*

When Lewis Black made his Broadway debut eight years ago, it was not the experience he had dreamed of having decades earlier. Back then he was a playwright, and pictured one of his plays making it to the Great White Way.

Instead, he was at the Brooks Atkinson for a single night to tape an HBO special, delivering his familiar angry, comic commentary about the state of America.

He had not aimed on doing stand-up for a living. He certainly did not plan on being a political commentator — and while that is how his viewers on "The Daily Show" surely see him, he still doesn't consider himself one.

"Politics doesn't interest me as much as how politicians undermine the quality of our lives," he says in a deep rasp punctuated by chewing gum. Besides, "I don't just go after Romney and Obama. My anger is equally towards Facebook and the weather."

Now Black is headed back on Broadway, presenting his stand-up show Running On Empty at the Richard Rodgers from Oct. 9-14, not coincidentally a few weeks before the U.S. presidential election. He's also set to board Playbill's Broadway on the High Seas cruise in December.

His play One Slight Hitch, starring Mark-Linn Baker, will also be running in October, at the George Street Playhouse in New Brunswick, NJ, a one-hour train trip away. "It's a farcical romantic comedy: An ex-boyfriend shows up the day of a former girlfriend's wedding," Black says. "I first started writing it 30 years ago."

Talk to him in his longtime hangout, the West Bank Café on 42nd Street, and it becomes clear which of the shows has him more excited.

"For a comic, Broadway's another room," he says. "The fact that it's two blocks from my house is what excites me."

There was a time when Broadway held him in awe. His father began taking him to Broadway shows nearly every month from the age of 11.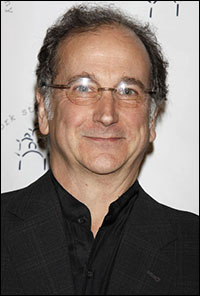 photo by Joseph Marzullo/WENN
Black wrote his first play as a junior in college. After college, he bought a theatre in Colorado with some friends, an experience that lasted far longer than you would think, given that the local authorities refused to permit them to perform in it. He then spent three years studying playwriting at the Yale School of Drama — and worked for the next 20 years as a professional playwright. He estimates he has written 40 plays in all, although they have earned him less money, he says, than he would have earned "if I'd been a migrant worker.
"In the back of your mind, you think if you work regionally and survive — like a baseball player in the minor leagues — you work your way up to Broadway."
That is not what happened. "I tempered my dreams. I was happy if I could get something put on in Pennsylvania, or Delaware. Then it was, 'Well, I'll be happy if people do it downstairs.'"
By downstairs, he means the performance space below the West Bank, now called the Laurie Beechman Theatre, where he was the co-manager and playwright-in-residence for years.
His patter while introducing other people's shows there attracted the attention of the now-defunct comedy club Catch A Rising Star, which invited him to do stand-up, first at their club and then on the road, where he's been ever since. He had been doing stand-up for a while before that, but as a hobby. "I started to see how I could fit into the world of professional stand-up comics. And I was getting income, which was fascinating."