STAGE TO SCREENS: "30 Rock" Director-Producer Don Scardino, Plus a Peek at Fall TV



Photo by Aubrey Reuben
*

Episodes of "30 Rock," NBC's hit sitcom, which was created by and stars Tina Fey, are often enhanced by New York stage actors' guest turns. Discussing this event of turns, among other topics, is a co-producer and frequent director of the show, Don Scardino.

The former actor spent 25 years on the boards and opposite side of the camera. On Broadway, he's played a few good roles and directed Aaron Sorkin's A Few Good Men, the 1989 Broadway drama that preceded a Kennedy Center break-in engagement with a tryout at the University of Virginia.

Recalls Scardino, "Tina Fey was in the theatre department, and became part of our props' crew." Since graduated — via Second City and "Saturday Night Live" — to actress-writer-executive producer, Fey's present "props" include five Emmys, four WGA Awards, two SAG Awards, and two Golden Globes.

"Tina and her husband, [composer-producer-actor] Jeff Richmond, are huge theatre fans," he reveals. "Since the series is shot in New York, they thought: Why not get the best actors around?"

To date, the Fey creation has won a total of ten Emmys, including back-to-back honors as Outstanding Comedy Series for its first two seasons, and seems ripe to reap a "Rock"-slide of Emmy nominations for its recently wrapped Season Three. It's also received five Golden Globes, five SAG Awards, three WGA Awards, and a Peabody.

Not only are a lot of guests stage-oriented, but also two "Rock" regulars have theatre backgrounds: Jane Krakowski, a two-time Tony nominee (Grand Hotel, Nine) who won in 2003 for memorably accepting "A Call from the Vatican," and Alec Baldwin, a 1992 Tony nominee, as Stanley Kowalski, for A Streetcar Named Desire.

"Alec [also a co-producer], who's great fun, puts in his two cents about casting," adds Scardino. "Alec loves theatre, and sees everything. Tina, Alec, and I — cover a wide swath of theatre."

Some guests — like Marylouise Burke, Elizabeth Marvel, John Cunningham, and Jackie Hoffman — are known mainly to the theatre community, while others more readily recognized include Nathan Lane, Alan Alda, Patti LuPone, and Elaine Stritch, who won an Emmy the first season, and was a nominee the second, for playing Baldwin's feisty mother.

"I've known her for years," states Scardino. "There's no one like her. She can be spiky, but she's phenomenal! Her choices are completely singular. She's a singular Stritch-sation. The key to making Elaine comfortable was bringing her in for the table read [of a script]. Normally, guest stars are not part of that. To Elaine, it was like the read-through of a play.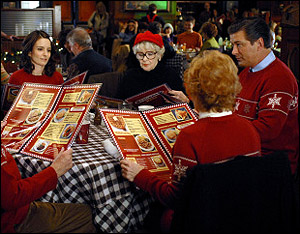 photo by Nicole Rivelli

"She got the whole thing — and, when she gets it, it's like a force of nature. You stand back, and let it happen. I wish I could take credit for her performances," he admits. "What I can take credit for is making her comfortable, so she could be Elaine."

Does he find a difference in directing stage actors? "Absolutely! They come in knowing their lines. On Alan Alda's first day, he had some of his biggest scenes. He had every word down perfectly. Alan was grateful for, and ready to accept, any direction. He's a thorough professional."

With non-professional guests, Scardino claims, "It's about putting them at ease. When we had Al Gore, he knew his lines and was ready to work. I stood by the camera, and tried to relieve any tension about being on the set. I'd say, 'Let's do it again, let's do it this way.' By the end, he was coming up with his own ideas for bits."

Exteriors are shot mostly in Manhattan's Rockefeller Plaza; interiors, at Queens' Silvercup Studios, a former bread factory. "I grew up in Queens," explains Scardino, "and, on Sunday evenings, my parents would drive my brother and me past the factory. We could smell the week's supply of bread baking. I always connected the 59th Street Bridge with that scent." He laughs. "Who woulda thunk, years later, I'd be there, directing and producing a hit TV show?"

Many believe that former actors make the best directors. Does Scardino?

"Yes, because I am one." He laughs. "I can speak to actors in their terms. Knowing I was an actor, they relax. You can have the best shot in the world — but, at the center of it, you still need a good performance.

"Directors can manipulate actors, but I have total faith in them." Scardino's low-key, easygoing temperament allows him to overlook occasional outbursts. "Having been an actor, I take that with a great grain of salt. As an actor, I was a pain in the butt.

"We ask actors to come to work ready to open a vein, to be emotionally thin-skinned. If someone screams, 'What about my coffee?' — it's not about the coffee; it's because they're working in an emotional state. It ain't easy being an actor."

Do actors and directors read scripts differently? "Yes. An actor reads from the subjective perspective; a director, from the objective."

Scardino rarely relies on others' opinions of actors.

"When I directed Lesley Ann Warren in [a 1990 video of Tennessee Williams'] '27 Wagons Full of Cotton,' I was warned, 'You don't want her. She asks so many questions.' I said, 'That's the kind of actor I want.' She was phenomenal! It's the same with Vincent D'Onofrio," the star of "Law & Order: Criminal Intent," with whom Scardino's often worked.

Of course, there are times when not all goes smoothly. He shares stories of two stars of defunct series with whom he had to negotiate. At a frazzled publicist's request, he persuaded one to approve some photographs that she had refused to okay; and he had to dissuade another from coming on set complete with her make-up man, cosmetics' cart, and a full-length mirror.

Edmund Kean, Edmund Gwenn, and actors not named Edmund have been credited with the quote, "Dying is easy; comedy is hard." Is comedy harder to direct? "Actually, it is. What may be funny to me may not be funny to you.

"It's pretty easy in theatre. The comedy's either physical or verbal, and you're looking at the whole frame at once. But TV executives want close-ups," he points out. "I keep telling them to look at Preston Sturges' movies. He'll do a whole scene without a cut in it, and it's a riot."

Writer-director Sturges' 1940s screwball comedies include "The Lady Eve," "Sullivan's Travels," and "The Miracle of Morgan's Creek." Continues Scardino, "He has everybody interacting with everybody else — and it's funnier than cutting to a close-up for a joke.

"On '30 Rock,' there's no audience. When we rehearse, I rely on the crew, which is like family. I also have some of the best comic minds around: Tina's brilliant, Alec's so funny, and Robert Carlock, the head-writer with Tina, has a very demented, funny mind."

Each "30 Rock" requires "four days to prep and five days to shoot. We usually work from 7 AM to 8 PM." When he works as a producer only, Scardino discloses, "Basically, that means that I prep the director of the next episode. I go over the script with him, sit in on casting sessions, walk the stages, talk about how we shoot [on] them: 'This wall moves, this one doesn't.' 'You've got a great angle here.' During the shoot, I'm there to support him."

How does directing differ between stage and film? "The connection in theatre between the writer, via the actor, and the viewer is greater. Movie making is like a giant jigsaw puzzle. You can cut and paste. There are so many tricks. You can blow menthol into an actor's eyes and make them tear up. Theatre is a purer art form."

Donald Joseph Scardino's parents were musicians: bassist-band leader Charles and jazz pianist Dorothy Denny. "My father always said, 'Do what you love, don't do anything just for money.' Sometimes, they didn't have two nickels to rub together, but my brother and I never went barefoot."

Five-year-old Don saw baby sitter Judy in Kismet, at New Jersey's Paper Mill Playhouse. "I thought: It's Judy; it could be me." He besieged his parents: "I want to be a Mouseketeer. I want to be in The Sound of Music."

Growing up, he watched a lot of movies on TV. "I admired [James] Cagney and Mickey Rooney. I watched Shakespearean films. I thought Laurence Olivier was God!" He laughs when I interject, "Olivier probably thought so, too."

As an adolescent, Scardino learned that aspiring actors need photographs. He saved money, had pictures taken, got an agents' list from Actors' Equity, and left head shots on their doorsteps. "I had my Equity card by age 14."

Soap operas, he believes, "are a great training ground." He appeared as a regular on "Guiding Light," "Love Is a Many-Splendored Thing," "As the World Turns," "Ryan's Hope," "All My Children," and "Another World," receiving a Daytime Emmy nomination for the last.

At 16, Scardino had the opportunity to become one of the Monkees, but his "Guiding Light" contract prevented him from accepting the offer. "The Beatles were my idols, and the Monkees were going to be the 'American Beatles.' I was devastated, especially when their TV series and records became so popular. But it all turned out for the best. I wouldn't want to be known today as 'a former Monkee.'

"Actors have always inspired me," he confides. "They keep the theatre alive. If theatres were to crumble down around them — and all the money was gone — actors would stand on street corners, doing Shakespeare and Chekhov and Ibsen and Mamet. Theatre would live on in the actors."

He fondly remembers working with — and learning from — Al Pacino and James Earl Jones in The Peace Creeps, Off-Broadway in 1966. "Al never stopped working, never took breaks in rehearsals. I realized: That's the kind of dedication you need. Onstage, James Earl Jones would nail you with his eyes. He taught me Cagney's lesson on acting: 'Place your feet on the ground, look the other guy in the eye — and tell the truth.'

"During Johnny No-Trump, Pat Hingle gave me two pieces of advice: 'Don't fool around during the curtain call,' and 'Never worry about your billing.' He said, 'If you're good, people will know who you are.' He was amazing! No pretense — a regular guy, and a great actor."

That play cast Scardino as James Broderick's son, and in his next, My Daughter, Your Son, Robert Alda played his father. When the older actors' real-life sons, Matthew Broderick and Alan Alda, were "30 Rock" guest stars, Scardino informed them that he was their "brother."

What does he consider highlights of his years onstage?

"Making my Broadway debut, on short notice, in The Playroom. I was 16, understudying Richard Thomas, Peter Kastner, and Alan Howard — who was 12, and playing a character with a French accent.

"Producers said that, when we opened, they'd get a 12-year-old to cover for him. I concentrated on the two other parts. Then I had to go on as the French kid — not knowing one word, nor having an accent. The stage manager drilled me all day. I went on, and didn't miss a word. I played three performances."

Peter Ustinov's The Unknown Soldier and His Wife: "It was wonderful having Ustinov attend rehearsals. He was a fantastic storyteller! And it was great working with Christopher Walken. He and I attended High School of Performing Arts together. Chris used to be named Ronnie Walken — and, at one time, he and his two brothers were known as 'The Dancin' Walkens.'

"Playing in The Comedy of Errors, opposite Blair Brown. Michael Tucker played my servant. Danny DeVito had four lines, Ted Danson had none. A divine time was working with Mary Beth Hurt in Secret Service and Boy Meets Girl [performed in repertory]. I think she's one of the finest, most inventive actors in this country."

Park was "notable," he reminisces, "because I got to work with the late Joan Hackett [1934-83], a generous, extraordinary actress. And, every night, I sat at Julie Wilson's feet, as she sang an incredible song. That was worth the whole experience; she vibrated with emotion. It was a real lesson.

"Though I loved Jungle of the Cities, which I did with a brilliant actor named Seth Allen [1940-86], and How I Got That Story — nothing can approach Godspell. That reached people's hearts. It was astonishing to play Jesus. I did it over a thousand times [including on Broadway].

"Originally, I replaced Victor Garber in Toronto [when Garber left to make the 1972 movie version]. It was an unbelievable company, including Martin Short, Gilda Radner, Andrea Martin, and Eugene Levy.

"There are so many memories. People sent me letters about how Godspell had restored their faith. Once, a nun kissed me, because she 'didn't know Jesus was so cute.' Another time, a woman called me 'blasphemous,' and hit me with her Bible." In 1988, he directed the Stephen Schwartz musical at Manhattan's Lamb's Club.

TV appearances include "Purlie" and "The People Next Door," and among his films are "Cruising" and "Homer." The latter, for which Scardino also composed music, lists him on IMDb.com as "Chelo Scardino." He clarifies, "Chelo was a nickname for my first wife, [actress] Connie Scott, who's also in the picture. I've tried to get the data base to change that, but without success."