STAGE TO SCREENS: Cuba Gooding Jr. and Vanessa Williams, Taking a Trip to Bountiful



Photo by Joseph Marzullo/WENN
*

The second-generation co-stars who are escorting Cicely Tyson back to Broadway after a 30-year absence in Horton Foote's play, The Trip to Bountiful, at Broadway's Stephen Sondheim Theatre are a handsome pair out of television and film.

In the role of her manipulative, controlling daughter-in-law — played by Oscar winner Jo Van Fleet on Broadway and by Tony winner Carlin Glynn on film — is Vanessa Williams, who became, in 1984, the first African-American to be crowned Miss America. Pursuing a career in entertainment with more success than any other Miss America winner, she has earned multiple Grammy, Emmy and Tony nominations. Maybe you saw her in Sondheim on Sondheim or Into the Woods on Broadway, or on TV's "Ugly Betty" or "666 Park Avenue."

Making his theatre debut at age 45 as Miss Tyson's son is Cuba Gooding Jr., whose acting career has been centrally located in cinema since he arrived on the scene in John Singleton's 1991 critically acclaimed inner-city crime drama, "Boyz n the Hood."

His breakout role came five years later in Tom Cruise's "Jerry Maguire," playing a hot-shot football star on the brink of a career-ending injury. Desperately hocking sports-agent Cruise for the big bucks, he created the national catch phrase of 1996 — "Show me the money!" — and became that year's Oscar-winning Best Supporting Actor.

Their roles require indifference toward Miss Tyson's character, driving her seventysomething matron from their crowded Houston apartment into a long cross-country road trip to the childhood homestead in Bountiful, TX.

The couple accompanied Miss Tyson — along with fellow players Condola Rashad and Tom Wopat — to a press meet 'n' greet at Sardi's recently. We grabbed a few minutes with them.

Y'know, you'd been on Broadway a lot sooner if you hadn't kept saying, "Show me the money!" all the time.
Cub Gooding Jr.: I'd have been here a lot sooner if I didn't have kids. That was my one promise to my wife. I said, "I won't go indulge in Broadway," because it is an indulgence for me.

How old are your kids now?
CG: Eighteen and sixteen. The little girl is seven, but she'll come and hang out.

Have you been looking for a Broadway role?
CG: Well, not specific to Broadway — even though Broadway was the gold standard and that was what I wanted to get to, but I was looking to do theatre. I was offered something on the West End in London and went down that road, and then it fell through because of dates. And then this came up.

I would love to know what that was.
CG: I don't know if it's etiquette to say. We were going to originate an all-black production of Streetcar on the West End, and we still are talking about doing it, but this came up, and this will be my debut on Broadway.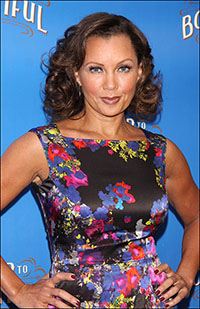 photo by Joseph Marzullo/WENN
Is that Streetcar related to the one that was just on Broadway?
CG: Some of the producers are.
(Williams joins the interview-in-progress after finishing some TV chats. She turns to Gooding.)
Vanessa Williams: What have you said? I hope I have a voice by the end of this interview. I'm already hoarse. It's way too loud on the [press] line.
CG: Oh, so you were yelling.
VW: Yeah, yeah. You gotta take care of your voice now. Eight shows a week.
Do you get to show some of your "Ugly Betty-ness" in this role?
CG: (Coming to the actress' defense, implying she has put her nasty Wilhelmina Slater character on the series out to pasture.) I think she's endearing in this part. You'll root for her. Her feminine wiles are working. She's a little manipulative, but she's beautiful.
VW: Wilhelmina — that was her job. This is another interesting, spunky, fiery, frustrated gal who loves her man and would like her life back — without in-laws for the past 15 years.
Do you like that character?
VW: I'm definitely inhabiting her. I have to like my characters — as devilish and as flawed as they are — absolutely! And the more we get into it, the better it is. The lucky thing is that we're working with [director] Michael Wilson, who knew Horton for 20 years. We're working with Hallie Foote, who's Horton's daughter.
CG: And they're there every day.
VW: They're there every day, and they share stories with us. We'll ask something, and they'll tell us what reference was what — what this town was like — so it's not just like we're doing a revival. They're taking some of the dialogue from the teleplay, some from the screenplay, some from the original Broadway show and getting a chance to say, "That didn't work. Let's try this." It's really nice to have that kind of adaptation for our new production.