STAGE TO SCREENS: Gallagher, Abraham, Phillips, Phelan, Evigan and Bucchino



Photo by FOX/Michael Levine
*

Peter Gallagher co-stars with Oscar winners Morgan Freeman and Frances McDormand in Clifford Odets' 1950 drama The Country Girl, playing Bernie Dodd, the director of a play-within-the-play. Dodd hires Frank Elgin (Freeman) for a leading role that could be a comeback for the actor, following the alcohol dependency that eclipsed his career. McDormand portrays Elgin's beleaguered wife, Georgie.

Gallaher previously worked with Mike Nichols, who's directing the revival, in The Real Thing, 1984's Tony-winning Best Play. Says Gallagher, "Creatively, it was one of the best experiences I've ever had." When Nichols telephoned to offer him the role of Dodd, Gallagher said, "'Mike, I can't imagine not doing it, but I should at least read the play. May I talk to you tomorrow?' The next day, I accepted.

"We're having a good time. Clifford Odets, who directed the original production, was an actor first, so instead of having one great part in the play, there are many. We have a wonderful supporting cast — Chip Zien, Remy Auberjonois, Anna Camp, Joe Roland, and Lucas Caleb Rooney. I've worked with Frances before, and I'm a huge fan of Morgan's. He's teaching me tap combinations [during rehearsal breaks]." (Freeman made his Broadway debut as Rudolph, the Harmonia Gardens' head waiter, in the 1967 Pearl Bailey edition of Hello, Dolly!)

There's a feeling of déjà vu in Gallagher's current entrance. "I enter down[stage] left, with a cigarette — exactly the same way I entered, with a cigarette, 30 years ago, in Grease [as a replacement Danny Zuko]. It was the Royale then [now it's the Bernard B. Jacobs Theatre], and the head carpenter was just starting out."

His first day at the theatre, actor and carpenter were surprised to see each other. "I said, 'Mike?' He said, 'Pete?' There's also an electrician from A Doll's Life [in which Gallagher appeared], and another fellow from Guys and Dolls [starring Gallagher as Sky Masterson]. It's funny: Some of the other guys look older, but I haven't changed. We have a lot of laughs about having survived this long."

During his survivor time, Gallagher's appeared in several movies, including "Sex, Lies, and Videotape," "While You Were Sleeping," "The Hudsucker Proxy," and "American Beauty." He also starred in two TV series: the short-lived "The Secret Life of Men" (1998) and "The O.C." (92 episodes, 2003-07). His character, Sandy Cohen, was chosen Number 25 in a 2004 TV Guide list of the "50 Greatest TV Dads."

Other television appearances include "Long Day's Journey into Night" (1987, with Jack Lemmon and Kevin Spacey), and three 1988 productions: as the lead character in Clifford Odets' "The Big Knife," playing Leo Frank in "The Murder of Mary Phagan" (also with Lemmon), and "The Caine Mutiny Court-Martial" (directed by Robert Altman).

A native New Yorker, Gallagher and wife Paula Harwood celebrate their 25th anniversary in May. They have a son, Jamey ("who turns 18 opening night," Apr. 27), and daughter, Kathryn ("who's 14, and is currently playing Tracy Turnblad in her school's production of Hairspray; she's pretty wonderful"). Jamey, who starts at Northwestern in the fall, "wants to be a director. Mike [Nichols] invited him to sit in on a couple of auditions."

In a 2000 L.A. benefit performance of Edward Albee's Who's Afraid of Virginia Woolf, Gallagher (as Nick) played opposite Uta Hagen (the original Martha, then 80), who had won her second Tony Award for the 1962 original. Also starring were Jonathan Pryce (George) and Mia Farrow (Honey). "We rehearsed for three weeks," recalls Gallagher. "I had the time of my life." (The film version of Albee's play, which won Elizabeth Taylor a second Oscar, was the first movie directed by Mike Nichols.)

Hagen once told me that, although she won a Tony for The Country Girl, she was never happy with the play. "They couldn't get the third act right." She co-starred with Tony winner Paul Kelly (Command Decision) as Elgin, and Steven Hill as Dodd. (The movie version starred an Oscar-winning Grace Kelly, Bing Crosby, and William Holden.)

Although Grease is cited as his Broadway debut, Gallagher had earlier appeared in the 1977 revival of Hair. During Hair's 79 preview performances, Gallagher was offered the part of Danny Zuko in a bus-and-truck production of Grease. "I had no agent at the time," he admits. "I left to do that, and after six months, I joined the Broadway company."

Does Gallagher have a dream role? "Sky was a dream role. So was Edmund in Long Day's Journey [the 1986 revival]. I'd like to think that there's a role being written that I could play. I feel connected to the theatre; I love it very much — and I find it very exciting discovering The Country Girl."

*

Academy Award winner F. Murray Abraham (Best Actor of 1984, "Amadeus") stars in the Atlantic Theater Company's production of Ethan Coen's Almost an Evening, a trio of plays, that has transferred from the Atlantic Stage 2 to a commercial run at The Theatres at 45 Bleecker Street. Abraham's in the second two plays (Four Benches and Debate). Of the latter, New York Times critic Ben Brantley wrote that it allowed Abraham "to chomp on a role he was born for: a raging, foul-mouthed Jehovah..."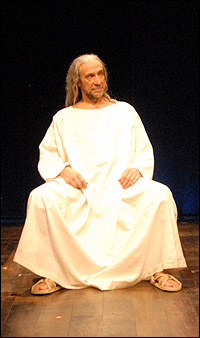 photo by Doug Hamilton

Were there any challenges with Coen's play? "The challenge is getting past using that kind of language to make it funny. I'm a very religious man. It's a challenge to call people the things I call them — and make it funny."

Following a recent performance, the actor and I chatted at a local restaurant. The play, he notes, "is the funniest thing I've done since The Ritz [the original production of Terrence McNally's comedy]. What a company that was!

"I'm a funny person, but I'm never thought of that way. I'm thought of as a bad guy. I love the chance to do something funny. I love to hear the laughter. Have you heard laughs like that [in Almost an Evening] in a long time?"

"I tend to jump into my work pretty much. The only qualms I've ever had is that there isn't enough for me to do. I'm a real, honest-to-God actor." When did he know he wanted to act? "I was a troubled kid, part of a gang, a hoodlum. A drama-and-speech teacher in high school said, 'You should try this.' It changed my life. From that moment on, I knew exactly what I wanted to do."

Fast forward to Abraham's Broadway debut: Robert Shaw's 1968 play The Man in the Glass Booth, "which was directed by Harold Pinter." In 6 Rms Riv Vu, he had a small role and stood by for Jerry Orbach, whom Abraham remembers as "a good guy, the real McCoy, an honest-to-God pro."

Other Broadway credits include succeeding Ron Leibman as Roy Cohn in the two Angels in America plays, A Month in the Country ("Helen Mirren was terrific; I worship that woman"), Triumph of Love ("I wasn't very good; I wish we had opened three weeks after we did. Betty Buckley is the best"), and Mauritius ("Dylan Baker and Bobby Cannavale are big football fans; I'm not. They were hollering about a game; I don't understand the sport.")

He's very fond of Shakespeare. "I loved doing Lear, and I think my recent Shylock, at Stratford-at-Avon, is my greatest performance, so far."

I'd read that the F. in his name stood for Fahrid (and also Frank). He insists, "I made it up. The rest is genuine. Who would make up such a name? I was raised an Orthodox Christian; I was an altar boy for a long time. My father was Syrian; my mother, Italian. I work a lot in Italy."

Come May, the actor and wife Kate Hannan celebrate 46 years of marriage. They have a son and daughter — "and we have a lovely granddaughter." Although he's made several movies, Abraham admits, "I can't see myself on the screen. All I see is the bad stuff. I've never seen 'Amadeus' all the way through. 'Amadeus' is a great movie. What prevents more films like that from being made?

"I really love this business," concludes Abraham. "When it's good, it's very, very good; when it's not, it's awful. But I've been very lucky. I like my work in [Almost an Evening], and I'm pretty good in it — but no one is irreplaceable, darling."

*

David Mamet's comedy November features Ethan Phillips as the Turkey Guy. Ben Brantley called his performance "winningly understated"; however, the character has an arc that takes him from mild-mannered White House lobbyist to frustrated visitor (telling Nathan Lane's Chief Executive that his "numbers are lower than Gandhi's cholesterol") to maniacal assaulter, trying to strangle the president and screaming, "You killed my f--king turkeys!"

Larry Feldman is the name Phillips created for his character, known only as "Turkey Guy." Explains Phillips, "The genesis of the play was when David Mamet was flying first class, and on board the plane were guarded turkeys that were going to be pardoned [by the president at Thanksgiving time]."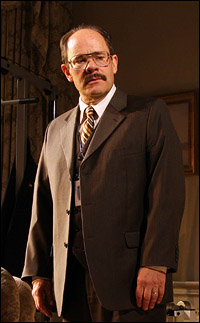 photo by Scott Landis

Notes Phillips, "I replaced Nathan at Manhattan Theatre Club and at the Mark Taper [in Los Angeles] in Lips Together, Teeth Apart. Before rehearsals [for November], Nathan was talking to Victor Garber, saying, 'We can't find a guy to play the Turkey Guy.' Victor said, 'What about Ethan Phillips?' Nathan said, 'That's a great idea.' I owe Victor Garber."

On TV, Phillips has had several credits, including two stints on series: He was Pete Downey on 96 episodes (1980-84) of "Benson," and played Neelix on 171 episodes (1995-2001) of "Star Trek: Voyager." Notes Phillips, "Neelix was an alien, covered in rubber. At the end, I figured out with my makeup guy that I spent 2,300 hours on the makeup chair." There are usually Trekkies at the stage door. "It's fun to chat with them for a second."

Married since 1990 to Patricia Cresswell, the actor has five sisters. His grandfather started the Manhattan steak house, Frankie & Johnnie's "in 1921. My father took over and ran it until 1985. None of us [he and his siblings] wanted to be a restaurateur, so my father sold it."

Phillips praises Nathan Lane: "I've never met a more playful, braver, or funnier actor. He's just f--king extraordinary! Acting with him is like taking a thousand classes. We [Phillips, Laurie Metcalf, Dylan Baker, and Michael Nichols] root Nathan, who's like a cyclone. He never changes lines, but you never know which way he's going to go. It's very exciting out there."

*

Currently at the Pasadena Playhouse is Mask, a musical version of the 1985 fact-based drama that starred Cher as biker mom Rusty Dennis, Eric Stoltz as her teenage son who was born with a rare, disfiguring disorder called craniodiaphyseal dysphasia, and Sam Elliott as Rusty's lover. Directed by Richard Maltby, Jr., Michelle Duffy, Allen E. Read, and Greg Evigan play the Cher-Stoltz-Elliott roles. The score's by Barry Mann and Cynthia Weil, and Anna Hamilton Phelan adapted her screenplay.

Claims Phelan, "My reaction when my good friend, Cynthia Weil, suggested that 'Mask' would be a good subject for a musical was 'Are you crazy!?' [Laughs] We talked more and it became clear to me, too. That was 10 years ago."

When Phelan was a community educator at a hospital, she met the real Rocky Dennis (1962-78), and then tried to locate his mother. She left her number "at a motorcycle place, where the owner told me that Rusty was dead.

"Shortly after that, Rusty stopped by the shop — for the first time in two-and-a-half years — and she called me. We met, and I optioned the rights for her life story, for a year, with $100 and a six-pack of beer."

Rusty read the screenplay's first draft (of 13) and, according to Phelan, "had two objections. In one scene, I had her ironing, which she said would ruin her image. I also had her drinking and getting drunk, but she insisted that she didn't drink. She used drugs."

Recalls Phelan, "The studio objected to Cher. They asked that she do a screen test." It was Phelan's first screenplay to be produced. Later credits include "Gorillas in the Mist" (1988, for which she received an Oscar nomination) and "Girl, Interrupted" (1999).

She didn't start writing "until I was in my 30s." Earlier, she's been an actress. "Looking back, I was not very good. I played dumb blondes and hookers in TV movies. When I started being offered madams, instead of hookers, I knew it was time to shift gears."

Phelan's husband "develops energy sources." She has a son, daughter, stepson, and stepdaughter. Upcoming, Phelan is "writing the book for a musical about the McGuire Sisters [singing siblings in the 1950s]. It focuses on Phyllis [who became involved with a Mafia boss], and is called The One in the Middle."

Scheduled to attend the musical's opening night, Rusty Dennis died in November 2006, age 70. Still hospitalized a month after a bike accident, an infection proved fatal. "She was riding her tricycle, a Harley with two wheels in the back. She skidded, was thrown from the bike, and hit a pole," states Phelan. "I can picture her flying through the air, and saying, 'What a bitchin' way to die.'"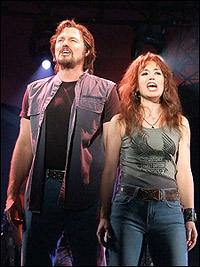 photo by Ed Krieger

*