STAGE TO SCREENS: Good Grief! Tony Award Winner Laura Benanti Finds a Hit in NBC's "Go On"



Photo by Robert Trachtenberg/NBC
*

In the hit new Matthew Perry sitcom "Go On," Laura Benanti's character, Lauren Bennett, may have dubious resume and no formal training to lead a grief support group (she touts her experience working for Weight Watchers!). But in real life, few would question Benanti's qualifications. Before the actress' role as an earnest counselor to a group of grieving misfits, Benanti made her mark as a star on the Great White Way, with eight Broadway shows and four Tony award nominations under her belt. In 2008, she captured the Best Featured Actress in a Musical prize for her transformative turn as Louise in Gypsy, in which she made an indelible mark alongside the legendary Patti LuPone. But with her camera-ready beauty, gorgeous green eyes, and flowing auburn hair, perhaps it was inevitable that Benanti would eventually turn her sights to television or film.

Yet Hollywood has dragged Benanti on a bit of a roller coaster ride over the past few years. After lining up alongside LuPone in a promising 2010 television pilot called "Open Books" that CBS declined to pick up, Benanti landed the role of bunny den mother Carol-Lynne on the '60s-era NBC drama "The Playboy Club." However, the series was panned by critics, opened to woeful ratings, and was promptly cancelled after just three episodes. Fortunately, NBC's "Go On" was there to pick her up. The show premiered to more than 16 million viewers during the Summer Olympics. And while the ratings have since tapered off, it's still NBC's highest rated new sitcom. Benanti also popped up last season in a recurring role on "Law & Order: SVU" as Detective Amaro's military officer wife. (In real life, she's married to stage veteran Steven Pasquale, who will be headlining his own TV series this winter — NBC's upcoming Jekyll and Hyde doctor drama "Do No Harm.")

In "Go On," Benanti is one of an oddball cast of characters orbiting around Matthew Perry's wisecracking sports talk-radio host, Ryan King, who joins the support group after his wife's untimely death. (The ensemble also includes theatre veteran Julie White as a flinty lawyer who recently lost her lesbian lover.) At first resistant to therapy, the sarcastic Ryan opens up and embraces his new friends, giving them a much-needed injection of brutal honesty, levity and snarky humor. And while Benanti's character has no formal training as a therapist, the earnest and charming Lauren is working hard toward a degree in counseling, while juggling a day job as a parking valet manager and recently passing her real estate exam.

Here, the 33-year-old Benanti talks about playing "the straight man" in a cast of cutups, the influence of her psychotherapist stepdad, her lifelong love of musicals, and the invaluable guidance she got from LuPone and the late, legendary Gypsy director Arthur Laurents.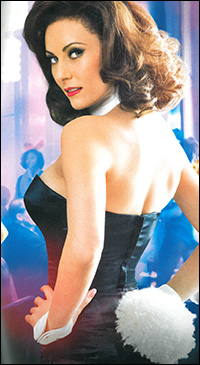 NBC
You've been on a bit of a roller-coaster ride the past few years out in Hollywood. "The Playboy Club" was panned by critics, struggled with ratings, and was quickly cancelled. But you landed "Go On," which has developed a solid following.
Laura Benanti: You know, I think there's a misconception that audiences didn't like "The Playboy Club." But it really was more of an issue of it being boycotted, essentially. There were these special interest groups that were boycotting our advertisers. So by episode three, the only business advertising on our show was Men's Warehouse. It makes me sad that the show went away. But it makes me even more sad that there's this perceived idea that it was just like some failure. It just never had a chance. It was so controversial from the get-go that it really wasn't given a chance to have a full life. I think so many people — reviewers included — were like, "I love that show!" So yeah, that was a bummer that it went away. And then this pilot season, I basically said to my agents and managers, like, "This is it, you guys. This is the last pilot season I'm going to do. I'm not going to turn down Broadway anymore — for the possibility of maybe something happening with a TV series." I sort of gave myself an ultimatum. And thus far it's really worked out, and I'm so very lucky and grateful.
What was the appeal of playing your character on "Go On"? What did you like about the premise of the show, with this wacky group of grief-stricken oddballs coming together in a support group?
LB: I really liked the fact that it was sort of this dramatic premise that was handled really beautifully — with humor and grace. I like that they didn't make fun of support groups. Because it's this sort of ragtag band of misfits who have all been through some type of loss in their life. And who hasn't experienced some kind of loss before? Who can't relate to having something go wrong in your life that's tough for you to deal with? It read to me like a cable show. It was interesting. And I saw a lot of promise in this character. I saw that she's a very empathetic, kind person, with the best of intentions — maybe not all the skills, but the best of intentions. And I ultimately understood and still know that it's going to end up that she needs this group as much as they need her. I just liked the humanity of it.