STAGE TO SCREENS: Jeff Daniels Is the Anchor of HBO's "The Newsroom"


*

The pulse-quickening dialogue in an Aaron Sorkin drama hurtles at you like a blazing Roger Federer forehand. Whether it's his breakthrough stage-to-screen work A Few Good Men, his landmark television series "The West Wing," his Oscar-winning film "The Social Network," or his divisive new HBO drama "The Newsroom," Sorkin delivers whip-smart verbal volleying and rousing arias on journalism, politics, pop culture and human relations that is at once crackling, caustic, stylish and thought-provoking.

And who better than Jeff Daniels — as the brilliant, arrogant and irascible cable news anchor Will McAvoy — to deliver that quicksilver banter? After all, Daniels has made acerbic erudition and droll verbosity a hallmark of his recent roles. There was the sardonic blind sidekick Lewis in "The Lookout," the mercurial self-help author and bitter recluse Arlen Faber in "The Answer Man," and the pompous, cell-phone-wielding corporate lawyer with dreadful parenting skills in God of Carnage on Broadway. The high water mark was Daniels' tour-de-force turn in Noah Baumbach's family divorce drama "The Squid and the Whale," in which he imbued the epically narcissistic blowhard Bernard Berkman with a ramshackle pathos.

In the opening episode of "The Newsroom" on June 24, Daniels' cable news host Will McAvoy — mocked as a blandly inoffensive Jay Leno news figure obsessed with his likeability and protective of his own political views — shocks his constituents at a journalism school panel with a "Network"-style meltdown, reminiscent of Howard Beale's infamous "I'm mad as hell" rant in that picture. Responding to a question by a naïve young college student who asks why America is the greatest country in the world, Will launches into a fact-and-figure-filled harangue about why that's absolutely not true anymore, but insisting that America can once again return to its faded glory days. His diatribe is captured by cell-phone cameras in the auditorium, and the video quickly goes viral.

After Will returns from a weeks-long exile, he learns that his boss Charlie (Sam Waterston) has hired a hotshot new executive producer for "News Night," MacKenzie McHale (Emily Mortimer), who just happens to be Will's ex-girlfriend. MacKenzie, with Charlie's backing, implores Will to seize the moment and revamps "News Night" into a program whose primary concern is giving viewers information that they can use in the voting booth — which means putting facts at the center of the show, ignoring ratings, and avoiding sensationalistic stories like the Casey Anthony trial or human interest fluff. "There's nothing that's more important in a democracy than a well-informed electorate," MacKenzie tells Will.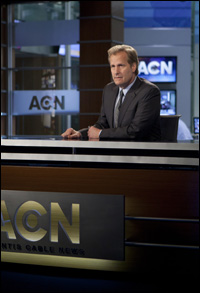 photo by Melissa Moseley
Needless to say, when the show's ratings start to plummet, their new approach draws the ire of the network's corporate owner (Jane Fonda) and her henpecked son, Reese (Chris Messina), the company's president.
The critical reaction to "The Newsroom" has been polarizing. It's been decried as sanctimonious and self-righteous — that the characters are talking at each other and at the audience. In the second episode, Thomas Sadoski's Don says to Alison Pill's Maggie that what MacKenzie and Will are trying to do with "News Night," won't work. "Nobody's going to watch a classroom," he says. "They'll either be bored or infuriated." Which pretty much sums up some of the negative early critiques of the show. Sorkin has also come under fire for his problematic writing of female characters. One Slate critic admonished the show for being "a sexist mess, where the women are neurotic, tech-incompetent emotional morons who snap into professionalism just in time to make the men they bolster look good."
Other prominent voices have come to the show's defense, including The New Yorker's David Denby and legendary former CBS news anchor Dan Rather, who wrote (on Gawker!) that "The Newsroom," "gets close to the bone of what happens, what really happens, behind the scenes in newsrooms and the boardrooms that govern them."
Despite divisive reviews, the ratings have been a bright spot, and HBO has already renewed the series for a second season.
Calling from his home in Chelsea, Michigan, where he's spending the summer, Daniels discussed Sorkin's musical way with words, the contentious reaction to the show, his sideline career as a playwright and theatre impresario (he founded the popular Michigan Equity theatre Purple Rose Theatre Company), and how James Gandolfini helped him navigate his first television series gig after more than 50 films.
What about Will's transformation really appealed to you? Why did you want to play this guy?
Jeff Daniels: Once that opening speech was written, you could just see that telling the truth has consequences. There's nothing in that speech that isn't true. And you may not like it, it may disturb people who watch it, it may seem to some unpatriotic. But nothing that Will says when he goes off is not true. It's all true. And you could tell that that was going to trigger not only a complete change in the guy, but also consequences. This was not going to be an easy ride. It seemed to be such an original speech that hit people right between the eyes. I know it felt that way when I performed it. And you can tell by some of the reaction we've gotten since it aired. They either love it or hate it. Aaron writes compelling characters in that he throws up these obstacles and he ups the stakes, like any good writer does, and he sends the characters crashing into things. Aaron also writes big ideas — and Will is a big idea. It's not an accident [Aaron] hose the Don Quixote and Man of La Mancha references to "The Impossible Dream." In a way they are trying to do the impossible dream — by doing a newscast that is very difficult to do now.