STAGE TO SCREENS: Ralph Fiennes Talks to Playbill.com About Wrestling Coriolanus Onto the Big Screen



Photo by Joseph Marzullo/WENN
*

Hollywood history is littered with big stars stepping behind the camera lens to try their hand at directing — some churn out successful, even masterful films (see: Clint Eastwood, Warren Beatty, John Cassavetes, and the recent likes of Ben Affleck, Sean Penn, and Philip Seymour Hoffman), others deliver exercises in ponderousness and mediocrity (we won't name names).

Ralph Fiennes can already imagine some of the catcalls that will be lobbed his way from the smirking, brow-furrowing masses who may well greet news of his directorial debut, a cinematic adaptation of Shakespeare's Coriolanus, with skepticism or, worse, outright derision.

Indeed, when some people hear that a major screen actor will be setting himself up in the director's chair, their internal warning lights often start to blink red. Beware: self-aggrandizing vanity project ahead.

Explains Fiennes, in an interview during a brief stopover in New York City to promote "Coriolanus": "It's a natural course for many actors. But I think people often go, 'Oh, you're going to direct now, are you?' There's a slight wariness when an actor takes that leap and says 'I want to direct.' So if you're a first-time director, there's then a huge question mark above your head. People don't know what you are. They might like the idea, but they're not sure…"

People may be especially doubtful considering that it's not only Fiennes first time behind the camera, but he's also adapting Shakespeare for the big screen — never an easy prospect. Plus, "Coriolanus" is one of the Bard's less-well-known tragedies — not a name-brand property. And besides, who does Fiennes think he is — Kenneth Branagh? (Oscar winner and Tony-winning Red playwright John Logan wrote the new screenplay.)

Still, despite his training with the Royal Academy of Dramatic Art and decades of experience performing Shakespeare with the likes of the RSC and in other prominent theatres (he won the Best Actor Tony for playing Hamlet on Broadway in 1995), Fiennes admits, with a smile, "I know that lots of people thought I was mad. A lot of people didn't know the play. They just thought, oh, it's a difficult one, isn't it? That was the first thing people said, 'Why not choose something easier?' But in my head, it wasn't difficult because I had such a strong feeling about it. I just had a very strong sense of the world I wanted."

Indeed, Fiennes' keen interest in adapting Coriolanus can be traced back to playing the part in an acclaimed production for the Almeida Theatre in 2000, which traveled to London, Tokyo, and the Brooklyn Academy of Music. He couldn't get the part of the feared and revered Roman military general out of his head. Thanks to the play's propulsive narrative drive and what Fiennes saw as its cinematic qualities, the actor became increasingly intent on the idea of developing the play for the big screen.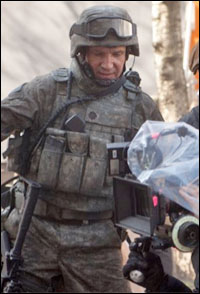 The Weinstein Co.
"It was being on stage that made me want to do the film. I just felt that I had unfinished business with the role," says Fiennes.
A feared and revered Roman general, Coriolanus (nee Caius Martius) was raised in an aristocratic military family. He's a man of unshakable courage and integrity, but falls victim to his own unstinting pride and honor, because he struggles to sympathize with the pain and suffering of the Roman people.
Fiennes imagined a "Coriolanus" set in a contemporary-seeming world of intense 24-hour network news coverage, violent street uprisings, behind-the-scenes political machinations, guerilla insurgencies, urban warfare, and a food crisis highlighting the rising inequality between the wealthy haves and a general population of have-nots. (Indeed, "the 99 percent" protests would no doubt resonate strongly here.)
"I wanted to keep the Shakespearean language," says Fiennes." But the question was how to make it accessible and attainable and immediate. The modern world seemed like the best route."
The story commences with Caius Martius winning a key battle against the insurgent Volscian forces in a long-running war between the two nations. Triumphantly returning to Rome, Martius is bestowed the title of Coriolanus and reluctantly thrust into seeking the powerful government position of Consul by his mother Volumnia (Vanessa Redgrave). While he has enough votes in the patrician Senate and the support of his friend, the influential veteran pol, Senator Menenius (Brian Cox), he must also win support from the general populace. Unwilling to play political games and reluctant to engage in the glad-handing and campaigning necessary to capture the seat, Coriolanus awkwardly garners the support of the masses at the city marketplace. But he's almost immediately outflanked by his political enemies, who brand him an arrogant military man and accuse him of representing a threat to the interests of the people. With lightning speed, they turn the tide of public opinion against Coriolanus, as the masses gather in angry demonstration against him. A disgraced Coriolanus is quickly banished from Rome. Bitter and stateless, he makes his way to the Volscian capital of Antium where he swears loyalty to his longtime rival, Aufidius (Gerard Butler), leader of the Voscian army and vows to take revenge on the Roman people for their ingratitude and treachery.
"I think it has such extraordinary scope and an epic scale to it — of warfare, social and civic unrest, unrest on the streets," says Fiennes. Despite the actor's enthusiasm for the project, he and his producers struggled to ferret out financing for the film in the wake of the financial crash of 2008, but they eventually found backing.
"It couldn't have been worse possible timing to make the film. But funnily enough, the economic and social uncertainty that provides the backdrop [of the film] is now all around us and part of our conversation. So the timing seems to have worked out quite well. I think things have popped up into high definition now. But I think Coriolanus is a play that always has something to say to us."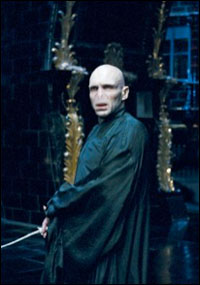 2007 Warner Bros. Entertainment Inc.
Between supporting roles in Oscar contending films like "The Constant Gardener" (2005) and "The Reader" (2008) and his duties playing the arch villain Lord Voldemort in final four "Harry Potter" films, it's a wonder that Fiennes was even able to carve time in his schedule to step behind the camera for his directorial debut. (Fiennes is a two-time Academy Award nominee for acting in "Schindler's List" and "The English Patient.")
Indeed, for Fiennes, there's no rest for the weary. He recently wrapped a two-month turn as Prospero in The Tempest at the Theatre Royal Haymarket in London. Now he's off to shoot two films in a row — director Mike Newell's new adaptation of Dickens' "Great Expectations," in which he's playing Magwitch; then Sam Mendes' upcoming Bond film, "Skyfall," in an unspecified role (though speculation is rife that it will be another villainous turn). Both films are due out sometime next year. In the following chat, Fiennes talks about the challenges of making the leap to the director's chair, what drew him to the difficult role, why he wanted to set the film in a contemporary world, and the enduring power of Coriolanus to reverberate across time.
The R-rated picture, from The Weinstein Company, opens in Los Angeles and New York City on Dec, 2, and nationally on Jan. 20, 2012.
*
Have you been thinking about trying your hand at directing for a long time? What drew you to what to direct?
Ralph Fiennes: It sort of emerged, I think, over time. I had thought about directing. But it must be the case with a few actors. They think about it. But to actually break through that barrier and say, as it were, to the world, "This is what I want to do," is quite a leap … I got a lot of confidence from a man called Simon Channing Williams, who produced "The Constant Gardener" and produces all of Mike Leigh's films. He wanted to produce my first film as a director. Sadly, he died about two years ago. But he actually gave me a project that he had, and we worked on it, and I went and did some location scouts. And we pushed it along to the point where we were trying to cast it and really find out the heads of department. But we couldn't get the financing for it. So, sadly, that film didn't happen. But having worked with him on that project gave me a confidence. He was a very experienced producer and so wasn't going to go to that trouble lightly unless he had a strong hunch. So that gave me the confidence to, as it were, literally step forward and say, "I'm going to do 'Coriolanus.'"
The second validation I got was from [the film's screenwriter] John Logan, who, when I pitched it to him, he loved the idea and almost immediately wrote a first draft. We sat together and shared and pooled our ideas. And he wrote this most amazing screenplay. But he is, you know, a very successful screenwriter getting all kinds of offers, who does not have to take time out to take on a Shakespeare just to indulge an actor. So when I think he saw the seriousness of my idea and how I had thought it through, and he liked it, that was a second impetus for me wanting to pursue the film.
What about Coriolanus, the play, made you think it would make a good film?
RF: Well, I think what often makes for a good film is sort of mixture of the epic and the intimate. So you have a background that has power and size and stature. So that you feel when you look at that screen, you're visually stimulated—photographically. But also I think we are drawn to strong, highly defined characters and their journeys. It's a high-octane drama [that's] essentially familial. …That combination makes it, to my mind, very filmic.
There's [also] political power shifting that goes on and on. I feel that Shakespeare presses that button quite hard. Aufidius says at one point, "One fire drives out one fire. One nail; one nail." There's this sense of one force driving out the next — this continual, infinite swapping of political power that goes on ad nauseam forever and ever. I think Shakespeare is showing us that whoever is in power is turned over by the next person and by the next person and by the next person. And then the people are sort of left fighting to make sense of their lives.