STAGE TO SCREENS: Sitcom Stars Ferguson/Linklater Tumble Into Central Park's Tale and Merchant



Photo by Joseph Marzullo/WENN


*

For New York theatre audiences, the Public Theater's Shakespeare in the Park series is one of the annual highlights of the season. There's nothing quite like sitting under a starry summer sky in the middle of a verdant city oasis watching some of the country's great actors perform the classics of the Shakespeare canon.

But one of this year's stars, Jesse Tyler Ferguson, who plays uptight Mitchell Pritchett on the breakout hit ABC sitcom "Modern Family," sees things a bit differently. He's calling this his "summer of fear."

"It's not only one Shakespeare play, but two," he says. "I'm not a classically trained actor, and I'm working with a ridiculously talented cast who handles the language extremely well. And in The Merchant of Venice, I play the servant to Shylock, who is played by Al Pacino, which is not intimidating at all."

This season's Shakespeare in the Park series includes both Merchant (starting June 12) and The Winter's Tale (starting June 9), with the plays being performed in repertory (a rare occurrence in the park in recent years).

While Ferguson, 34, may have some understandable jitters, he admits to a bit of hyperbole in describing the ostensibly daunting task before him. This is, after all, his second stint doing Shakespeare in the Park. "In my first week of doing A Midsummer Night's Dream a few summers ago, I finally just relaxed and had fun. Because it really is like the greatest theatre camp you could imagine with the most famous actors on the planet."

Indeed, both Ferguson and fellow sitcom-savvy co-star, Hamish Linklater, who plays Julia Louis-Dreyfus' wisecracking, therapist brother Matthew on the recently cancelled "The New Adventures of Old Christine," attest to the rush they're getting from being back on stage again. Both started out as theatre performers and transitioned to Hollywood, but regularly try to return to the stage. Ferguson's breakthrough role was as hippie kid Leaf Coneybear in The 25th Annual Putnam County Spelling Bee. While Linklater has done everything from the premiere of Richard Greenberg's The Violet Hour to Hamlet to playing Sir Andrew Aguecheek in Twelfth Night as part of last year's edition of Shakespeare in the Park (for which he scored a Drama Desk Award nomination). While not classically trained, Linklater, 33, grew up in Western Massachusetts around Shakespeare & Company, for which his mom was a co-founder.

"I really like doing theatre. If there is a non-paying workshop of a 17,000-times-produced Pete Gurney play in a suburb of Tulsa, I'm wondering why they haven't called me to make the offer," Linklater quips. "And I'm incredibly jealous of whoever has it."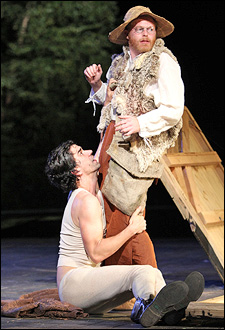 photo by Joan Marcus

Still, both actors also attest that their transition to Hollywood has only sharpened their comedic chops, especially in getting to work opposite comic maestros like Julia Louis-Dreyfus, Wanda Sykes and Ed O'Neill.

"They have such a comic rhythm in their blood, so you start getting a hint of that rhythm in yourself," Linklater avows. "It's just the thing of punching your jokes, hitting your jokes, and knowing when you've achieved comic flow, which is something that, being around funny people, can sometimes rub off on you. So the TV show is a very good workout for doing Shakespeare in the Park...Of course, I don't know if my knees can take it. I feel like my meniscus is about to burst."

Ferguson plays pratfall-prone "clowns" in both plays (the Young Shepherd in Winter's Tale and Shylock's bumbling servant Launcelot Gobbo in Merchant. Linklater plays the pickpocketing scoundrel-clown Autolycus in Winter's Tale (while he holds down the romantic lead, Bassanio, in Merchant). In Winter's Tale, the actors enjoy a slew of milk-spitting scenes together, and their experience on sitcoms no doubt came in handy.

"I had to pack my bag of tricks to rehearsal, that's for sure," says Ferguson. "It's all about trying to keep up with Hamish and not recycling jokes. It's almost like we put up a sign-up sheet on the call-board. You know, I get spit takes and you can do fake tripping. It's like who's going to take what as far as like the bag of tricks goes."

Jokes Linklater, "I brushed up on my 'Oliver Twist'...But yeah, it's kind of hard to do really good sleight-of-hand in a 2,000-seat theatre, you know? But since I'm mostly robbing from Jesse, and he's such a clown anyway, I don't really have to be that subtle."

Still, Ferguson cautions, "The thing about the clowns in Shakespeare, I've found that they're not always the funny characters. I think 'clown' had a different meaning back then." Yet, there's no doubt both actors are working hard to bring out the side-splitting humor in their oddball characters.

Of course, Linklater, who's used to playing the funnyman, also gets to hold down the serious role of Bassanio in Merchant. "There are fewer jokes. Although I try to squeeze them in wherever I can," he says, then self-deprecatingly adds, "Yeah, and then I try to work on my handsomeness and charmingness, and I have about as much of a disadvantage as you can get with that. So basically, I'm totally miscast and having a great time."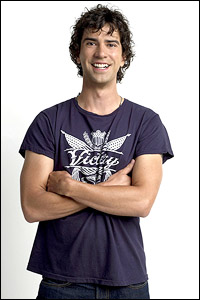 photo by Warwick Saint/©CBS
The New Adventures of Hamish Linklater
While Linklater clearly has charm and good looks to spare, that hasn't stopped the seemingly yearly cancellation/renewal limbo that has plagued the actor's five-year-old series, "New Adventures of Old Christine."
"Every year [the network] pulls up the guillotine and our necks go under the blade and we're wondering what's going to happen," Linklater says." "It's like, you're crossing your fingers and not stepping on any cracks in the sidewalk, but there isn't enough wood in the world to knock. They usually do come to their senses. I mean, it's Julia Louis-Dreyfus, she's one of the classiest ladies in the universe. She's got a misspelled star on the Hollywood Walk of Fame!"
Unfortunately for Linklater, Louis-Dreyfus and Co., "Old Christine" was axed from the CBS schedule just a few weeks after this interview, and hopes look dim for ABC or another network picking it up. Despite the unfortunate turn of events, Linklater says he's always taken the fickle world of Hollywood — and the often mind-boggling decisions from the powers-that-be — in stride.
"Being in Hollywood is like being a professional alcoholic," he cracks. "You're just doing serenity prayers all the time, trying to remind yourself that there's so much you can't control, like buzz and demographics and pick-ups and network executives. So you just gotta try to let it go."
Of course, if Hollywood won't have him, Linklater always has the theatre to fall back on. Indeed, his theatre resume is impressive, including a stint several seasons ago in the Sir Peter Hall-directed repertory productions of Measure for Measure and A Midsummer Night's Dream at the Ahmanson Theatre in Los Angeles. He's also acted in several plays written by his wife, writer Jessica Goldberg, including Good Thing, which was performed in New York and L.A. (They have a three-year-old daughter.)
Linklater first caught the theatre bug as a kid growing up in Lenox, MA. His mom, Kristin Linklater is a renowned instructor of vocal technique and a co-founder of Shakespeare & Company, which for years was based at Edith Wharton's sprawling estate, The Mount, in the bucolic rolling hills of the Berkshires. (She's now the chair the acting program in theatre arts at Columbia University.) So like the loyal patrons who come to see Shakespeare performed every year in Central Park, Linklater grew up "basically sitting outside watching Shakespeare under often threatening skies." At that young age, though, he wasn't even sure exactly who the Bard was.
"We lived at Edith Wharton's old house on the property. And it took me a long time to figure out that Wharton hadn't written the plays and that Shakespeare and Wharton were a separate person," recalls Linklater, with a wry laugh. "I thought it was all sort of tied together. I would see the pictures of Wharton — and she does look sort of mannish in some of the pictures they had up there. So I was very confused as to who was who and what was going on."
"There were some funny people around there. It was like a big freaky actor theatre commune," says Linklater, recalling that his babysitters were often the actors in the play. "I'm constantly running into people who know me from when I was a kid. They come up and say, 'You don't remember me? But I changed your diapers!'"
One child sitter he remembers in particular is a certain apparently unhappy apprentice, Bronson Pinchot, who went on to fame as the English language-mangling, malapropism-prone goofball Balki Bartokomous (hailing from the mythical island of Mypos) on the 1980s sitcom, "Perfect Strangers." Pinchot also had memorable roles in films like "Beverly Hills Cop" and "Risky Business."
"It was his job to babysit me, and he told me this story that all the elves were under the ground in the driveway. So one day, my mom was coming home and nearly drove over me because my ear was pressed to the pavement," recalls Linklater, with a burst of laughter. "And Bronson was nowhere to be seen. He wasn't a great babysitter, I guess. I don't remember it terribly well. But since then, I've always wanted to work with him."
Occasionally, Linklater would appear in productions as "a juvenile extra." "My first part was playing Benedick's Boy [from Much Ado About Nothing] when I was like nine years old, and I would come in and say, 'Signior, I am here already, sir.' And it was really bad. Like I got more notes than anybody else in the entire show," Linklater says, dryly.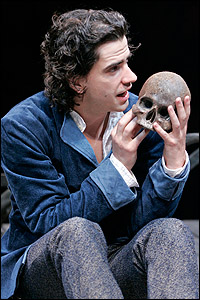 photo by Henry DiRocco

Since becoming a professional, Linklater has never returned to Shakespeare & Company to act, but he says that would be a enticing proposition, considering his history there. After high school in Boston, Linklater enrolled at UMass-Amherst, but dropped out after a year.

"I kept doing plays at school instead of staying and taking classes, because it was a lot more fun to do that. And it's a terrible thing to give your life over to fun instead of to rigor and discipline and all those things that are required when you do something that maybe you're not quite as naturally acclimated towards," says Linklater. "I thought school was too hard, and acting too much fun, so I dropped out [of school] and moved to the city when I was 19 — with my girlfriend who was a senior at the time!"

Surprisingly, his mother didn't really object to her son's rash decision. "She didn't have a college degree either. She had dropped out of school, too. So she was like: OK, thanks, save me $25,000 a year," he says.

After a number of years toiling in New York, Linklater moved to L.A. to pursue film and TV projects. Was it a conscious decision, or did he have offers on the table already? "I made a conscious decision that it was important for me to be able to pay my rent," he responds. "So I think my landlord and capitalism in America made that decision for me."

Before long, he was cast on the well-reviewed but short-lived 2000 hospital drama "Gideon's Crossing," starring Andre Braugher. Later, he landed in the blockbuster film "Fantastic Four" and a handful of other movies and TV series. In 2006, he was plucked to play Matthew, the gently mocking, live-in loser brother of Julia Louis-Dreyfus's Christine in "The New Adventures of Old Christine." There, he learned at the feet of a television comedy master.

"I was very green in the first couple years," he says. "And Julia managed to teach me things like, 'This is the exact moment or the line where you put down the coffee cup, so they know that's the joke,'" he says. "And she manages to do it in a way that makes you feel like you're really funny, too."

As for Linklater's own sense of humor, is it similar to Matthew's wry, self-deprecating shtick?

"We definitely both have a dry, detached, ironic sense of humor," he responds. "But I would say that in real life, I may be a little sillier. Personally, I also like being funny by walking into walls and falling on my face a lot."

Playing the clowning scoundrel, Autolycus, in The Winter's Tale, Linklater should feel right at home.