STAGE TO SCREENS: Tracy Letts and William Friedkin Bring "Killer Joe" to the Big Screen



Photo by Monica Simoes
*

Tracy Letts, 47, the Pulitzer Prize-winning playwright and occasional actor, and William Friedkin, 76, the Academy Award-winning director and sometimes producer, are proof positive that opposites attract: Exhibit A, "Killer Joe," arrives in movie houses July 27, six years after Exhibit B, "Bug." These are Friedkin's only features in a decade, and both hail from plays that put Letts on the theatre map.

This unlikely but flinty combination of talent has revitalized Friedkin's career, which had dipped a bit since his glory days of "The French Connection" and "The Exorcist," and given Letts' career an authoritative leg-up in a new medium. Win win.

Letts credits the matchmaking to Friedkin himself: "Some friends took him to see Bug when it was playing at the Barrow Street Theatre — he didn't know anything about it — and afterward he called me up and said, 'I'd like to make a movie of this.'"

It seems stupefyingly simple, the way Letts tells it. "He told me he couldn't stop thinking about it so he went back by himself a couple of days later to see it again. He found it really compelling material and thought it would make a really compelling movie. He also loved Mike Shannon's performance and fought really hard to make Michael part of the film. We both felt it important his performance be recorded."

They were right. Shannon's breakout job here as a nutzy war vet who finds creepy-crawlies and conspiracy theories in a motel bedroom caused Sam Mendes to cast him as an unhinged mathematician in "Revolutionary Road," which, in turn, led to an Oscar nomination and bigger roles ("Take Shelter" and HBO's "Boardwalk Empire").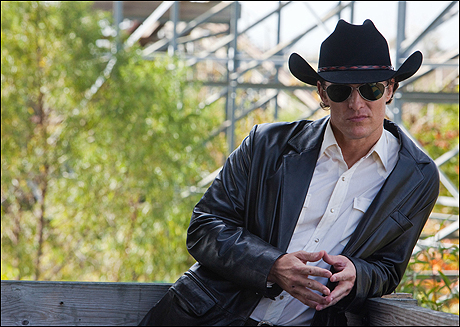 photo by Skip Bolen
Currently, he and Letts are cooling their heels, of all improbable places, in Chekhov: Shannon as the amorous Dr. Astrov in Soho Rep's Uncle Vanya Off-Broadway, Letts with a critically cheered rewrite of Three Sisters" for Chicago's Steppenwolf troupe.
The chemistry between Friedkin and Letts was potent enough to see them breeze through both cinematic sieges. "First of all, we like working with each other," admits Letts. "We share a sense of humor and enjoy each other's company. He's a delightful fellow — but, beyond that, he's so respectful of writers and the writing process. The first thing he said to me when he started talking to me was: 'First, do no harm. I liked what I saw in the theatre, and I want to make a film of that. I don't want to reinvent this thing.' I've spent a few years in L.A. and never got the kind of treatment out there that I got from him. He's really a very warm and generous collaborator."
On stage and on screen, "Bug" goes to hell in a pyrotechnic hand-basket, consumed in a fiery finale. "I think they blew that motel set up," says Letts. "It was the last shot in the film, and they were actually going to shoot it more than once, but they blew it all up on take one, so it was, like, 'Well, I guess we better go home now.'
"The play ends the same way. The same thing happens. Of course, we weren't able to have such a conflagration on the stage. Dexter Bullard, who directed that original production, did a really wonderful effect. He had some huge lights focused at the audience that are never used throughout the play. They were cleverly disguised so the audience didn't even see them pointing at them. Then, when the fire began at the end, he lit up these lights full blast, causing the audience to shield their eyes."