Stamina and Stardom: Newsies Dancers Work as One to Seize the Day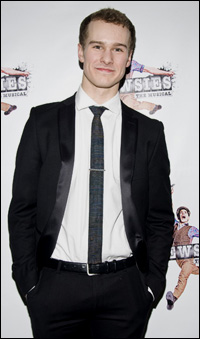 Photo by Joseph Marzullo/WENN

Steele makes a particular impression because of what Gattelli calls "his technically perfect movement" — especially noticeable in the number "Seize the Day" — while Sykes stands out with his "breathtaking" leaps at the curtain call, during which he seems to hang in the air forever. Both were among the five Newsies cast members nominated for Astaire Awards for Outstanding Male Dancer in a Broadway Show. (A sixth cast member, Kara Lindsay, was nominated for Outstanding Female Dancer.) Both have appeared on magazine covers and in videos. Each is pictured on his own Newsies trading card. And each has his own fan club, with Twitter feeds @ephsykesfans and @RySteelefans created by the fans themselves (Steele didn't even know about his). Gattelli has observed fans showering them with gifts and crowding the stage door seeking their autographs.

"It's like a big rock concert every night," Sykes says.

Before Newsies, Sykes played Benny the landlord in the Off-Broadway revival of Rent, with perhaps 100 speaking lines. In Newsies, he has only eight, "but people connect to me more as Mush," he says.

If this newfound recognition seems improbable, to Sykes, it is no more so than his career as a whole. "I never wanted to do Broadway," he says. Born into a family of athletes and musicians in Florida, Sykes went to an elementary school that specialized in the arts and was recruited to be a ballet dancer at an early age. "I hated it. I didn't want to do it," he says. He wanted to be a baseball player, and was active in football and basketball as well. But he got scholarships to study dance, eventually graduating from a joint program between Fordham University and the Ailey School, and then dancing with the second company of the Alvin Ailey American Dance Theater. An assistant choreographer at Ailey was the dance captain at The Little Mermaid and told him to audition. He got the job. "Once I went on stage and had to act, a light went off: 'This is why I've been doing this,'" he says. He has rarely been off a New York stage since.

Steele took a similarly serendipitous path to Broadway. Growing up in Michigan, he had just been accepted into a dance company in Texas when, at age 17, he took a trip to New York for a summer dance program. His mentor suggested he audition for the then-forthcoming revival of West Side Story just for the practice in auditioning. It was his first Broadway audition — his first time in New York — and he was cast as a Jet, a role he played for the entire two-year run of the show. Then he was cast in Billy Elliot. He was hooked, he says: "The theatre community seemed very accepting and supportive."

Like many of the Newsies, Steele was a fan of the 1992 movie on which the musical is based — which is why some 1,200 young men auditioned. "That movie showed our generation of boys that dancing, singing and acting were cool," Steele says.

Now they're the cool ones. "I feel dance [often] takes a backseat," Steele says. "To go out the stage door every night and have people call you by your name, it's just so weird."

(This feature appears in the August 2012 issue of Playbill magazine.)

Watch the exclusive Playbill Video about how the men of Newsies warm up before performances.