Star Style: Anika, Celia, NPH, Sutton, Bryce and Bryan... See Who Topped Our Best-Dressed List This Season!



Photo by Joseph Marzullo/WENN
During a year that included 44 Broadway openings and almost as many awards shows, benefits, galas and receptions, theatre stars turned out as many red-carpet looks as the Duchess of Cambridge on a royal tour. As we approach the 68th Annual Tony Awards, we take a look back at the season's most memorable moments in style—including plunging necklines, high slits, brights colors, crop tops, two-toned tuxes and man makeup—as seen on Broadway's leading men and women, ingénues, veterans, newcomers, ensembles, couples and kids.

Tune in to CBS on June 8 to see what the nominees and stars like Neil Patrick Harris, Sutton Foster, Judith Light, Anika Noni Rose, Celia Keenan-Bolger, Kelli O'Hara, Bryan Cranston, Jessie Mueller and Chris O'Dowd wear to celebrate Broadway's biggest night.

Couples

Andy Mientus, currently starring as Marius in the Tony-nominated Broadway revival of Les Misérables, and his boyfriend Michael Arden, who plays Patrick in Charlie Sheen's FX show "Anger Management," look their best when they're together on the same coast. Mientus is known for his splashy style, which Arden often balances with a more basic look.

"Smash" co-stars turned couple Will Chase and Debra Messing—who made her Broadway debut this season in John Patrick Shanley's Outside Mullinger—were all over the Broadway red carpet this season. They looked especially stunning at the MTC gala when Chase, in an elegant black suit, let Messing's full-length bright orange gown take center stage.



On stage Jarrod Spector plays one-half of the successful songwriting couple, Barry Mann and Cynthia Weil (played by Anika Larsen), in Beautiful: The Carole King Musical, and offstage he's one half of a successful Broadway couple. The Tony Award nominee's date to the opening of Beautiful was his fiancé, the impeccably dressed Kelli Barrett, who is currently starring as Nessarose in Wicked.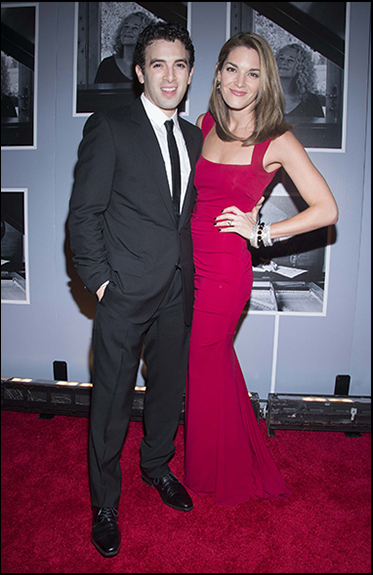 Photo by Monica Simoes
TV stars and real-life husband and wife Megan Mullally and Nick Offerman had the New York look down—magenta hair and cat-eye glasses for Mullally and a scruffy, salt-and-pepper beard for Offerman—at the Lucille Lortel Awards. And it's a good thing since the L.A.-based couple will be back this fall when Mullally stars in Terrence McNally's It's Only a Play on Broadway.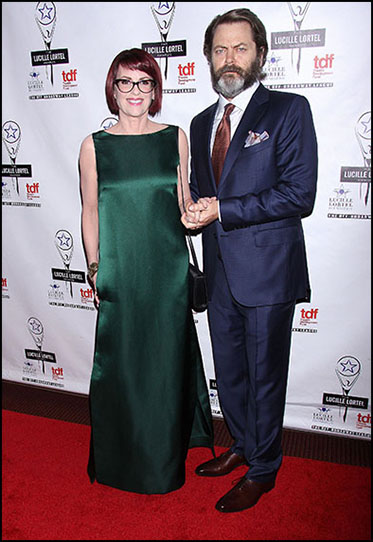 Photo by Joseph Marzullo/WENN
As the star of Hedwig and the Angry Inch, Neil Patrick Harris and his husband David Burtka were one of the most exciting couples on the red carpet this year. While they look great in bolder looks like the pink, white and black color scheme (with some eye makeup on NPH) the couple coordinated for Hedwig's opening night, they look especially handsome in the classic blues and greys they slipped on for the New Dramatists Spring luncheon.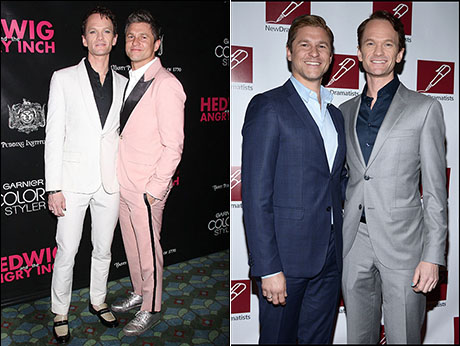 photo by Joseph Marzullo/WENN and Monica Simoes