Sutton Foster, Joshua Henry and Van Hughes Let It Sing in Thrilling Violet Concert at City Center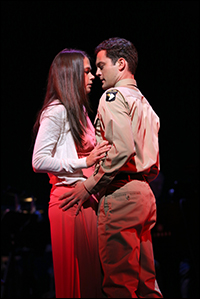 Photo by Joan Marcus

Directed by Leigh Silverman, Violet was staged simply, with several chairs and stools that represented the seats on the bus as well as booths in a diner and beds in a hotel room. The cast wore period-specific outfits, but aside from music stands and the musical instruments played by the onstage band, no props were utilized. This bare-bones staging allowed the emotion of the story to be starkly apparent, and, thanks to the talent of the cast, it was.

Foster shone in the title role, portraying both the brittle defenses Violet had developed due to her disfigurement as well as the innocence and vulnerability of her character. She capably depicted her character's emotional journey, moving beyond defining herself by the accident that scarred her. Foster's singing was extremely powerful: Whether she was excitedly belting about being "On My Way" or tenderly urging Monty to "Lay Down Your Head," she was never less than completely captivating.

Hughes was charming as the womanizing Monty, surprised by his attraction to Violet, and Henry shone as the honorable Flick, stopping the show with his solo, "Let It Sing." Christopher Sieber was excellent as the evangelical preacher who Violet sought, and Chris Sullivan gave a touching performance as Violet's widowed father, struggling to raise his daughter. Violet's teenage self was performed beautifully by Emerson Steele in her New York stage debut.

Settle, Anastasia McCleskey, Rema Webb, Paul Whitty and Austin Lesch performed several roles, each of them with flair. And, the addition of the Songs of Solomon Gospel Choir, under the direction of Pastor Chantel Wright, added extra life and energy to the show, as the choir sang and danced in the aisles, inspiring the audience to clap along.

The score of Violet, a blend of bluegrass, country, blues and gospel, is vibrant and pulsing with emotion, and was performed by a nine-member band led by Tesori and Foster's frequent collaborator, Michael Rafter.

Violet addresses some sobering and dark themes: inner and outer beauty, low self-esteem, and racism in 1960s America. In her darkest moment, Violet begs the memory of her father to "look at me." But Foster didn't need to do that; it was impossible to look away from the stage.