THE DVD SHELF: "La Grande Illusion," "Jaws" and Stage/Screen Musicals "Newsies," "Evita" and "Sister Act"


*
New technological formats — audio, visual or otherwise — allow purveyors of existing products to refine and repackage yesterday's up-to-the-minute edition into today's. This serves as an excuse to launch "new" product which has, in reality, been long available. While good movies remain good and bad remain bad — be it on VHS, Laserdisc or DVD — these new product launches can serve to bring acknowledged classics to new audiences. This month we get one of the finest foreign films of the 1930s — which can also be deemed one of the finest films of the '30s and one of the finest films ever. Joining our first selection is one of the biggest and most influential hits of the 1970s, which remains one of the best movies of its kind.
If the prospect of viewing a two-hour, black & white French-language prisoner-of-war movie leaves you less than enthusiastic, you may safely banish all qualms. Jean Renoir's La Grande Illusion [Lionsgate] offers grand, gripping entertainment from first to last. This is a wartime prison picture, yes; but it isn't really about war or prison. It is about humanity and society, and the breakdown of class. I fear that might not sound exciting, either. In Renoir's telling, though, it is. I was looking forward to this new Blu-ray, but wondered if the film would hold up to my memories of it (which were, vaguely, that the film was wonderful and not at about war or prison). Twenty minutes in, I was beaming in admiration of how simply perfect — and timeless — Renoir's film is.
The story opens with two French officers — the aristocratic Captain de Boeldieu (Pierre Fresnay) and the garage-mechanic-turned-Lieutenant Marechal (Jean Gabin) looking at some aerial photographs and flying off to inspect a suspicious-looking area. Shot down, they are ushered into the presence of their German captor, Captain von Rauffenstein (Erich von Stroheim). He immediately recognizes Count Boeldieu as a fellow gentleman; they have friends and colleagues in common, and even memories of the same courtesan at Maxim's. The film — which has no war scenes, incidentally — turns into philosophic discourse. De Boeldieu and Marechal are transferred to a prison camp, where they are joined by another Frenchman, Lieutenant Rosenthal (Marcel Dalio). Rosenthal's family, international bankers not unlike the Rothschilds, keep their scion stocked with food parcels filled with delicacies; Rosenthal, democratically, shares these with the French prisoners irrespective of class or religion.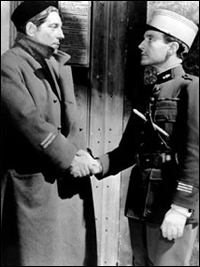 © Everett Collection

The three officers are then transferred to an impregnable, escape-proof prison camp on a German mountaintop where they meet up again with von Rauffenstein. (Severely injured in battle, he has now been promoted to Major and placed in charge of the camp.) To von Rauffenstein, Boeldieu is his trusted equal; the peasant Marechal, the Jew Rosenthal, and even the German guards represent the new world order that is fast turning aristocrats into dinosaurs. All done brilliantly. One of Renoir's conceits is that the French speak French and the Germans speak German, but when von Rauffenstein addresses Boeldieu they converse in their own private language (which is English).

What we get, then, is a portrait of a world that vanished with the First World War. The setting in some ways seems like World War II, but the film was made before the outbreak of the new war. Renoir is certainly speaking out about the menace of Hitler, who at the time was an increasingly ominous threat; thus the inclusion of the likable and noble Rosenthal. Which helped get "La Grande Illusion" quickly and immediately banned in Germany. When the Nazis entered Paris in 1940, they destroyed all prints and seized the original negative. Presumably recognizing its worth, they did not destroy it; they sent it off to Berlin as a war treasure.

And therein hangs a tale, detailed in a fascinating bonus feature on the new release. The world was left with worn prints of "La Grande Illusion" of varying quality. Renoir himself restored the film as best he could in 1958, and that is the version which circulated for the rest of the century. (Renoir — who by the way is the small child with bright orange hair in numerous paintings by his father, Pierre-Auguste Renoir — died in 1979.)

What nobody released was that when Germany surrendered, the Soviets seized the Reichsfilmarchiv holdings — including the original negative of "La Grande Illusion" — and sent them to Moscow. The negative eventually made its way to the Toulouse Cinematheque. There it sat for decades, the archivists assuming it was simply another old copy — it was common knowledge that the original negative had been burned by the Nazis — until someone thought to examine what was on the reels. This resulted in a superb restoration which made it to the Criterion Collection in 1999. (The film's prominence in the film world was such that its DVD spine number is Criterion #1.) Criterion's rights have expired; the Blu-ray comes from Lionsgate, as part of their StudioCanal Collection. The special features and booklet from the last release are gone, but there are some interesting new bonuses. The film is the thing, of course, and the Blu-ray of "La Grande Illusion" looks like it was shot yesterday.

Visit PlaybillStore.com to check out theatre-related DVDs for sale.