THE LEADING MEN: Jordan Gelber Graduates to Leading Man in Broadway's Elf


*

Jordan Gelber has seen plenty of activity in recent years. He's appeared on Broadway in Avenue Q and All My Sons; Off-Broadway in 2,000 Years and Birth and Afterbirth; in movies like "Dark Horse" and television shows like "Boardwalk Empire" and "The Good Wife." But "leading man on Broadway" is not something he could put on his resume until now. Gelber is the Elf in Elf, the holiday musical based in the hit Will Ferrell film, now making its second appearance on Broadway. The Bronx-born actor is now currently learning what it means to never leave the stage, how to greet fans when they wait for you at the stage door, and how to not get too hot while wearing a fuzzy, green tunic, tights, wig and hat. Gelber spoke to Playbill.com about his new role and new status.

How did you come to get this role?
Jordan Gelber: I got a call in the middle of October by [casting director] Bernie Telsey's office to go in for the part. I was a little surprised, because I knew they knew me as a big character actor. But they thought I'd be good for it. I went in a bunch of times and got the offer.

Did you see the show when it came to Broadway in 2010?
JG: I'd never seen the musical, no.

Had you seen the movie?
JG: I'd seen the film when it first came out. I'm a Will Ferrell fan and I thought it was a very fun movie.

This is your first Broadway role where you're the lead. That must be a very different experience.
JG: It's been a hoot. I'm starting to have a really great time. The part is much more physically demanding than I anticipated. But I'm beginning to enjoy myself — I figured out how to pace myself. I was also just the lead for the first time in a movie, in "Dark Horse," so I feel that kind of helped me. Being the lead in a show is such a different animal than anything else I've done before. But you learn to embrace it after a while. I feel you get to have more freedom on it. I felt I was collaborating on a new show. [Director-choreographer] Casey Nicholaw was open to a lot of new changes, so that helped a lot.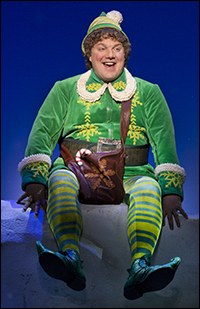 photo by Joan Marcus
Changes in the script?
JG: Yeah. There were apparently a lot of changes from the first incarnation. The opening number is completely different. The pacing of some scenes, and especially Buddy's effect on certain characters is different than it was the first time.
I imagine as a lead actor, you have pace yourself differently, and live your life outside the theatre differently, than you have had to in the past, in order to have the energy every night to do the show.
JG: That is very true. I can't go out drinking like I used to. [Laughs.] I can't stay out like I used to. I also have a two-year-old, so I want to be present for him at home. I've been likening it to being like a professional athlete. I have to take care of myself. I abstain from alcohol during the week. I have to keep my body warmed up and stretched during the run. I have to stretch when I get home, because my muscles end up getting fatigued during the course of the show. I'm learning about the physical necessities of being the lead in a Broadway musical.
Speaking of warmed up, how warm is that elf costume that you wear?
JG: You know what, I did something very smart that I'm proud of. I said to them I'd prefer not to wear wool. I think the original costume was wool-based. So, Gregg Barnes, the designer, found a cotton-based velvet of some kind. It's not so bad. I never feel overheated in that costume. I do sweat during the show. I don't think you can do the part without sweating. So I just accept it and move on. It's not that bad to be on the set. I feel warmer when I'm in the overcoat and suit at the end of Act One.
You're on stage most of the time.
JG: In the first act, I don't get to be offstage more than ten seconds at the most.