THE LEADING MEN: Jordan Gelber Graduates to Leading Man in Broadway's Elf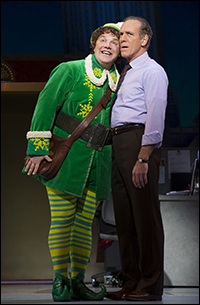 Photo by Joan Marcus
What would you say is the trick to making Buddy a character that the other characters can relate to and come to like, as opposed to a strange creature from another planet?
JG: As crazy or goofy or out-there as he can get, I'm an actor who always tries to keep things in an honest or organic place. I've always seen Buddy as just an overgrown child. He's a human being that was raised by elves. So, you've got the nature-nurture thing there. I think because he's just a big kid, and he doesn't have a maliciousness to him or edginess to him — and people are attracted to eternal optimists or wide-eyed children —that's how he gets away with everything. Because he's not a threat to anybody.
I got the impression in certain scenes that you were improvising a line here and there. Are you?
JG: There's only one true improvisatory part of the show, and that's when Walter [Buddy's father] asks me to sing a song to him, like a singing telegram. I always felt like it wouldn't be true to that moment if there were a set or codified melody that I sang. That is always improvised. Sometimes I'll have certain ideas, or I'll try to throw in a melody that someone might recognize. The other night, I sang some melody from Phantom of the Opera to see if he'd catch it, because he [Mark Jacoby] was in the show for two years. But he didn't catch it, which pissed me off. [Laughs.] He was like, "I didn't know you were singing that." I said, "You did it for two years!"
There were things in rehearsal that I ad-libbed that became set script things. I was allowed to have fun that way. It was almost like in a workshop process. When, in one rehearsal, Valerie Wright said, "Screw you, Jenny Craig," I said, "Screw you!" That just came out, and [bookwriters] Bob Martin and Thomas Meehan liked it and kept it.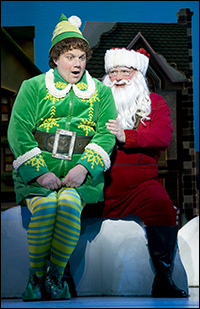 photo by Joan Marcus

I'm guessing that at most of the performances you have a good share of kids in the audience. It must be harder to keep the attention of children. Have you found ways to do that effectively as the run has gone on?
JG: I feel like the show is built to have kid's attention. Being Buddy, it's like being Elmo or Dora the Explorer. It's this character they totally love, because they see themselves in the character. I never feel like there are kids out there who are not enjoying the show, and are saying, "Mom, I want to go." There was a time when I had this fear it would be like a children's theatre thing. But part of the beauty of the show is it's really well-focused, and that's a tribute to Casey's direction and the writing, and the music. It's keep the focus of the kids the whole time. At the same time, it doesn't pander to them.

Do some of the kids wait afterwards to say hello and get your autograph?
JG: Yeah, that's a fun and special thing for me. Some of the kids are so excited. Younger kids, I can see how nervous they are to meet me. But as soon as I say, "You want to take a picture with me?," they're like, "Yeah, yeah, yeah!" Even Wayne Knight's son. Wayne has a two-and-a-half-year-old son name Liam. All he wants to do is talk to "Buddy Elf." If Wayne asked him what he wants for the holidays, he'll say, "I'll have to talk to 'Buddy Elf' about that." Wayne plays Santa Claus in the show. Liam doesn't even want to talk to Santa Claus, he wants to talk to Buddy Elf.

You're a New Yorker, right? You were born here.
JG: I was born in Riverdale. When I was five, we moved to Long Island.

Did your parents ever take you to the theatre
JG: Yeah, tons. Annie was my first musical. I saw the original Les Miz.

Annie was your first musical? I guess you've been too busy to see the new revival.
JG: No, but I want to. The day of the Macy's Thanksgiving parade, we got to hang out with the other casts who were doing the parade. Lilla Crawford, who plays Annie, was there. And she came up to me and said, "Are you Elf in Elf!?" And I said, "Are you Annie in Annie!?" I got a picture with her and said to Thomas Meehan: "Thomas Meehan's worlds collide!"