THE LEADING MEN: Matthew James Thomas Discovers His Corner of the Sky in Broadway's Pippin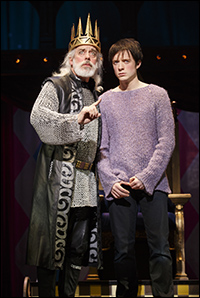 Photo by Joan Marcus
How did you find adjusting to New York City life?
MJT: Well, New York City life is different from all other city life. It's incredibly relentless and fast, and I think when I first got here, it was incredibly exciting. It was also so hot. I didn't know New York got so hot. I'm not a fan of the heat! [Laughs.] When I got in, I could not believe that I was going to be rehearsing this crazy show through summer, and that summer, in particular, was so bad. But then, of course, I get to experience the incredible winter here, which is my favorite season, and there is no more magical place on earth when it snows in New York.
Tell me about doing these different circus stunts in Pippin. Was that part of your training for the show?
MJT: It's a very collaborative process… Gypsy [Snider, who incorporates circus choreography and acrobatics] really wants you to find where you are [comfortable]. Like, the back somersault is something completely new — I've never done that before in my life, and it's always been something I've wanted to do. Whenever I see people do it, I [think], "Oh, I wish I could do that." And, I saw the opportunity, and they trained me in a couple of weeks. Just before previews began — like, three days before — was the first day I did it without wires, and Gypsy [asked], "Are you sure you're okay to do this in the show?" I know I'm surrounded by these incredible circus performers, so I always feel safe, but there is danger involved in these things. Going up on that trapeze and climbing that pole — if I make any self-error, that's it. It's the end. There's no wires or anything. People [ask], "How does this compare to Spider-Man?" I say, "Physically, it's twice as difficult." Spider-Man was certainly about technique, and especially with the singing and being thrown around in that rig — which I loved also, and was so exciting — but this is my responsibility. I really love that Pippin gets to do these things, too.
I'm super tired doing this show. I have to keep up a pretty heavy physical routine of running and diet just to stay fit for the show, but I wish that I could do more, and I'm going to keep pushing for more. I hope that Diane's open, even after we're [officially open], to [adding] little bits here and there because the show is themed around exploration… It's like professional playing. It can be dangerous, but it's really thrilling.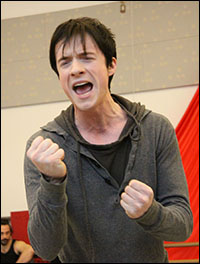 photo by Joseph Marzullo/WENN

Between Spider-Man and Pippin, you seem to be playing with fire on Broadway.
MJT: Apparently! [Laughs.]

It was reported that you were injured during Spider-Man.
MJT: Yeah, I jumped into a wall. That had nothing to do with [the stunts performed in] Spider-Man. Actually, I remember seeing that come out [in the news], and I thought, "This is not another Spider-Man accident. I just jumped into a wall. I'm an idiot!" One day I was just so excited during the show, I was running down one of the stairways, and I jumped to try and scare my friend who was on the stairs below, and I didn't realize the ceiling was as high as it was, so I went straight into it and really hit my head. That's what it is! [Laughs.] That knocked some sense into me, I think… Well, apparently not because I'm climbing poles [in Pippin]!

A moment I really loved in the show was your second-act song-and-dance number, "On the Right Track," with Patina Miller. I imagine it being a great time working on that in the rehearsal room.
MJT: Patina is kind of amazing. She's a machine. She's got so much soul and so much personality, but yet she can just do anything, and her voice is so resilient and accurate. In rehearsal, the first time around, we [were] doing a little bit of dancing and a little bit of push and shove here and there. Then, one day, both me and Patina said, "Chet, we want to dance." I don't even know if [choreographer] Chet [Walker] knew that I could dance because we did not do any dancing in the auditions… I haven't danced in a long, long, long time. I do not call myself a dancer by any stretch of the imagination — I'm far from it — but it's so fun to have a go! It's my turn to have a go at dancing with Patina. It's us playing around on stage together… It feels kind of electric, especially with her. She's great in the rehearsal room and even better on stage.