THE LEADING MEN: Ramin Karimloo, the London Star of Les Miz, The Phantom of the Opera and Love Never Dies


*

Ramin Karimloo has come a long way since he was born in Iran 33 years ago, before growing up in Canada and then coming to Britain at the age of 21, as part of a cruise ship he was performing on — on which he met his future English wife Mandy (and mother to his two sons, now four and seven). He settled in Britain and soon acquired an agent, and his first job as an understudy in a production of The Pirates of Penzance at the Open Air Theatre, Regent's Park. He then served a long theatrical apprenticeship, via stints understudying in Les Misérables to taking over as Marius, playing Raoul in The Phantom of the Opera before covering and then taking over the title role, as well as starring in a tour of Miss Saigon.

But it wasn't until he originated the role of the Phantom in the troubled sequel Love Never Dies, for which he was Olivier Award-nominated, did he become a star in his own right. He was chosen to return to play the original Phantom in the globally screened live 25th anniversary concert production of the show at the Royal Albert Hall, which has now also been issued on a DVD. A year earlier he also played Enjolras in the 25th anniversary of Les Miz at the 02 in London. Now he's a solo concert and recording artist as well, who has recently completed a sell-out U.K. tour following the release of his solo debut album, "Human Heart," for Sony Masterworks.

Now he's in America, where next month he will make his New York concert debut and where his album has just had a U.S. release. Playbill.com's London news correspondent Mark Shenton met him in London.

You've just finished a stint in Les Misérables in London, this time playing the lead role of Valjean. How did it come about?
Ramin Karimloo: There'd been a couple of conversations about whether I'd be interested, and I always said no — I didn't know what I'd do with it, and I was getting tired because of the three years I'd spent on Love Never Dies. But then Cameron [Mackintosh] asked me to do the Phantom of the Opera 25th anniversary concert, and in week two of rehearsals he sat me down in the office at Ealing Studios where we were rehearsing, and he told me, "I've come for my pound of flesh!" I think I owe him more than a couple of pounds actually, and I'm carrying a few more myself! Then he said, "I need you to play Jean Valjean for me." But he had more faith in me than I had in myself. Its the only time I've ever talked myself into an audition — I asked him to let me come sing it for him first. That gave me time to get the Phantom 25th out of the way and also time to think about what I was going to do with the character. I then read the novel in the meantime and I got inspired — and when I went in about ten days later, I really wanted it!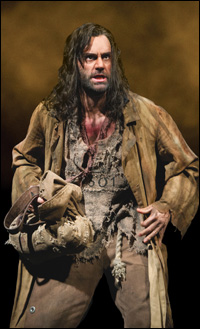 photo by Alastair Muir
So how did the audition go? Your friend Hadley Fraser, with whom you are in a band together called Sheytoons, was already in the show playing Javert...
RK: They brought him in to do the confrontation with me. And that's what made me nervous — more than Cameron watching me! We had first been in the show together ten years before when he was Marius and I was his understudy! Both of us have gone on different journeys to evolve our craft; we think a lot alike now, and we think very differently now to what we did back then. To put my work on the line in front of him was tough, though he wasn't there to judge me but to root me on. And my favorite compliment from him came that day when he said to me, "I love you and I think you're good — but I didn't expect that!" I knew then that we were going to have a good time together in the show!
And what's happened to your band?
RK: That's never been about work, it was about fun. We spent more time together when we weren't next door to each other! But we never wanted to put any pressure on it — as much as we like putting stuff on youtube and doing concerts, neither of us are ready to fully commit to getting a record deal for it.
Instead, you got a solo recording deal with Sony! But it's not actually your first album — you produced your own, limited-edition EP early on "Within the Six Square Inch."
RK: Yes, And Hadley and I did "New York State of Mind" on it. I don't think I even have a copy anymore, but I was so proud of what we did on that....
This time around, though, it's very different, isn't it?
RK: There's a machine behind me now! But I didn't search for it. I've always had guitars around the house and I've been passionate about making music for a long time, but the older I got, I thought maybe that chance has gone. But once I got Love Never Dies, there was a lot of press about me and a music management company approached me. They started piecing the puzzle together of how they could cross me over. And before asking me if I'd even be interested, they went to labels and started pitching me. By the time they told me, they had a label ready to work with me!