THE LEADING MEN: Richard Fleeshman, the Soul and Body of Ghost The Musical


*
The stunning visual effects may garner more attention, but lead actors Caissie Levy and Richard Fleeshman are the beating heart of Ghost the Musical, which is based on the 1990 film about two young lovers torn apart by death. Directed by Matthew Warchus, a Tony winner for God of Carnage, Ghost The Musical comes directly from London's West End to haunt Broadway's Lunt-Fontanne Theatre with a book adapted by the film's Oscar-winning screenwriter Bruce Joel Rubin and a new score by pop icons Dave Stewart and Glen Ballard. Best known in his native England as the handsome star of television series such as "Coronation Street," Fleeshman, 22, makes his Broadway debut as ill-fated investment banker Sam Wheat, who, from the afterlife, uses a reluctant medium to make emergency contact with his girlfriend. Fleeshman spoke to Playbill.com about the pressures of playing a part made famous onscreen by the late Patrick Swayze — and how a car accident almost cost him the role of a lifetime.
Because you exude such a mature confidence in your role, I was surprised to learn that you're only 22 years old. Do you get that a lot?
Richard Fleeshman: I suppose. I'm playing an older guy, so it's good to hear that's coming across. Thanks very much.
How have you been enjoying New York City?
RF: I love what I've seen of it so far. I love my apartment and I love my dressing room — that's all I've gotten to see, really. [Laughs.] No, but now that we've opened and I have my days free, I hope to get out more. I've seen Central Park and things like that, but I haven't even been to Brooklyn yet. There are so many things I want to see and do in the city now that I have more time.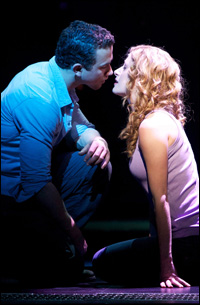 photo by Joan Marcus

Your co-star here and in the U.K., Caissie Levy, previously starred on Broadway in Hairspray, Wicked and Hair. Do you rely on her to play New York tour guide?
RF: Yeah, Caissie gives me the lowdown on where I've got to go. To be fair, she takes me to most of the places herself, because we're best friends. It's good to have her knowledge. She's returning the favor, of course, because I did that for her when we were in London for a year.

Do you have any favorite cast hangouts, pre- or post-show?
RF: Definitely not pre-, because I think it would be dangerous if this cast got together and then tried to do the show — that could be terrible. [Laughs.] But afterward, yeah, we've found a few good places. And everyone goes to Kodama. It's just the best sushi place I've ever been to, so I love it there. For drinks, I've found a few nice local pubs and bars in Midtown, but nothing crazy. Our director, Matthew Warchus, took us out to Soho House, and that was lovely.

Had you spent time in New York before this?
RF: I spent a weekend here when I was 16, and that's it. I remember that I saw A Chorus Line and The Drowsy Chaperone.

You got your breakout television role as a regular on the long-running British soap "Coronation Street" at the age of 12. In addition to other notable TV appearances, you released a pop-rock album in 2007. Last year, when you were cast in Ghost, were you actively looking to add more theatre to your resumé?
FR: Yeah, well, I was so intrigued with the project and, more to the point, the people who were involved. Having Matthew Warchus directing was such a huge incentive, because he comes with such credentials, and his creative team has been involved with all these great shows that have come before. Not to mention the fact that Glen Ballard and Dave Stewart were writing the songs. All these things were pointing me in the right direction. The more I got to know about the show, the more I desperately wanted it. It went on a long time; towards the end, by the final few auditions, I was terrified because I wanted it so much.