THE LEADING MEN: Wonderland's Darren Ritchie & Catch Me If You Can's Tom Wopat


*

I talked to both just as final changes were falling into place before their respective April 17 and April 10 opening nights.

A Knight's Tale

There is a moment in Wonderland, the new musical opening at the Marquis Theatre on April 17, where, in the midst of the action, the show's would-be hero, Jack the White Knight, and his followers transform into a boy band, complete with intentionally corny choreography. They are trying to convince Alice (Janet Dacal) that she needs but "One Knight" to rescue her. The desperate-to-be-needed Jack, who gets quite the audience response from this number, is played by Broadway veteran Darren Ritchie, who openly solicits fan ideas for what to say to Alice after he nails his high note.

With music by Frank Wildhorn, it's not a surprise that Ritchie has turned up in this pop vision of Alice's Wonderland. Wildhorn gave Ritchie his big break as Jonathan Harker in 2004's Dracula, the Musical. Prior to Drac, Ritchie did understudy and replacement work in Little Shop of Horrors, Thoroughly Modern Millie, Bells are Ringing and Les Miz.

In addition to the White Knight, the South Carolina-born, Florida-raised, Carnegie Mellon-trained Ritchie plays two other roles (that I won't divulge) in this modern twist on the already twisted Lewis Carroll tale, which has a 21st-century, urban Alice plunging down a rabbit hole to search for her missing kid.

How are you enjoying life in Wonderland?
You know, finally today we did our last bit of changes. It's been a lot of work but we're finally frozen. So we're really excited about that. The best way to answer the question is, "It's great."

For the laymen out there, when you say a show is frozen, does that mean nothing in the show can actually change after that point?
It does not necessarily mean that. It means there are no plans to change it. If there's something here or there, they might say "Hey let's edit this line." But what it basically means is that the structure of the cues — especially with our show, it's such a gigantic video game of a show, that you affect one line and then they have to fix the projections, the lighting, the set, all that — is frozen. That pretty much sets a lot of the text with it, but little edits here and there can certainly happen.

I suppose there's a balance. You've been involved with the production for two years. Early on, it's got to be fun when there are a lot of changes and everything's up in the air and you're still discussing character. Then you reach a point that you just want it to settle down.
Absolutely, you nailed it right on the head. One of the great things is, [the creative team] has been very great, especially with the heroes, the leads, really talking with us about things that we need. After we started this process again for Broadway on Feb. 28, we have been working nonstop, and for it to finally be set feels like a big achievement.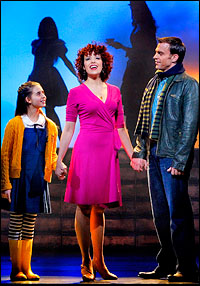 photo by Michal Daniel
It's definitely a show that requires good ensemble chemistry. You're with a group of hero characters, a rabbit, a cat, a caterpillar… each with their limitations, but all working for the same thing.
Really, for me, I always tell people that being in a Broadway show is like being on a pirate ship. You can't get away from people. You have to keep a chemistry that's really positive. I think that coming all the way down from Frank Wildhorn to Janet to myself, we keep things really light and positive, and I think that's really helped us. I was a fan of Jose Llana [El Gato] when I saw him in Spelling Bee. I met E. Clayton Cornelious [Caterpillar] a few times, and he obviously joined us after he did Scottsboro Boys. We really are like a family up there. Janet and I really try to lead that. We don't let a lot of negative attention get in. A lot of people work on their shows with an eye on the other shows out there. We're not trying to be Book of Mormon or Catch Me If You Can. I wish all them well. I'm so happy that Broadway is healthy again. I think New York has needed it.
In your mind, what is the target audience that Wonderland? There are elements for kids, but deeper themes as well.
This is one of the few shows that I've done where I really feel like we appeal to the whole family. We do have an 8-to-80 range. I'm not just saying that. Kids seem to be on the edge of their seat because of all the characters, and then we also have parents that really understand losing their childhood and losing the sense of the people around them. That message is universal for everyone.
Are there scenes you can relate to your own life?
My favorite scene in the show: When Alice gets to talk to herself as a 7-year-old. If I think back, if I could tell myself some stuff when I was 7. You know, "It's O.K., everything's going to be fine." My parents are coming up next week for the opening, and they have never seen the show, and for them, a Broadway show is a real event. My family is from the Carolinas. They are out of the blue collar, Southern belt. I think it's going to be a really fun experience for them. I was a kid that went through a divorce, and I kind of got caught in the middle of it sometimes. And, gosh, my parents sure do love each other still; they're great friends, but it just didn't work out for them. I think that sometimes people have to step back and be like, "O.K., life is so fast, how can I slow down? Oh, yeah, think of all the people that love me. They can help me get back on track." I think we do a really good job of telling people to do that in Wonderland.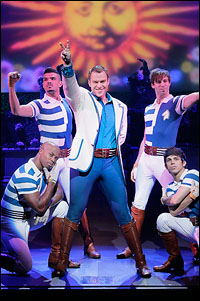 photo by Paul Kolnik
Do you ever look back to when you first got to New York and see how far you've come?
I spent so much of my career being a standby and I just never thought that the opportunity would come to me. I went to L.A. and I started working on TV and film, and I got a call one day from Frank Wildhorn personally, saying "Hey we want you to do this part [in Dracula]." I had never, ever had that in my life. I was sitting in my manager's office. My manager asked, "Do you want to read for it?" I was like, "Frank Wildhorn just called me and asked me to do a part that he created for me. Don't you think that's enough?" And it was enough for me. If I would have told my 21-year-old self that that was going to happen I would have said, "No way!"
You understudied Gavin Creel and Marc Kudisch in Millie at the Marquis Theatre, and now here you are in a leading part. Is that a "through-the-looking-glass" feeling?
It's really interesting because I remember when I was first starting to go on stage as Jimmy a lot, I'd go in Sutton Foster's dressing room and we'd run lines, and now I'm right across the hall from the Sheryl Lee Ralph dressing room from Millie. It is a little bit of a looking glass. The music room is where myself and Cheyenne Jackson sat in the boys' dressing room. The other day I was rehearsing some new music, and I looked under the desk and my signature was there from years earlier, which was kind of fun.
Finally, the "One Knight" number. How fun is that to do?
It's pretty fun. When it was first brought to me two years ago I remember sitting in the room and being like, "I don't know…" I did it for the first time in Tampa and ever since then, it's just been crazy. We've had people come and ask us if we want to tour as a boy band, which is hysterical to me. I have a competition where I ask people on my Twitter and my Facebook what they would like for me to call Janet after I sing the big high note. Fans will give me sometimes inappropriate things that I can't say, but last night a fan gave me, "That's for you, snuggle bunny!" and I liked that. It killed, the audience was laughing about it. I have such a great time up there anyway and certainly doing "One Knight" as my very first thing, it's like being shot out of a cannon. Not a bad way to make an entrance.