THE "SMASH" REPORT: Episode 9, Or, Valley of the Dolls and Guys



Photo by Eric Liebowitz/NBC
*
What comes first when making a hit musical? A title? A star? How about a script and a score? Director-choreographer Derek (Jack Davenport) finally demands the latter, and says that when Tom (Christian Borle) and Julia (Debra Messing) deliver a script and songs, he'll play editor and plan another workshop — in a year. Producer Eileen (Anjelica Huston) is all about titles and stars. She charges Tom and Julia with coming up with a snappier title than Marilyn the Musical, and she heads off to super-agency CAA to fish for Hollywood actresses. The names Anna Paquin, Anna Faris and Kate Winslet are tossed about. This sort of crazy list-making is fairly typical in the offices of producers in New York and regionally. The question "How about Hugh Jackman?" has been asked more than once since the Australian movie star turned the dross of The Boy From Oz into box-office gold.
Ellis (Jaime Cepero), Eileen's snakily ambitious assistant, whom Derek refers to as a "Chihuahua" (the series' first racial slur?), ferrets out the manager of a major star named Rebecca Duvall. Sean Dugan, the ginger-haired Broadway actor of Next Fall whose laconic and precise delivery always lends a quality of mystery to the characters he inhabits, plays Duvall's manager, Randall. He agrees to Ellis' idea of Rebecca meeting about the Marilyn musical. Ellis sweetens the deal by offering Randall a sex act (the offer is accepted) that is not seen on screen. Bingo! Sociopath Ellis is revealed to be creepily ambisexual (as opposed to "trisexual," the word referenced in "La Vie Boheme" in Rent; it means a proclivity to "try" anything — or maybe you knew that already).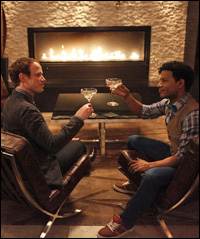 photo by Craig Blankenhorn/NBC

Expect "Rebecca Duvall" to show up next week; guest star Uma Thurman will play Rebecca, further shaking the confidence of potential leading ladies (and box-office nobodies) Ivy (Megan Hilty) and Karen (Katharine McPhee). Ellis maneuvers for a "co-producer" credit for snagging the meeting with Rebecca, but Eileen swats him down.

Eileen, in order to goose Derek back in line, takes a dinner with real-life Broadway director Doug Hughes (playing himself), who won a Tony Award for directing Doubt and directed "Smash" creator Theresa Rebeck's Broadway play Mauritius. (Check out Hughes' credits in the Playbill Vault.) Their dinner scene (against a wall of illustrations) was shot at the Upper East Side modern Italian place called Caravaggio Ristorante. Who should walk into the eatery but a villain to rival evil Ellis — New York Post theatre columnist Michael Riedel (he was mentioned in the pilot, billed as "a Napoleonic little Nazi"). Did Eileen arrange for Riedel to find her there with Doug Hughes? Was it coincidence? Hughes (he's the son of the late actors Barnard Hughes and Helen Stenborg) looks queasy in the columnist's presence and says he doesn't want to be reading his name in The Post. Naturally, Riedel places an item in a column — Eileen Rand Wooing Doug Hughes for Marilyn Musical. A threatened Derek is outraged. "You can't believe anything you read in Riedel's column," says the coy Eileen, "and you know that he extrapolates!" Derek is back on board.