THE WEEK AHEAD, Nov. 3-9: Annie and Elf Open on Broadway; Dead Accounts, Christmas Story, Golden Boy Begin



Photo by Joseph Marzullo/WENN
*

Saturday, November, 3
RE-OPENING→ The comedy My Big Gay Italian Wedding — a play about, well, just what you think it's about — returns for a limited Off-Broadway run. Writer Anthony J. Wilkinson and Daniel Robinson star as the couple in question. (St. Luke's Theatre, 308 W. 46th St., btwn. 8th & 9th Aves., info/tickets.)

Sunday, November 4
GO→ Monologist and playwright Anna Deavere Smith returns to the place that put her on the map some 20 years ago, the Public Theater, for the next installment of their Public Forum series. David Simon, creator of HBO's "The Wire," will join Deavere Smith — whose Fires in the Mirror, a dramatization of real-life accounts of people who were affected by the Crown Heights riots, debuted at the Public in 1992. The pair will discuss life in various American cities. (7 PM, Joe's Pub, 424 Lafayette St., $40, info/tickets.)

LAST CHANCE→ The revamped revival of Richard Maltby, Jr. and David Shire's musical revue Closer Than Ever plays its last performance at the York Theatre. The current cast stars Marya Grandy, George Dvorsky, Anika Larsen and Sal Viviano as friends, lovers and others who navigate all the trials and tribulations of modern life — including growing older. Maltby also served as director. (York Theatre, 619 Lexington Ave., corner of 54th St., info/tickets.)

Monday, November 5
PREVIEWS→ Katie Holmes and Norbert Leo Butz return to Broadway in Theresa Rebeck's newest comedy Dead Accounts. They play a brother and sister who reunite under odd circumstances involving a big secret and $27 million. Adding to the dysfunction in the family is Jayne Houdyshell as their mother, Judy Greer as Butz's much-maligned wife and Josh Hamilton as an old childhood friend. Directed by Jack O'Brien. Officially opens Nov. 29. (Music Box Theatre, 239 W. 45th St., btwn. Broadway & 8th Ave., click here for Playbill Club discount previews tickets.)

OPENING→ Tony winner Shuler Hensley packs an emotional punch in the New York premiere of Samuel D. Hunter's The Whale. Hensley gives, in my opinion, a not-to-be-missed performance of a lifetime. Not for the faint of heart, this heartbreaking and fascinating new play is set in the cluttered apartment of a 600-pound, sickly recluse (Hensley). Strangers and loved ones — including a nurse (Cassie Beck), a reckless teenager (Reyna de Courcy), an alcoholic ex (Tasha Lawrence) and a wayward Mormon missionary (Cory Michael Smith) — struggle to understand the mess the man has made of his life. (Peter Jay Sharp Theater 416 W. 42nd St., btwn. 9th & 10th Aves., info/tickets.)

CASTING→ Country crooner Billy Ray Cyrus is the latest in star casting for the long-running Broadway revival Chicago. Cyrus will play slick lawyer Billy Flynn through Dec. 23. (Ambassador Theatre, 219 W. 49th St., btwn. Broadway & 8th Ave., Click here for Playbill Club discount tickets.)

Tuesday, November 6
GO→ A break in your regularly schedule theatre-centric WEEK AHEAD to alert you that Tuesday is Election Day! People, regardless of who you're voting for, you should do just that…vote!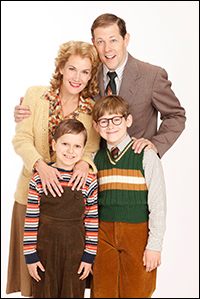 photo by Carol Rosegg
Wednesday, November 7
PREVIEWS→ The beloved holiday film A Christmas Story gets the musical treatment thanks to up-and-coming songwriting duo Benj Pasek and Justin Paul (of Dogfight fame). The Christmas standard comprises a kid named Ralphie (Johnny Rabe) and his quest for an official Red Ryder carbine-action two-hundred-shot range model air rifle ("You'll shoot your eye out!"). Along the way we meet Ralphie's family including his leg-lamp-loving Old Man (John Bolton), his overprotective mother (Erin Dilly) and his precocious younger brother, Randy (Zac Ballard). Dan Lauria ties the whole thing together as the narrator. Officially opens Nov. 19. (Lunt-Fontanne, 205 W. 46th St., btwn. Broadway & 8th Ave., click here for Playbill Club discount previews tickets.)
Thursday, November 8
OPENING→ After Hurricane Sandy socked much of the tri-state area, the revival of Annie — about an optimistic orphan who believes, against all odds, that "the sun'll come out tomorrow" — couldn't have come at a better time. The iconic Charles Strouse, Martin Charnin and Thomas Meehan musical stars Lilla Crawford as the title player with two-time Tony winner Katie Finneran as the malevolent orphanage proprietor, Miss Hannigan, and Aussie star Anthony Warlow as the "Daddy" who comes to Annie's rescue. (Palace Theatre, 1564 Broadway, btwn. 46th & 47th Sts., info/tickets.)
PREVIEW→ The Broadway revival of Clifford Odets' Golden Boy begins its run at the Belasco Theatre almost 75 years to the day the original version opened there in 1937. War Horse star Seth Numrich plays Joe Bonaparte, a talented young violinist who dreams of a life as a professional boxer. Those trying to shape the aspiring prizefighter's life include Anthony Crivello, Tony Shalhoub and Danny Burstein. Directed by Bartlett Sher. Officially opens Dec. 6. (Belasco Theatre, 111 W. 44th St., btwn. 6th & 7th Aves., info/tickets.)
Friday, November 9
OPENING→ The holiday musical Elf, based on the 2003 film, returns to Broadway. With songs by Wedding Singer scribes Matt Sklar and Chad Beguelin and a book by Thomas Meehan and Bob Martin, the story follows Buddy the Elf as he tries to adjust to a life away from Santa's North Pole. The 2010 Broadway premiere of Elf turned out to be a big commercial success, breaking Hirschfield box office records and grossing over $1.5 million during Christmas week. Directed by Casey Nicholaw. (Al Hirschfeld Theatre, 302 W. 45th St., btwn. 8th & 9th Aves., click here for Playbill Club discount tickets.)
OPENING→ The Radio City Christmas Spectacular returns to Radio City for its popular holiday run. For the show's 85th anniversary celebration, expect the high kicks of the famous Rockettes, a visit from Santa, and newly added high-tech elements including a recreation of the Rockefeller Center ice-skating rink and a dance with a Gray Line double-decker sightseeing bus. The production also has shows in Nashville, St. Louis, Dallas and Chicago. (Radio City Music Hall, 1260 6th Ave., btwn. 50th & 51st Sts., info/tickets.)
Blake Ross is the editor of Playbill magazine. Follow her on Twitter @PlaybillBlake.
Playbill Video visits A Christmas Story in rehearsals: