The Year's Best: Playbill Contributors Choose Unforgettable Theatre Experiences of 2013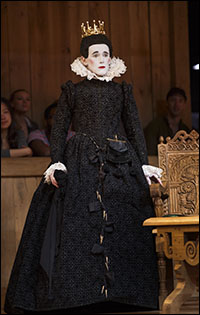 Photo by Joan Marcus
ROBERT SIMONSON, Senior Correspondent
Regular Singing, the last of the Apple Family plays from Richard Nelson, brought to a close some of the most naturalistic, unaffected and immediate theatre the New York stage has likely ever seen.
Wallace Shawn's plays always challenge an audience and remind one of theatre's power to disturb and stimulate thought. The engaging, unpredictable and unsettling Grasses of a Thousand Colors, a fantastical and surreal tale of disastrous human self-centerdness and myopia, was no different.
The Globe Theatre's production of Twelfth Night—presented with Renaissance England authenticity, right down to the period costuming and musical instruments—proved that Shakespeare, as performed during the writer's lifetime, was not a tedious affair, but as delightful and entertaining as any theatre we see today.
Annie Baker's The Flick galled Playwrights Horizons audiences with its length (three hours), static nature and seeming lack of action. For diehard theatregoers, however, it was a thrillingly daring piece of stagework, endlessly fascinated in its existential minutiae, and crowned with three fantastically deep performances from Alex Hanna, Louise Krause and Matthew Maher.
Amy Herzog's unusual Belleville was an aching and agonizing portrait of a fragile relationship that goes irrevocably wrong when a series of deceptions and realizations come tragically to light. There were few more unforgettable scenes this past year than the wordless sequence at the end when two landlords clean up the physical and psychic mess created by their former tenants.