The Year's Best: Playbill Contributors Choose Unforgettable Theatre Experiences of 2013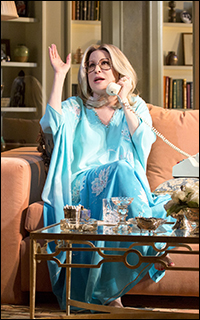 Photo by Richard Termine
ANDREW GANS, Playbill.com Senior Editor
The Glass Menagerie
By far the most moving production of 2013 was John Tiffany's revival of The Glass Menagerie. Having previously seen and read the play, I have to admit I wasn't especially interested in catching the latest mounting, but as soon as the show began, I was swept away by Tennessee Williams' drama and by the quartet of actors who brought his words to full and thrilling life. All were extraordinary, but I was particularly moved by Zachary Quinto's Tom, a trapped young man unable to live the life for which he desperately yearns. And, when his mother accused him of purposefully bringing an engaged "Gentleman Caller" to the Wingfield home, I could feel Quinto's dumbfounded astonishment. I was haunted by Quinto and his fellow actors' work for weeks after the curtain came down.
Michael Urie in Buyer and Cellar
In Buyer and Cellar — Jonathan Tolins' one-man comedy about a gay man who takes a job supervising the unpopulated mall in Barbra Streisand's basement — Michael Urie accomplished a rare feat. The young actor, best known for his work on TV's "Ugly Betty," made me believe I had actually seen some of the people who are part of Streisand's day-to-day life. I was particularly convinced Streisand's husband, James Brolin, made an appearance in this hilarious and touching production, and although Urie didn't don drag, his vocal impersonation of Streisand was surprisingly affecting. Buyer and Cellar was one of those rare one-person shows that completely captivated from start to finish, and much of that was due to Urie's skill as an actor and his abundance of charm.
Bette Midler in I'll Eat You Last
Another dazzling solo performance was given by the Oscar-nominated, Grammy-winning Bette Midler in I'll Eat You Last, John Logan's play about the late, caustic Hollywood agent Sue Mengers, whose clients included Ali MacGraw, Sissy Spacek and Barbra Streisand, among numerous others. Sitting in Midler's presence as she evoked the legendary Mengers was one of the joys of the season. Her delivery of Mengers' often-witty tales was flawless, hilarious and surprisingly poignant. Midler also had great fun with audience members she called to the stage, and the intermissionless conversation flew by all too fast. One can only hope Midler will again grace Broadway with her many talents.
Elizabeth Marvel in Picnic
Elizabeth Marvel didn't have the largest role in Roundabout Theatre Company's winter production of William Inge's Picnic, but her performance is the one that stayed with me for days after I left the theatre. Playing the marriage-hungry schoolteacher Rosemary Sydney, Marvel was especially compelling in a raw, emotional scene where she begs and pleads with shopkeeper Howard Bevans to reconsider marrying her. Her despair was palpable as she repeatedly implored the middle-aged Bevans to phone her the following morning. And, having never seen the Pulitzer Prize-winning drama before, I was thrilled there was a happy ending for this lonely woman.
The Winslow Boy
Another Roundabout revival, Terrence Rattigan's The Winslow Boy, managed to deliver all the excitement and suspense of a great courtroom drama without a single courtroom scene. Featuring one of the great ensemble casts of the season — led by Tony winner Roger Rees — I was completely captivated by the Winslows and the plight of the young Ronnie Winslow, who is wrongfully expelled from school for stealing. In addition to Rees' Arthur Winslow, I was particularly taken with the performance of Charlotte Parry who, as Catherine Winslow, was equally willing to sacrifice her own happiness to prove her brother's innocence, and Alessandro Nivola as Sir Robert Morton, who leads the defense of The Winslow Boy but is unable to completely let down his own defenses.
Betty Buckley in The Old Friends
There are few things more exciting in the theatre than being surprised by a favorite artist. Just when I thought I had seen the full range of Tony winner Betty Buckley's extraordinary work, I was enthralled by her dynamic performance in the world premiere of Horton Foote's Texas-set The Old Friends at New York's Signature Theatre. Buckley played the rich, desperate, conniving, love-starved, selfish alcoholic Gertrude Hayhurst Sylvester Ratliff, and her performance was as rich and layered as any of her award-winning musical theatre outings. Foote explored some familiar territory in this humorous, moving, sometimes disturbing, but ultimately satisfying drama — including the power of money, the treatment of elderly family members and the elusive nature of happiness — but it was Buckley's powerful performance that lingered.
(Gans' musical theatre favorites will be discussed in his Dec. 27 Diva Talk column.)