The Year's Best: Playbill Contributors Choose Unforgettable Theatre Experiences of 2013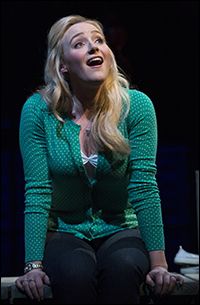 Photo by Joan Marcus

MICHAEL GIOIA, Playbill.com Staff Writer

The Off-Broadway revival of Jason Robert Brown's The Last Five Years at Second Stage Theatre was my favorite production of the year. I think that the show itself, about two people falling so deeply in and out of love, is so beautifully written and composed that I was sold from the moment I learned Jason Robert Brown would be directing. I saw the show at Second Stage twice and felt as though I went on two separate journeys — the first time with Cathy, who broke my heart the moment Betsy Wolfe's mood shifted at the dock in "See I'm Smiling," and the second time with Jaime, whose words "Have I mentioned today how lucky I am to be in love with you?" (delivered flawlessly in "The Schmuel Song" by Adam Kantor) never resonated so strongly. Seeing The Last Five Years live was such a gift, and I left the theatre (each time) feeling so drained from the emotional roller-coaster ride I just went on.

The Broadway revival of The Glass Menagerie is, hands down, the most gorgeous production I've ever seen. I was completely warped into the magical world that John Tiffany created from the minute the lights dimmed. The pool of black liquid surrounding the memory play on stage is not only stunning, but genius.

These are obvious choices, but it must be noted that Pippin and Matilda were my favorite Broadway musicals of last season. I felt like a ten year old (in the best way) from the moment I sat down. Diane Paulus' innovative concept of incorporating acrobatics and a cirque-style atmosphere in Pippin was thrilling and left me on the edge of my seat, and Bertie Carvel's performance in Matilda was basically mind-blowing. From beginning to end, my heart was beating, and I actually had to grab onto the person next to me when the Trunchbull came barreling down the aisle from the back of the house!

After Midnight is, thus far, my favorite musical of the current Broadway season. Can we talk about Fantasia Barrino's flawless and effortless performance?! The production was very reminiscent of Smokey Joe's Cafe, and I love a successful musical revue. Each number in After Midnight was more exciting than the last, and I left inspired to dust off my tap shoes and get back to class!

This year was chock-full of special events that I must comment upon. The 10th anniversary of Wicked was such an exciting evening for the theatre community — the audience was electric, and the cast was unstoppable. In my opinion, Lindsay Mendez's "The Wizard and I" is currently the most thrilling three minutes on Broadway, and being able to call her (and other members of the cast) a friend made my 15-year-old heart explode. (Read my recap of the evening here.) The fifth anniversary reunion of In the Heights was another unforgettable night. The audience was on their feet from beginning to end, and I'm surprised the Palace Theatre stayed intact after the explosive "96,000." (Read my recap of the evening here.) I must confess that I cried during this year's Jimmy Awards watching high school students live out their dreams on a Broadway stage. After spending the week with the students and getting to know some of them, I felt like a big brother sitting in the audience and cheering them on. Their passion, drive and insane talents left me floored and inspired. (Read my recap of the evening here.) Speaking of young talents, this summer I was given the opportunity to report on life at theatre camp. French Woods Festival of the Performing Arts and Stagedoor Manor are a theatre kid's dream come true, and I was immersed in "camp life" for an entire day at each. I'm happy to report that the upcoming generation of musical theatre is in pretty kick-ass hands. (Read my recap of life at French Woods here and Stagedoor here.)

On the concert scene (because I simply can't get enough of rising musical theatre composers and am looking forward to sharing their work at an upcoming concert at 54 Below), some of my favorite moments include Jason Gotay and Adam Chanler-Berat's brilliant and heartbreaking mashup of "Call Me Maybe" and "I'll Cover You" (watch it); the incredible musical arrangements by Benjamin Rauhala for Broadway Loves Britney (watch highlights) and Broadway Loves the Spice Girls (which I was so lucky enough to be a part of! watch highlights); the entire Latin-infused evening of Broadway Sings Selena; the Pace University students belting to the sky in Hatched (check out this catchy performance of "Boys," performed by Anna Grace Barlow and Mary Claire Miskell, and this performance of "Give it Up," performed by Marissa O'Donnell); the gorgeous music of Alexander Sage Oyen, especially this performance of "We Were Giants" at his Moment By Moment song cycle concert that was performed by his flawless cast, Jason Gotay, Zak Resnick, Alice Lee, George Salazar and Emma Hunton; each concert at 54 Below's RSO FEST (read my recap here); and the Once Upon a Time in New York City 2 concert, produced by Jennifer Ashley Tepper, in which I sang on some brand-new tunes by Sam Salmond and Burt Bacharach and Steven Sater (!).