The Year's Best: Playbill Contributors Choose Unforgettable Theatre Experiences of 2013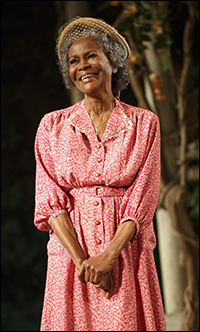 Photo by Joan Marcus

HARRY HAUN, Playbill Staff Writer

Alan Cox slowing down his dictation as he starts to sense he has fallen in love with the secretary he just hired in Cornelius.

That "Eureka!" moment when you realized Cicely Tyson, 88 or whatever, still has it.

The predictable eloquence of Christopher Plummer and the mischievous surprise of Zoe Caldwell at Julie Harris' memorial.

Favorite comeback of the year: a tie, in a nice little bow-- Amanda Plummer and Brad Dourif, both bringing uncommon clarity to one of Tennessee Williams' more impenetrable pieces, The Two-Character Play.

Alessandro Nivola's abrupt about-face after cruelly grilling The Winslow Boy.

The Christmas Carol now at St. Clement's, imaginatively reinvented on a shoestring.

Paul Chahidi gracefully skating away with Twelfth Night in a role nobody noticed before (Maria).

The Explorers Club's variation on a bear rug: a somewhat startled giraffe.

Betty Buckley's scary scene of sobriety in The Old Friends.

Playwright John Pollono's brazenness at playing the whole hand in Small Engine Repair.

Amanda Green's songs (for Joan Rivers and Fran Drescher) in Stars of David.

The best Shakespeare of the year in that very crowded category: Donmar's imported all-female Julius Caesar, with Dame Harriet Walter reminding us it's Brutus' play.

As happy an ending as Basilica could hope for: a drunken, defeated Felix Solis' determined struggle to stand up on his own two feet.

Nathan Lane being heartbreaking and hilarious—at the same time!—in his closing drag act in The Nance.

The pleasure of Tom Hanks' company—on stage and off: When David Letterman asked him who his big Tony competition was, Hanks said, "I'm up against the two greatest words in the English-speaking theatre: Nathan. Lane."

"I share this actually with not only everybody in this room but all the actors in Chicago and in storefronts and everybody who does this crazy, insane, frustrating job—the greatest job on earth. We are the ones who say it to their faces, and we have a unique responsibility." That's Tracy Letts, accepting the Best Actor Tony for Who's Afraid of Virginia Woolf? and the ballsiest George ever on Broadway.

Tracee Chimo letting off 100 minutes of scalding steam in Bad Jews.

Of all the Godots we've waited for this year, in English as well as in Yiddish, far and away the best and the brightest was the New York International Fringe Festival offering Off-Broadway: Waiting for Waiting for Godot, about two understudies (Chris Sullivan and author Dave Hanson) waiting to go on. It made you love actors!

Austin Pendleton chastising, in italics, an African-American Choir Boy for using the N-word.

Amid the brooding and steadily building violence of The Night Alive, the cast breaking loose into Marvin Gaye's "What's Going On."

Cherry Jones blasting the word "happiness" to joyful smithereens the few times it comes up in The Glass Menagerie.

The tics and jerks and gyrations of Supreme Court judges pondering pornography in Elevator Repair Service's brilliantly (if bizarrely) choreographed Arguendo.

Deborah Rush's play-stealing single scene in Women or Nothing as a hysterically haughty modern mom.

The flying feathers of the cockfight in Year of the Rooster (and Bobby Moreno's title performance).

Ian McKellen's crafty reprobate convincing himself (and nobody else) he's getting the upper hand on a rich, numbingly besotted Patrick Stewart in No Man's Land.

The guy scenes in Betrayal—and what's that all about, Mr. Nichols?

Keala Settle's Guinness Record-setting laughing jag in Hands on a Hardbody.

Discovered in assured, promised-filled theatrical debuts: Will Pullen in Scarcity and Jake Cannavale in Basilica.

The endless variety of rooms that set designer Santo Loquasto assembled for the first act of The Assembled Parties.

Eileen Atkins' Beckett call—"Christ, what a planet!"—in All That Fall.

The happy hoofer with the dancing eyes in After Midnight's otherwise deadpan quartet.

Bryce Pinkham reverting to door-slamming French farce when his secret double-lovelife catches up with him in A Gentleman's Guide to Love and Murder.

How well A Christmas Story fills Madison Square Garden—and the heart.