The Year's Best: Playbill Contributors Choose Unforgettable Theatre Experiences of 2013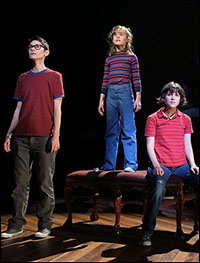 Photo by Joan Marcus

ADAM HETRICK, Playbill.com Editor in Chief

Fun Home. The best musical of the year. Composer Jeanine Tesori and book writer lyricist Lisa Kron mined Alison Bechdel's dark, dry and compellingly macabre graphic memoir about her own coming out as a lesbian and the suicide of her father for all it was worth, spinning it into an emotionally gripping piece of theatre. After reading Bechdel's book, which is essentially a serious comic book for adults, I couldn't imagine what Fun Home would look or sound like on stage. It is an emotionally-packed piece of theatre, full of joy, heart, sorrow and uncomfortable reality that delivered what I feel are three stand-out performances of the year from Alexandra Socha and Beth Malone and, especially, young actress Sydney Lucas, all of whom portray Bechdel at various stages throughout her life.

Natasha, Pierre and the Great Comet of 1812. To see this show is to be spellbound for two-and-a-half hours. The imagination and artistry that take place within the white tents of Kazino will make your head spin. When I wasn't sitting in awe of the work from director Rachel Chavkin, composer-lyricist-arranger-orchestrator-actor-bookwriter (whew!) Dave Malloy, the designers and the cast, I was fully transported to a romantically snowbound Russia. There is nothing quite like The Great Comet....

Pippin. Sexy, dangerous and enticing, Pippin kept me coming back for more this season. From the moment the blue curtain dropped revealing the magic to do from Diane Paulus and her assembled cast of Broadway performers and acrobats, I was ready to run away with the circus. In addition to a series of how'd they do that? show-stopping stunts that made me feel like a kid again and a "Morning Glow" that took my breath away, Pippin came back to Broadway with a giant heart and it belongs to Rachel Bay Jones, who found the everyday comedy and open heartache in the role of Catherine.

Golden Boy. This feels like a cheat since my colleagues included this production in their "Best of" list from last year, but fortunately (and unfortunately) I caught the show just prior to its closing performance in late January 2013. Seth Numrich offered a layered and explosive performance as Joe Bonaparte that was shockingly overlooked by the Tony Award nominating committee. And Bartlett Sher staged an endlessly detailed production populated by a cast of actors who ate-up Clifford Odets' material. My only regret is not having been able to see this production multiple times.

Belleville. I will see Maria Dizzia in anything. I find her work as an actress to be so instantly relatable and alive that I always feel like I have a personal relationship with the characters she portrays. Amy Herzog's drama infused the events of an everyday situation with an unsettling terror that turned this night of revealed secrets and betrayals into a nail biter.

The Other Place. Playwright Sharr White's ability to fragment and refract the various sides of this narrative about a woman grappling with the deterioration of her own mind was breathtaking. White was always just around the corner with a new emotional twist sure to take the air out of you. Throw into that mix the acting animal that is Laurie Metcalf and this was my favorite play of the year.

Here Lies Love. The David Byrne-Fatboy Slim musical, staged by Tony nominee Alex Timbers as an intoxicating dance party that swirled about the audience, was a thrill to experience at the Public Theater. Timbers and company created a production that wasn't meant to be watched, it was meant to be lived.

Honorable mentions to returns of two of my favorite classics: The Avery Fisher Hall concert staging of Carousel, featuring Kelli O'Hara and Jessie Mueller backed by the glorious New York Philharmonic Orchestra; and John Tiffany's poetic and magic-filled production of Tennessee Williams' The Glass Menagerie with Cherry Jones, Celia Keenan-Bolger and, for me, a show-stealing performance by Zachary Quinto. Re-imagined Sondheim in A Bed and a Chair: A New York Love Affair, a collaboration between the Tony-winning composer-lyricist jazz musician-composer Wynton Marsalis that reminded me why I'm a New Yorker. My final highlight: the 25th Anniversary performance of The Phantom of the Opera at the Majestic Theatre. This was the first Broadway show my parents took me to see in 1991. This year, I was able to share the experience in a new way, taking my dad to the record-breaking performance and to the opulent gala that followed at the New York Public Library. Read about our night here.