The Year's Best: Playbill Contributors Choose Unforgettable Theatre Experiences of 2013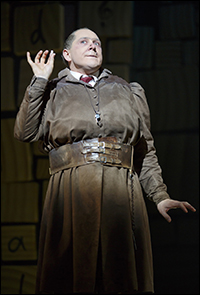 Photo by Joan Marcus

CAREY PURCELL, Playbill.com Features Editor

Matilda: Eight months after seeing Matilda, I still smile when I think of the show. Tim Minchin and Dennis Kelly adapted Roald Dahl's novel beautifully for the stage, honoring the darker aspects of the book while presenting a heartwarming and inspiring story of a little girl who had the courage to stand up for herself and say, "That's not right!" I love that Matilda presents a strong female character to young audience members, while also entertaining them with the joy that is musical theatre. Bertie Carvel was remarkable as Miss Trunchbull, the tyrannical teacher, and Gabriel Ebert and Lesli Margherita both had well-deserved moments to shine — to say nothing of the outstanding ensemble of "revolting children" who are so much cooler than I could ever hope to be.

Natasha, Pierre and the Great Comet of 1812: Dave Malloy's pop opera is unlike any performance I've ever experienced before. Staged in the opulent, richly red supper club Kazino, it takes 80 pages of a novel about ten times the length and presents an engaging, pulsing and very sexy two-and-a-half hours of musical theatre. The moment I heard the tongue-in-cheek lyrics of the opening number, informing the audience, "It's a complicated Russian novel/Everyone's got nine different names," I knew I was in for a treat. The story of young love and war in Moscow, Natasha, Pierre and the Great Comet of 1812 narrates passion and politics in an engaging and off-beat way. It's inventive, brave and sultry — and completely entertaining.

Women of Will: Frailty, thy name is not woman, when that woman is Tina Packer. The founder of Shakespeare & Company in Lenox, MA, Packer spent 15 years working on Women of Will, and it's clear it was a labor of love. This examination of the women in Shakespeare's works featured Packer performing every single female role with a single male co-star, Nigel Gore, as well as delivering short lectures on each of the segments in the show. It was a fascinating look into the female characters in the Bard's canon. Her lectures were delivered in a friendly, accessible manner, engaging the audience between each performance — and the performances were outstanding. Packer and Gore had incredible chemistry, whether they were performing the passionate balcony scene from Romeo and Juliet (I completely believed the two adults as love-struck teenagers) or giving a chilling rendition of scenes between Macbeth and his wife, portraying how their descent into darkness destroyed their marriage. I didn't even realize how much I had learned until I was talking about the show a few days after seeing it.

The Glass Menagerie: When I tried to write an email to a friend about this play, all I could type was this: alsdfnjkrguhierwjkdf. I was so moved by The Glass Menagerie, I couldn't articulate anything. Simply put, this show was stunning. The set depicted the loneliness and isolation of the characters so beautifully, and the acting surpassed excellence. Cherry Jones brought so much humanity to the role of Amanda, and Zachary Quinto's fury and sadness was devastating to witness. Celia Keenan-Bolger's performance as the desperately shy Laura brought me to tears more than once during both acts. Each and every one of the haunting themes in Tennessee Williams' memory play was poignant, moving and all-too relevant to an audience in 2013.

A Gentleman's Guide to Love and Murder: I'll never look at a door slamming in the same way again after seeing A Gentleman's Guide to Love and Murder, the hilarious musical comedy about a disgruntled heir to a fortune who dispatches of the relatives who stand in his way. Jefferson Mays accomplishes an Olympian feat by playing each and every one of those relatives, and Bryce Pinkham proves a worthy foe in his performance as the impoverished, distant, dangerously charming heir. Lisa O'Hare and Lauren Worsham are both hilarious as his love interests, and the Act Two trio, featuring Pinkham torn between the two women, is a feat of comic staging.

Honorable mentions go to: Bill Irwin and David Shiner's vaudeville talents in Old Hats; the drink-flying hilarity in The Explorers Club; Alan Cumming's tour de force, inhumanly intense one-man Macbeth; the joyful, jazzy A Bed and a Chair; and the heartbreaking performances by Danny Burstein and Sarah Paulson in Talley's Folly.