The Year's Best: Playbill Contributors Choose Unforgettable Theatre Experiences of 2013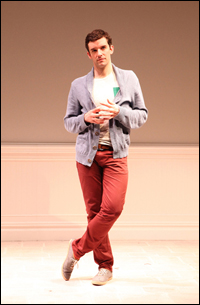 Photo by Sandra Coudert

BEN RIMALOWER, Playbill.com Contributor

I don't know when I've laughed as hard as I did at writer-performer Mike Albo's hit solo play, The Junket, at Dixon Place. In addition to being a significant player in the solo theatre movement for years, Albo is a prolific essayist and something of a go-to wit. The Junket recounts his legendary firing from the popular "The Critical Shopper" column in The New York Times. All of the proper names are changed—but only slightly. That's part of the fun of The Junket, although not nearly all. Mining his experience for every drop of humor and irony, Albo also finds great insight into the plight of freelancers and artists in this corporate commercial culture.

Another Medea is another solo play I loved this year. Broadway's Tom Hewitt starred in writer-director Aaron Mark's modern retelling of the Medea story transposed onto a gay actor in Chelsea. The show was so hysterically funny and Hewitt was so endearing, I found myself actually rooting for the inevitable murder scene at the end. It was an extremely satisfying taste of the potency of myths.

The acclaimed political pop musical, The Material World by Dan Fishback, was given a one-night-only concert presentation at Joe's Pub, which blew me away. It's a rare treat to see an original musical that's so engrossing and entertaining while actually being about something. I was completely taken by Fishback's deft counterpoint of a 1900s Lower East Side immigrant Jewish family with a single man in New York today, all intersecting with Madonna and Britney Spears on a Kabbalistic quest. The music ran the gamut from techno pastiche to pop operatic arias, all performed with style by a large cast including the brilliant Erin Markey and Sarah Stiles. Molly Pope's 11 o'clock number, aptly named "The Greatest," was one of the most thrilling performances I've ever seen onstage.

"Jeffery & Cole Casserole" star and downtown cabaret favorite Cole Escola successfully branched out into non-musical solo performance this year with a series of shows at The Duplex, under various titles such as The First Gay President, The Deadliest Baby and Cole Escola Is A Bit Of A Stritch, the latter a reference to a loving parody of Elaine Stritch within that particular evening. Believe it or not, given the range of different characters Escola took on—many with no more than wig or a mustache added to his base costume, underwear—the cantankerous Stritch is actually not that outrageous. There was a baby languidly reading nursery rhymes, a romantically challenged high school football star and the aforementioned gay president – all hilarious and original. Escola showed real chops in this genre, and I look forward to seeing him do more of this, perhaps something larger scale along the lines of Whoopi Goldberg's Broadway show.

Jonathan Tolins' Off-Broadway smash, Buyer & Cellar, starring Michael Urie and directed by Stephen Brackett, just keeps going, so it was a favorite in 2013, but I liked it so much, I expect to go back and have it be a favorite in 2014 as well. Urie is absolutely dazzling, taking the audience through moment after knuckle-biting moment in this delightfully nuanced romance, of sorts, between a gay man and Barbra Streisand.