The Year's Best: Playbill Contributors Choose Unforgettable Theatre Experiences of 2013



Photo by Joan Marcus
*
MATT BLANK, Playbill.com Photo Editor
The Phantom of the Opera 25th Anniversary performance at the Majestic Theatre. To say that I've had my fill of the show is perhaps an understatement. It was one of my first-ever full-scale musicals as a child. We used to get the $15 partial view tickets for the long-running San Francisco production (Franc d'Ambrosio!) and go see it over and over and over again when I was growing up. Aside from the extreme far right side of the stage (the obstructed bit), I'd pretty much committed every note and movement to muscle memory. I still enjoy and appreciate the musical, but I was pretty sure I could no longer be completely wowed by something I've spent so much time with. This gala event in January proved me very wrong. The energy that night both onstage and off was magical. Everyone was performing it with a joy and enthusiasm as though it were the first time. The leading performances, especially the virtuoso turn by Sierra Boggess, were absolutely breathtaking. At intermission the lobby was littered with former Phantom stars and friends, sipping champagne and reminiscing. The roaring ovation, the inspired encore performance, the opulent show-themed after-party at the massive New York Public Library, one of the great overall theatre experiences of my life.
Barry Manilow in Manilow on Broadway. What? I love Barry Manilow. And so do you. Within two verses, I had turned into a giggling, fawning fan-boy. With the exception of Streisand last year, that's never happened to me as a grown man. And it never will again, unless "Mr. Show" comes to Broadway, or if the funding for my Metta World Peace musical comes through.
During my February trip to London I happened upon a production of Chess at the smaller-than-intimate Union Theatre. The venue holds maybe 50 people, and if you're sitting in the front row (as we were) you're literally on the stage. It was a total rock star experience to hear one of my all-time favorite scores performed just inches away from me without need for microphones. I could have easily reached out and moved a chess piece from my seat. Excellent small cast of West End regulars, and a wonderful American performer who nailed the lead role of Florence.
I adore both of this year's leading Broadway musicals, Kinky Boots and Matilda. So different in tone, style, narrative and focus, but both such fun shows with a great amount of heart and sentiment. I was truly stumped as to which would take home the big awards and felt they were equally deserving. I've been back to see both of them a few times, but most memorable was seeing Kinky Boots from the fifth row a week after it won all the Tony Awards. The energy that night was electric, and I've rarely seen an audience react with such love and appreciation. The ovation seemed to go on forever, and there were some visible tears in the eyes of both audience and cast members.
I've rarely been so surprised and blown away by a new work than I was with Fun Home. I was fully unfamiliar with the book and the subject matter. To be honest, I wasn't really in the mood for a show that particular day. About 20 minutes in, I had a sudden moment of realization: "This is fantastic!" Everything about it just fell into place to create a rather peerless theatrical experience. Jeanine Tesori's unpredictable, gorgeous, elegant score. Michael Cerveris' haunting, pained performance. The pitch-perfect, very real, subtly hilarious depictions of Alison Bechdel at three distinct stages of her life. The emotional depth that is achieved out of such a simple narrative and stream of memory is remarkable. I really hope this isn't the last we see of this gem.
This turned into the autumn of Miss Saigon, as I traveled to catch two top-notch regional productions and cross fingers for a Broadway revival. First was an immersive staging at the intimate Signature Theatre in Arlington, VA. A few weeks later I went to Hartford to see the fall mini-tour that famously sparked a completely ludicrous protest from St. Paul audiences. Both were fantastic and very different from one another. A nice reminder after more than a decade what a gorgeous and powerful piece it remains.
After several postponements due to rehab, American Idiot creators Green Day finally played their big concert at the Barclays Center. They did all of the big hits and a good amount of new stuff. Mainly, it was great to see that a post-treatment Billie Joe Armstrong was still capable of rocking HARD for nearly four hours. You could easily spot the theatre folks in the crowd. They were the ones re-creating the "Know Your Enemy" choreography in the middle of the mosh pit.
Though I missed it during its initial limited run, I absolutely fell in love with Murder Ballad during the summer return engagement in Union Square. That rockin' score was perfectly suited to the story, gritty setting and ridiculously powerful voices of the four-person ensemble. It's become one of my most-listened-to albums of the year.
Violet at City Center. This has been one of my very favorite shows since I saw the Northern California premiere at Theatreworks more than a decade ago, and I literally wore out more than one copy of the CD... back when we used CDs. Remember CDs? To see it up on the New York stage with that brilliant cast was a nearly overwhelming experience. I'm even more excited for its return, in a full production, this spring.
The intimate cabaret venue 54 Below continues to host an incredible array of concerts and other events directly and tangentially related to theatre. It's become my favorite spot to kick back, have a drink and enjoy some of the best talent in the business. Some standout concerts for me this year have included Christiane Noll, Laura Benanti, Alexandra Silber, Frances Ruffelle, Sherie Rene Scott, Norbert Leo Butz and several shows from the wonderful Skivvies.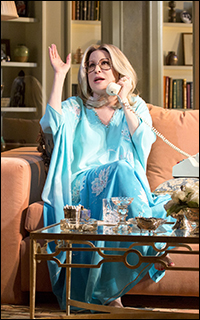 Photo by Richard Termine
ANDREW GANS, Playbill.com Senior Editor
The Glass Menagerie
By far the most moving production of 2013 was John Tiffany's revival of The Glass Menagerie. Having previously seen and read the play, I have to admit I wasn't especially interested in catching the latest mounting, but as soon as the show began, I was swept away by Tennessee Williams' drama and by the quartet of actors who brought his words to full and thrilling life. All were extraordinary, but I was particularly moved by Zachary Quinto's Tom, a trapped young man unable to live the life for which he desperately yearns. And, when his mother accused him of purposefully bringing an engaged "Gentleman Caller" to the Wingfield home, I could feel Quinto's dumbfounded astonishment. I was haunted by Quinto and his fellow actors' work for weeks after the curtain came down.
Michael Urie in Buyer and Cellar
In Buyer and Cellar — Jonathan Tolins' one-man comedy about a gay man who takes a job supervising the unpopulated mall in Barbra Streisand's basement — Michael Urie accomplished a rare feat. The young actor, best known for his work on TV's "Ugly Betty," made me believe I had actually seen some of the people who are part of Streisand's day-to-day life. I was particularly convinced Streisand's husband, James Brolin, made an appearance in this hilarious and touching production, and although Urie didn't don drag, his vocal impersonation of Streisand was surprisingly affecting. Buyer and Cellar was one of those rare one-person shows that completely captivated from start to finish, and much of that was due to Urie's skill as an actor and his abundance of charm.
Bette Midler in I'll Eat You Last
Another dazzling solo performance was given by the Oscar-nominated, Grammy-winning Bette Midler in I'll Eat You Last, John Logan's play about the late, caustic Hollywood agent Sue Mengers, whose clients included Ali MacGraw, Sissy Spacek and Barbra Streisand, among numerous others. Sitting in Midler's presence as she evoked the legendary Mengers was one of the joys of the season. Her delivery of Mengers' often-witty tales was flawless, hilarious and surprisingly poignant. Midler also had great fun with audience members she called to the stage, and the intermissionless conversation flew by all too fast. One can only hope Midler will again grace Broadway with her many talents.
Elizabeth Marvel in Picnic
Elizabeth Marvel didn't have the largest role in Roundabout Theatre Company's winter production of William Inge's Picnic, but her performance is the one that stayed with me for days after I left the theatre. Playing the marriage-hungry schoolteacher Rosemary Sydney, Marvel was especially compelling in a raw, emotional scene where she begs and pleads with shopkeeper Howard Bevans to reconsider marrying her. Her despair was palpable as she repeatedly implored the middle-aged Bevans to phone her the following morning. And, having never seen the Pulitzer Prize-winning drama before, I was thrilled there was a happy ending for this lonely woman.
The Winslow Boy
Another Roundabout revival, Terrence Rattigan's The Winslow Boy, managed to deliver all the excitement and suspense of a great courtroom drama without a single courtroom scene. Featuring one of the great ensemble casts of the season — led by Tony winner Roger Rees — I was completely captivated by the Winslows and the plight of the young Ronnie Winslow, who is wrongfully expelled from school for stealing. In addition to Rees' Arthur Winslow, I was particularly taken with the performance of Charlotte Parry who, as Catherine Winslow, was equally willing to sacrifice her own happiness to prove her brother's innocence, and Alessandro Nivola as Sir Robert Morton, who leads the defense of The Winslow Boy but is unable to completely let down his own defenses.
Betty Buckley in The Old Friends
There are few things more exciting in the theatre than being surprised by a favorite artist. Just when I thought I had seen the full range of Tony winner Betty Buckley's extraordinary work, I was enthralled by her dynamic performance in the world premiere of Horton Foote's Texas-set The Old Friends at New York's Signature Theatre. Buckley played the rich, desperate, conniving, love-starved, selfish alcoholic Gertrude Hayhurst Sylvester Ratliff, and her performance was as rich and layered as any of her award-winning musical theatre outings. Foote explored some familiar territory in this humorous, moving, sometimes disturbing, but ultimately satisfying drama — including the power of money, the treatment of elderly family members and the elusive nature of happiness — but it was Buckley's powerful performance that lingered.
(Gans' musical theatre favorites will be discussed in his Dec. 27 Diva Talk column.)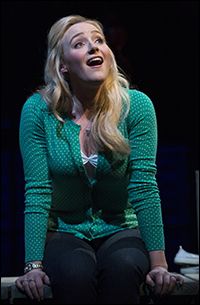 Photo by Joan Marcus
MICHAEL GIOIA, Playbill.com Staff Writer
The Off-Broadway revival of Jason Robert Brown's The Last Five Years at Second Stage Theatre was my favorite production of the year. I think that the show itself, about two people falling so deeply in and out of love, is so beautifully written and composed that I was sold from the moment I learned Jason Robert Brown would be directing. I saw the show at Second Stage twice and felt as though I went on two separate journeys — the first time with Cathy, who broke my heart the moment Betsy Wolfe's mood shifted at the dock in "See I'm Smiling," and the second time with Jaime, whose words "Have I mentioned today how lucky I am to be in love with you?" (delivered flawlessly in "The Schmuel Song" by Adam Kantor) never resonated so strongly. Seeing The Last Five Years live was such a gift, and I left the theatre (each time) feeling so drained from the emotional roller-coaster ride I just went on.
The Broadway revival of The Glass Menagerie is, hands down, the most gorgeous production I've ever seen. I was completely warped into the magical world that John Tiffany created from the minute the lights dimmed. The pool of black liquid surrounding the memory play on stage is not only stunning, but genius.
These are obvious choices, but it must be noted that Pippin and Matilda were my favorite Broadway musicals of last season. I felt like a ten year old (in the best way) from the moment I sat down. Diane Paulus' innovative concept of incorporating acrobatics and a cirque-style atmosphere in Pippin was thrilling and left me on the edge of my seat, and Bertie Carvel's performance in Matilda was basically mind-blowing. From beginning to end, my heart was beating, and I actually had to grab onto the person next to me when the Trunchbull came barreling down the aisle from the back of the house!
After Midnight is, thus far, my favorite musical of the current Broadway season. Can we talk about Fantasia Barrino's flawless and effortless performance?! The production was very reminiscent of Smokey Joe's Cafe, and I love a successful musical revue. Each number in After Midnight was more exciting than the last, and I left inspired to dust off my tap shoes and get back to class!
This year was chock-full of special events that I must comment upon. The 10th anniversary of Wicked was such an exciting evening for the theatre community — the audience was electric, and the cast was unstoppable. In my opinion, Lindsay Mendez's "The Wizard and I" is currently the most thrilling three minutes on Broadway, and being able to call her (and other members of the cast) a friend made my 15-year-old heart explode. (Read my recap of the evening here.) The fifth anniversary reunion of In the Heights was another unforgettable night. The audience was on their feet from beginning to end, and I'm surprised the Palace Theatre stayed intact after the explosive "96,000." (Read my recap of the evening here.) I must confess that I cried during this year's Jimmy Awards watching high school students live out their dreams on a Broadway stage. After spending the week with the students and getting to know some of them, I felt like a big brother sitting in the audience and cheering them on. Their passion, drive and insane talents left me floored and inspired. (Read my recap of the evening here.) Speaking of young talents, this summer I was given the opportunity to report on life at theatre camp. French Woods Festival of the Performing Arts and Stagedoor Manor are a theatre kid's dream come true, and I was immersed in "camp life" for an entire day at each. I'm happy to report that the upcoming generation of musical theatre is in pretty kick-ass hands. (Read my recap of life at French Woods here and Stagedoor here.)
On the concert scene (because I simply can't get enough of rising musical theatre composers and am looking forward to sharing their work at an upcoming concert at 54 Below), some of my favorite moments include Jason Gotay and Adam Chanler-Berat's brilliant and heartbreaking mashup of "Call Me Maybe" and "I'll Cover You" (watch it); the incredible musical arrangements by Benjamin Rauhala for Broadway Loves Britney (watch highlights) and Broadway Loves the Spice Girls (which I was so lucky enough to be a part of! watch highlights); the entire Latin-infused evening of Broadway Sings Selena; the Pace University students belting to the sky in Hatched (check out this catchy performance of "Boys," performed by Anna Grace Barlow and Mary Claire Miskell, and this performance of "Give it Up," performed by Marissa O'Donnell); the gorgeous music of Alexander Sage Oyen, especially this performance of "We Were Giants" at his Moment By Moment song cycle concert that was performed by his flawless cast, Jason Gotay, Zak Resnick, Alice Lee, George Salazar and Emma Hunton; each concert at 54 Below's RSO FEST (read my recap here); and the Once Upon a Time in New York City 2 concert, produced by Jennifer Ashley Tepper, in which I sang on some brand-new tunes by Sam Salmond and Burt Bacharach and Steven Sater (!).


Photo by Michael J. Lutch
DAVID GEWIRTZMAN, Playbill Special Projects
Carousel (New York Philharmonic). I don't think I'll ever think of "The Carousel Waltz" the same way again. Admittedly, I would have bought a ticket to see Kelli O'Hara and Nathan Gunn sing Carousel if they were only accompanied by a toy piano, but when conductor Rob Fisher walked onto the stage at Avery Fisher Hall, and the New York Philharmonic started playing that opening to Carousel, my jaw dropped from how beautiful it sounded. Happily, the rest of the evening lived up to that high bar, with O'Hara, Gunn, Jessie Mueller, Stephanie Blythe and the rest of the cast delivering truly incredible performances.
Good Person of Szechwan (Foundry Theatre at La Mama and The Public Theater) and Saint Joan (Bedlam at 45 Bleecker). There are certain playwrights whose work I approach with about as much enthusiasm as a toddler toward steamed brussel sprouts: I know they're important to the well-rounded theatre diet, but that doesn't make experiencing them any more enjoyable. So imagine my amazement that two of the most exciting productions I saw this past year were the Foundry Theatre's production of Bertolt Brecht's Good Person of Szechwan and Bedlam's production of George Bernard Shaw's Saint Joan. Good Person, which stars Taylor Mac and David Turner, was both funny and moving, not to mention still shockingly relevant 70 years after it was written. And Saint Joan, mind-bogglingly performed by a cast of four with only a minimal set, was one of the most intellectually and emotionally engaging three hours I spent in a theatre this year.
The Low Road (Royal Court Theatre, London). You know you're going to be in for an "interesting" experience when, having finally taken your seat after waiting in the lobby long past the play's scheduled start time, the director walks on stage to inform you that due to various technical issues and performance cancellations, you are about to see the first-ever run-through of the play. Well, when Bruce Norris has written a drama with a cast of 20 that includes scenes with protesters storming through the aisles of the theatre, and stage directions like, "The craft lands and two seven-foot tall ALIENS in the shape of bees emerge, taking readings with various instruments," maybe it's not surprising there would be technical issues. Sprawling and messy and overall pretty wonderful, The Low Road was without a doubt unlike any other new play I saw this year.
Macbeth (Trafalgar Studios, London). In a year of many Macbeths, the finest I saw was Jamie Lloyd's West End production, starring James McAvoy in the title role. According to the program, the production was set in "dystopian Scotland at some point in the near future," following "years of economic downfall and environmental disaster." To translate: it was a modern-dress production with lots of dirt and metal and blood. As good as McAvoy was, I think my favorite performance was Jamie Ballard's Macduff. His "All my pretty ones? Did you say all?" scene when he finds out his family has been murdered was absolutely devastating, and still brings tears to my eyes when I remember it.
Parsifal (Metropolitan Opera) Five-and-a-half hours of Wagner may sound daunting, but never has time flown by so fast. Director Francois Girard's new production was absolutely the best thing the Met has produced in years. Stunning stage design. Glorious singing from Jonas Kaufmann, Rene Pape and Peter Mattei. Just perfection.
And because I can't stop myself with just those few, I must also mention John Tiffany's stunning production of Tennessee Williams' The Glass Menagerie at A.R.T. and on Broadway, with a perfect cast led by Cherry Jones; Richard Nelson's quietly moving final Apple Family Play, Regular Singing; Daniel Kitson's quirky mix of stand-up comedy (delivered sitting down) and philosophical discourse After The Beginning. Before The End.; Vampire Cowboys' hilarious and endlessly entertaining Alice in Slasherland; the masterclass in acting that was watching Eileen Atkins and Michael Gambon perform Samuel Beckett's radio play All That Fall; the thrill of experiencing live performances of Jeanine Tesori's beautiful scores for both Violet and Fun Home; and last, but not least, sitting in the front row for Liza Minnelli and Alan Cumming's bizarre and fabulous concert at Town Hall.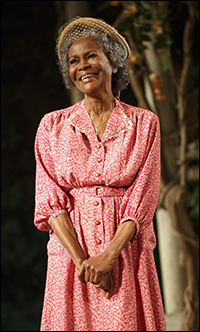 Photo by Joan Marcus
HARRY HAUN, Playbill Staff Writer
Alan Cox slowing down his dictation as he starts to sense he has fallen in love with the secretary he just hired in Cornelius.
That "Eureka!" moment when you realized Cicely Tyson, 88 or whatever, still has it.
The predictable eloquence of Christopher Plummer and the mischievous surprise of Zoe Caldwell at Julie Harris' memorial.
Favorite comeback of the year: a tie, in a nice little bow--Amanda Plummer and Brad Dourif, both bringing uncommon clarity to one of Tennessee Williams' more impenetrable pieces, The Two-Character Play.
Alessandro Nivola's abrupt about-face after cruelly grilling The Winslow Boy.
The Christmas Carol now at St. Clement's, imaginatively reinvented on a shoestring.
Paul Chahidi gracefully skating away with Twelfth Night in a role nobody noticed before (Maria).
The Explorers Club's variation on a bear rug: a somewhat startled giraffe.
Betty Buckley's scary scene of sobriety in The Old Friends.
Playwright John Pollono's brazenness at playing the whole hand in Small Engine Repair.
Amanda Green's songs (for Joan Rivers and Fran Drescher) in Stars of David.
The best Shakespeare of the year in that very crowded category: Donmar's imported all-female Julius Caesar, with Dame Harriet Walter reminding us it's Brutus' play.
As happy an ending as Basilica could hope for: a drunken, defeated Felix Solis' determined struggle to stand up on his own two feet.
Nathan Lane being heartbreaking and hilarious—at the same time!—in his closing drag act in The Nance.
The pleasure of Tom Hanks' company—on stage and off: When David Letterman asked him who his big Tony competition was, Hanks said, "I'm up against the two greatest words in the English-speaking theatre: Nathan. Lane."
"I share this actually with not only everybody in this room but all the actors in Chicago and in storefronts and everybody who does this crazy, insane, frustrating job—the greatest job on earth. We are the ones who say it to their faces, and we have a unique responsibility." That's Tracy Letts, accepting the Best Actor Tony for Who's Afraid of Virginia Woolf? and the ballsiest George ever on Broadway.
Tracee Chimo letting off 100 minutes of scalding steam in Bad Jews.
Of all the Godots we've waited for this year, in English as well as in Yiddish, far and away the best and the brightest was the New York International Fringe Festival offering Off-Broadway: Waiting for Waiting for Godot, about two understudies (Chris Sullivan and author Dave Hanson) waiting to go on. It made you love actors!
Austin Pendleton chastising, in italics, an African-American Choir Boy for using the N-word.
Amid the brooding and steadily building violence of The Night Alive, the cast breaking loose into Marvin Gaye's "What's Going On."
Cherry Jones blasting the word "happiness" to joyful smithereens the few times it comes up in The Glass Menagerie.
The tics and jerks and gyrations of Supreme Court judges pondering pornography in Elevator Repair Service's brilliantly (if bizarrely) choreographed Arguendo.
Deborah Rush's play-stealing single scene in Women or Nothing as a hysterically haughty modern mom.
The flying feathers of the cockfight in Year of the Rooster (and Bobby Moreno's title performance).
Ian McKellen's crafty reprobate convincing himself (and nobody else) he's getting the upper hand on a rich, numbingly besotted Patrick Stewart in No Man's Land.
The guy scenes in Betrayal—and what's that all about, Mr. Nichols?
Keala Settle's Guinness Record-setting laughing jag in Hands on a Hardbody.
Discovered in assured, promised-filled theatrical debuts: Will Pullen in Scarcity and Jake Cannavale in Basilica.
The endless variety of rooms that set designer Santo Loquasto assembled for the first act of The Assembled Parties.
Eileen Atkins' Beckett call—"Christ, what a planet!"—in All That Fall.
The happy hoofer with the dancing eyes in After Midnight's otherwise deadpan quartet.
Bryce Pinkham reverting to door-slamming French farce when his secret double-lovelife catches up with him in A Gentleman's Guide to Love and Murder.
How well A Christmas Story fills Madison Square Garden—and the heart.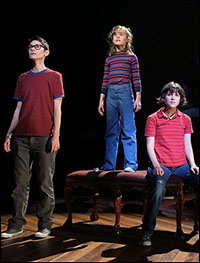 Photo by Joan Marcus
ADAM HETRICK, Playbill.com Editor in Chief
Fun Home. The best musical of the year. Composer Jeanine Tesori and book writer lyricist Lisa Kron mined Alison Bechdel's dark, dry and compellingly macabre graphic memoir about her own coming out as a lesbian and the suicide of her father for all it was worth, spinning it into an emotionally gripping piece of theatre. After reading Bechdel's book, which is essentially a serious comic book for adults, I couldn't imagine what Fun Home would look or sound like on stage. It is an emotionally-packed piece of theatre, full of joy, heart, sorrow and uncomfortable reality that delivered what I feel are three stand-out performances of the year from Alexandra Socha and Beth Malone and, especially, young actress Sydney Lucas, all of whom portray Bechdel at various stages throughout her life.
Natasha, Pierre and the Great Comet of 1812. To see this show is to be spellbound for two-and-a-half hours. The imagination and artistry that take place within the white tents of Kazino will make your head spin. When I wasn't sitting in awe of the work from director Rachel Chavkin, composer-lyricist-arranger-orchestrator-actor-bookwriter (whew!) Dave Malloy, the designers and the cast, I was fully transported to a romantically snowbound Russia. There is nothing quite like The Great Comet....
Pippin. Sexy, dangerous and enticing, Pippin kept me coming back for more this season. From the moment the blue curtain dropped revealing the magic to do from Diane Paulus and her assembled cast of Broadway performers and acrobats, I was ready to run away with the circus. In addition to a series of how'd they do that? show-stopping stunts that made me feel like a kid again and a "Morning Glow" that took my breath away, Pippin came back to Broadway with a giant heart and it belongs to Rachel Bay Jones, who found the everyday comedy and open heartache in the role of Catherine.
Golden Boy. This feels like a cheat since my colleagues included this production in their "Best of" list from last year, but fortunately (and unfortunately) I caught the show just prior to its closing performance in late January 2013. Seth Numrich offered a layered and explosive performance as Joe Bonaparte that was shockingly overlooked by the Tony Award nominating committee. And Bartlett Sher staged an endlessly detailed production populated by a cast of actors who ate-up Clifford Odets' material. My only regret is not having been able to see this production multiple times.
Belleville. I will see Maria Dizzia in anything. I find her work as an actress to be so instantly relatable and alive that I always feel like I have a personal relationship with the characters she portrays. Amy Herzog's drama infused the events of an everyday situation with an unsettling terror that turned this night of revealed secrets and betrayals into a nail biter.
The Other Place. Playwright Sharr White's ability to fragment and refract the various sides of this narrative about a woman grappling with the deterioration of her own mind was breathtaking. White was always just around the corner with a new emotional twist sure to take the air out of you. Throw into that mix the acting animal that is Laurie Metcalf and this was my favorite play of the year.
Here Lies Love. The David Byrne-Fatboy Slim musical, staged by Tony nominee Alex Timbers as an intoxicating dance party that swirled about the audience, was a thrill to experience at the Public Theater. Timbers and company created a production that wasn't meant to be watched, it was meant to be lived.
Honorable mentions to returns of two of my favorite classics: The Avery Fisher Hall concert staging of Carousel, featuring Kelli O'Hara and Jessie Mueller backed by the glorious New York Philharmonic Orchestra; and John Tiffany's poetic and magic-filled production of Tennessee Williams' The Glass Menagerie with Cherry Jones, Celia Keenan-Bolger and, for me, a show-stealing performance by Zachary Quinto. Re-imagined Sondheim in A Bed and a Chair: A New York Love Affair, a collaboration between the Tony-winning composer-lyricist jazz musician-composer Wynton Marsalis that reminded me why I'm a New Yorker. My final highlight: the 25th Anniversary performance of The Phantom of the Opera at the Majestic Theatre. This was the first Broadway show my parents took me to see in 1991. This year, I was able to share the experience in a new way, taking my dad to the record-breaking performance and to the opulent gala that followed at the New York Public Library. Read about our night here.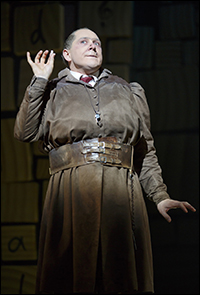 Photo by Joan Marcus
CAREY PURCELL, Playbill.com Features Editor
Matilda: Eight months after seeing Matilda, I still smile when I think of the show. Tim Minchin and Dennis Kelly adapted Roald Dahl's novel beautifully for the stage, honoring the darker aspects of the book while presenting a heartwarming and inspiring story of a little girl who had the courage to stand up for herself and say, "That's not right!" I love that Matilda presents a strong female character to young audience members, while also entertaining them with the joy that is musical theatre. Bertie Carvel was remarkable as Miss Trunchbull, the tyrannical teacher, and Gabriel Ebert and Lesli Margherita both had well-deserved moments to shine — to say nothing of the outstanding ensemble of "revolting children" who are so much cooler than I could ever hope to be.
Natasha, Pierre and the Great Comet of 1812: Dave Malloy's pop opera is unlike any performance I've ever experienced before. Staged in the opulent, richly red supper club Kazino, it takes 80 pages of a novel about ten times the length and presents an engaging, pulsing and very sexy two-and-a-half hours of musical theatre. The moment I heard the tongue-in-cheek lyrics of the opening number, informing the audience, "It's a complicated Russian novel/Everyone's got nine different names," I knew I was in for a treat. The story of young love and war in Moscow, Natasha, Pierre and the Great Comet of 1812 narrates passion and politics in an engaging and off-beat way. It's inventive, brave and sultry — and completely entertaining.
Women of Will: Frailty, thy name is not woman, when that woman is Tina Packer. The founder of Shakespeare & Company in Lenox, MA, Packer spent 15 years working on Women of Will, and it's clear it was a labor of love. This examination of the women in Shakespeare's works featured Packer performing every single female role with a single male co-star, Nigel Gore, as well as delivering short lectures on each of the segments in the show. It was a fascinating look into the female characters in the Bard's canon. Her lectures were delivered in a friendly, accessible manner, engaging the audience between each performance — and the performances were outstanding. Packer and Gore had incredible chemistry, whether they were performing the passionate balcony scene from Romeo and Juliet (I completely believed the two adults as love-struck teenagers) or giving a chilling rendition of scenes between Macbeth and his wife, portraying how their descent into darkness destroyed their marriage. I didn't even realize how much I had learned until I was talking about the show a few days after seeing it.
The Glass Menagerie: When I tried to write an email to a friend about this play, all I could type was this: alsdfnjkrguhierwjkdf. I was so moved by The Glass Menagerie, I couldn't articulate anything. Simply put, this show was stunning. The set depicted the loneliness and isolation of the characters so beautifully, and the acting surpassed excellence. Cherry Jones brought so much humanity to the role of Amanda, and Zachary Quinto's fury and sadness was devastating to witness. Celia Keenan-Bolger's performance as the desperately shy Laura brought me to tears more than once during both acts. Each and every one of the haunting themes in Tennessee Williams' memory play was poignant, moving and all-too relevant to an audience in 2013.
A Gentleman's Guide to Love and Murder: I'll never look at a door slamming in the same way again after seeing A Gentleman's Guide to Love and Murder, the hilarious musical comedy about a disgruntled heir to a fortune who dispatches of the relatives who stand in his way. Jefferson Mays accomplishes an Olympian feat by playing each and every one of those relatives, and Bryce Pinkham proves a worthy foe in his performance as the impoverished, distant, dangerously charming heir. Lisa O'Hare and Lauren Worsham are both hilarious as his love interests, and the Act Two trio, featuring Pinkham torn between the two women, is a feat of comic staging.
Honorable mentions go to: Bill Irwin and David Shiner's vaudeville talents in Old Hats; the drink-flying hilarity in The Explorers Club; Alan Cumming's tour de force, inhumanly intense one-man Macbeth; the joyful, jazzy A Bed and a Chair; and the heartbreaking performances by Danny Burstein and Sarah Paulson in Talley's Folly.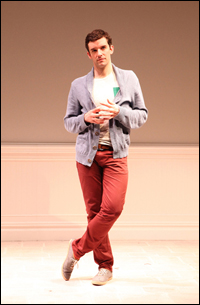 Photo by Sandra Coudert
BEN RIMALOWER, Playbill.com Contributor
I don't know when I've laughed as hard as I did at writer-performer Mike Albo's hit solo play, The Junket, at Dixon Place. In addition to being a significant player in the solo theatre movement for years, Albo is a prolific essayist and something of a go-to wit. The Junket recounts his legendary firing from the popular "The Critical Shopper" column in The New York Times. All of the proper names are changed—but only slightly. That's part of the fun of The Junket, although not nearly all. Mining his experience for every drop of humor and irony, Albo also finds great insight into the plight of freelancers and artists in this corporate commercial culture.
Another Medea is another solo play I loved this year. Broadway's Tom Hewitt starred in writer-director Aaron Mark's modern retelling of the Medea story transposed onto a gay actor in Chelsea. The show was so hysterically funny and Hewitt was so endearing, I found myself actually rooting for the inevitable murder scene at the end. It was an extremely satisfying taste of the potency of myths.
The acclaimed political pop musical, The Material World by Dan Fishback, was given a one-night-only concert presentation at Joe's Pub, which blew me away. It's a rare treat to see an original musical that's so engrossing and entertaining while actually being about something. I was completely taken by Fishback's deft counterpoint of a 1900s Lower East Side immigrant Jewish family with a single man in New York today, all intersecting with Madonna and Britney Spears on a Kabbalistic quest. The music ran the gamut from techno pastiche to pop operatic arias, all performed with style by a large cast including the brilliant Erin Markey and Sarah Stiles. Molly Pope's 11 o'clock number, aptly named "The Greatest," was one of the most thrilling performances I've ever seen onstage.
"Jeffery & Cole Casserole" star and downtown cabaret favorite Cole Escola successfully branched out into non-musical solo performance this year with a series of shows at The Duplex, under various titles such as The First Gay President, The Deadliest Baby and Cole Escola Is A Bit Of A Stritch, the latter a reference to a loving parody of Elaine Stritch within that particular evening. Believe it or not, given the range of different characters Escola took on—many with no more than wig or a mustache added to his base costume, underwear—the cantankerous Stritch is actually not that outrageous. There was a baby languidly reading nursery rhymes, a romantically challenged high school football star and the aforementioned gay president – all hilarious and original. Escola showed real chops in this genre, and I look forward to seeing him do more of this, perhaps something larger scale along the lines of Whoopi Goldberg's Broadway show.
Jonathan Tolins' Off-Broadway smash, Buyer & Cellar, starring Michael Urie and directed by Stephen Brackett, just keeps going, so it was a favorite in 2013, but I liked it so much, I expect to go back and have it be a favorite in 2014 as well. Urie is absolutely dazzling, taking the audience through moment after knuckle-biting moment in this delightfully nuanced romance, of sorts, between a gay man and Barbra Streisand.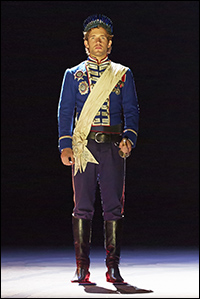 Photo by Brinkhoff/Mögenburg
MARK SHENTON, Playbill.com London Correspondent
The Musicals
There has been a generous slate of new musicals in the West End, including the coincidental returns – in separate projects – of Tim Rice (with From Here to Eternity, which has in fact turned out to be running From Here to Not Much Longer at the Shaftesbury) and Andrew Lloyd Webber (with Stephen Ward at the Aldwych Theatre). Charlie and the Chocolate Factory, directed by Sam Mendes and with a composing team led by Broadway's Marc Shaiman and Scott Wittman, was spectacular, but a bit sticky.
But the best new musicals were all imported from Broadway. Commercially speaking, The Book of Mormon swept the boards (and set a new top ticket price for the West End of £152 for premium seats), but Once and The Scottsboro Boys were both more quietly thrilling in recreations of their original Broadway stagings.
On the revivals front, the London Palladium was probably the wrong venue for A Chorus Line, but Michael Bennett and Bob Avian's original production was meticulously recreated in the West End for the first time since the original closed in 1979, with Avian again (and original Chorus Liner Baayork Lee) directing and choreographing a stunning cast led by John Partridge, Scarlett Strallen and Leigh Zimmerman.
Vicki Lee Taylor, who played Maggie in that production, closed at the 2,286-seat London Palladium on Saturday and opened four days later in the role of Daisy Gamble in a beautiful fringe revival of Burton and Lane's On a Clear Day You Can See Forever at the 50-seater Union Theatre in South London, proving the extraordinary way the business works for some performers.
The Union was also the scene for two more of my favorite musical revivals of the year, with the first-ever London revival of John Barry and Don Black's 1974 musical Billy staged with thrilling flair by Michael Strassen; and Benny Andersson, Bjorn Alvaeus and Tim Rice's Chess also imaginatively revived there by Christopher Howell and Steven Harris. Another terrific fringe revival saw Maury Yeston's Titanic take the roof off the new Southwark Playhouse, while Cynthia Erivo virtually single-handedly did the same for the London premiere of The Color Purple at the Menier Chocolate Factory.
There were a couple of serious musical disappointments, but even these had some compensating pleasures. At the National, Tori Amos' The Light Princess fell to earth with a gentle thud, despite the sterling efforts of star Rosalie Craig in the title role to keep it afloat giving one of the performances of the year. And at the Charing Cross Theatre, the UK premiere of Jerry Herman's Dear World made me want to cry out "Dear God," but it was great to see Betty Buckley on a London theatre stage again for the first time since she took over in Sunset Boulevard.
Finally, Patti LuPone revisited Sunset Boulevard herself in song and anecdotes for the first time since she was ignominiously fired from the latter when she did a week of unstructured interviews with the irrepressible Seth Rudetsky at Leicester Square Theatre – and on one of the two nights I saw her told a very indiscreet story about backstage problems at Women on the Verge of a Nervous Breakdown. It was one of my all-time favorite events of the year.
Best of the Plays and Players
A new model for the West End saw Michael Grandage, who previously helmed the Donmar Warehouse for a triumphant decade, transplanting its ethos of star castings and high quality shows for a season of five plays in the commercial sector, and coming up trumps with shows that included Judi Dench and Ben Whishaw in John Logan's new play Peter and Alice, Daniel Radcliffe in a revival of Conor McPherson's The Cripple of Inishmaan and Jude Law currently in the title role of Henry V to give some of the performances of the year.
The best new plays of the year were Lucy Kirkwood's Chimerica, which transferred from the Almeida to the Harold Pinter; the National Theatre of Scotland's production of Jack Thorne's version of Let the Right One In at the Royal Court; and four terrific shows at the Bush, Ayad Akhtar's Disgraced (imported from New York), Cush Jumbo's solo Josephine and I, Rory Kinnear's The Herd and Tom Wells' Jumpers for Goalposts.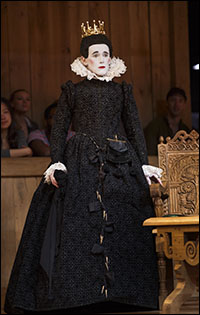 Photo by Joan Marcus
ROBERT SIMONSON, Senior Correspondent
Regular Singing, the last of the Apple Family plays from Richard Nelson, brought to a close some of the most naturalistic, unaffected and immediate theatre the New York stage has likely ever seen.
Wallace Shawn's plays always challenge an audience and remind one of theatre's power to disturb and stimulate thought. The engaging, unpredictable and unsettling Grasses of a Thousand Colors, a fantastical and surreal tale of disastrous human self-centerdness and myopia, was no different.
The Globe Theatre's production of Twelfth Night—presented with Renaissance England authenticity, right down to the period costuming and musical instruments—proved that Shakespeare, as performed during the writer's lifetime, was not a tedious affair, but as delightful and entertaining as any theatre we see today.
Annie Baker's The Flick galled Playwrights Horizons audiences with its length (three hours), static nature and seeming lack of action. For diehard theatregoers, however, it was a thrillingly daring piece of stagework, endlessly fascinated in its existential minutiae, and crowned with three fantastically deep performances from Alex Hanna, Louise Krause and Matthew Maher.
Amy Herzog's unusual Belleville was an aching and agonizing portrait of a fragile relationship that goes irrevocably wrong when a series of deceptions and realizations come tragically to light. There were few more unforgettable scenes this past year than the wordless sequence at the end when two landlords clean up the physical and psychic mess created by their former tenants.