Two Shakespearean Actors, Separated By Three Centuries — Adrian Lester Plays Ira Aldridge in Red Velvet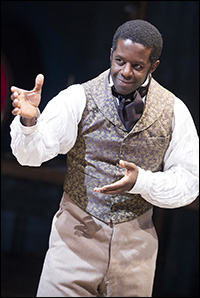 Photo by Tristram Kenton

Chakrabarti's play focuses on his big make-or-break moment, and it was a little of both. In April 1833, Edmund Kean collapsed on stage at London's Theater Royal, Covent Garden, performing Othello. He died a few weeks later — but not before tapping Aldridge to take over the part, much to the chagrin of his own son, Charles Kean, and the company's Desdemona, Ellen Tree, who chose to play her love scenes to the audience rather than to Aldridge. In the meantime, in the real world, the passage of the Abolition of Slavery Act produced riots (which were eminently more preferable than the Civil War "the colonies" suffered 30 years later), and Aldridge's Othello became the obvious, easy target for venting hatred.

The critic for The Spectator averred that "an African is no more qualified to play Othello than a huge, fat man is to play Falstaff," while the one for The Times contended that, "owing to the shape of his lips, it is utterly impossible for him to speak English." The upshot: Othello got off two performances before the theatre was closed down and its star headed for more hospitable environs on the continent.

Red Velvet is Lester's third stint in New York, but he has yet to get out of Brooklyn. BAM hosted his previous appearances — as Rosalind in the cross-dressing Cheek by Jowl's 1991 production of As You Like It and in the title role of Peter Brooks' Hamlet.

Mike Nichols, who has the most finely tuned antennae for talent extant, spotted Lester in drag as Rosalind and tested him for the ditzy housemaid of "The Birdcage." Neither actor nor director liked the result, but Nichols did find in Lester a quality he thought the cameras would like for "Primary Colors" — a high-minded idealism, which, of course, was perfect for the campaign worker disillusioned by dirty-pool politics.

This chance to movie-debut with Nichols forced Lester to bow out of Sam Mendes' Othello. "I went to the production," he remembered, "and couldn't quite get the lines out of my head because I'd prepared for it a bit and had expected to do it."

Last year at the National, he got another shot at The Moor and gave a memorable, testosterone-charged performance that was shown worldwide in movie theatres last September via National Theatre Live. "I was a better actor later than I was then because I was older." Nicholas Hytner, the National's outgoing artistic director, helped him find new wrinkles in the role. "I discovered things that I hadn't thought of before, thanks to Nick. The character's more or less the same. Jealousy to the point of being hopelessly in love with his wife is a strong feeder to his nature."

Yes, Rory Kinnear's Iago wound up with the Olivier nomination — in much the way Christopher Plummer's Iago Tony-trumped James Earl Jones' Othello — but Lester said the intricate interplay on stage was much more harmonious than what Jones described to him during their recent London revival of Cat on a Hot Tin Roof.