Whether it's Valentine's Day, an anniversary, or just a night out together, the theatre is the perfect place for an intimate moment. Find inspiration in the love stories at the center of each of these Broadway and Off-Broadway musicals.
See the full listing of currently running Broadway shows here.
See the full listing of currently running Off-Broadway shows here.
See if any of these shows are coming to a city near you!
This article has been updated as of February 10, 2020, from a previous version.
BROADWAY
Moulin Rouge!
Al Hirschfeld Theatre
Open-ended run

Come what may, the stage adaptation of Baz Lurhman's Moulin Rouge! will provide all of the romance and sensuality a date night needs. From the sexy pre-show to the heated choreography in numbers like "Shut Up and Raise Your Glass" (a mash-up of "Shut Up and Dance With Me," "Raise Your Glass," and "I Wanna Dance With Somebody") and "Backstage Romance (a jolt of adrenaline in a mash-up of "Bad Romance" and "Toxic") and "Tango Roxanne" (an aphrodisiac in heels), the musical will raise your blood pressure, to be sure. Not to mention the gorgeous love story between poet Christian (Aaron Tveit) and the courtesan Satine (Karen Olivo) that will move you to tears.


Six
Brooks Atkinson Theatre
Open-ended run

Presented like a pop concert, if you and your date are on the prowl for some unbridled fun, SIX is your pick. The synth-heavy score by Toby Marlow and Lucy Moss make this original musical about the six wives of Henry VIII a total party—pleather costumes, strobing lights, and a vibe more akin to a club than a theatre. And, if feminism is the thing that gets you going, SIX truly make for the perfect night out.


Aladdin
New Amsterdam Theatre
Open-ended run

The Broadway musical based on the Disney-animated classic invites you to a whole new world of showstopping surprises. With all of your favorite songs from the original film (from "One Jump" to "Friend Like Me" to, yes, "A Whole New World") and new tunes written by original composer Alan Menken, the show is the perfect blend of nostalgia and the unexpected. Let the love story of Princess Jasmine and Aladdin—and the showstopping glitz and magic of the Genie—sweep you off your feet.
Hadestown
Walter Kerr Theatre
Open-ended run
The new musical from Anaïs Mitchell and Great Comet director Rachel Chavkin weaves two romantic Greek mythologies: the tales of Hades and Persephone, king and queen of the underworld, and Orpheus and Eurydice. The love between Hades and his wife has waned and he desperately tries to hold her as his desire drives him to madness and last resorts. As Orpheus works on the melody that will bring back the spring, Eurydice suffers without warmth or food and is tempted by the security of the underworld. Orpheus embarks on a quest to return his love to Earth in a story that stunningly asks: how much do you trust?

The Lion King
Minskoff Theatre
Open-ended run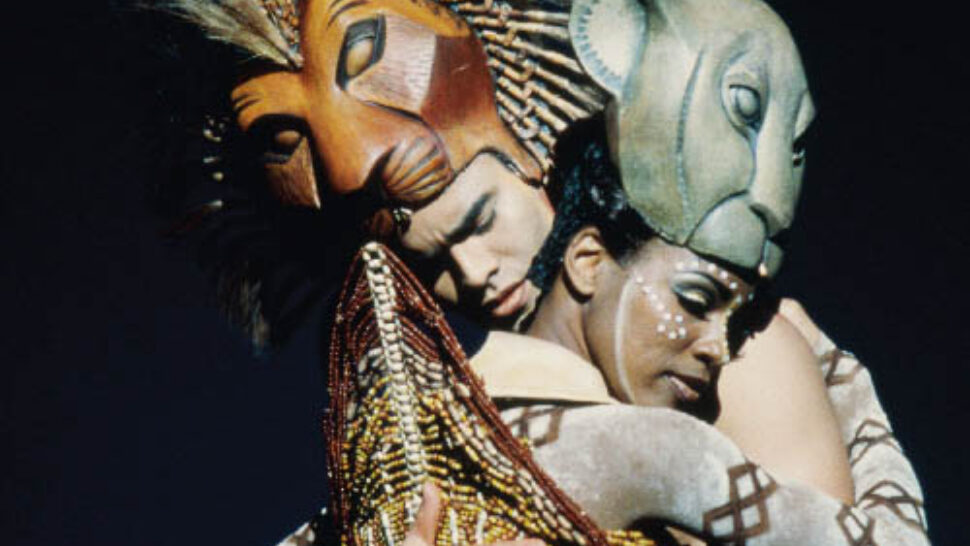 Can you feel the love tonight? Julie Taymor's incomparable mounting of the beloved Disney-animated film has been running on Broadway for over two decades. As with Aladdin, there is a nostalgia factor filling the air, but the love story between Simba and Nala (and the chorus cooing "Can You Feel the Love Tonight?") makes this a fitting choice for date night. Though the tragedy of Mufasa will surely make you weep, the comedy of Timon and Pumbaa will make you laugh, and the Disney magic of it all will make you remember the night forever.
Read: WHAT KEEPS THE LION KING GOING 21 YEARS AND COUNTING


The Phantom of the Opera
Majestic Theatre
Open-ended run

One of the most romantic shows to ever hit the Broadway stage, The Phantom of the Opera is the longest-running Broadway show in history. Young ballerina Christine Daaé ascends to opera star when the Phantom of the Paris Opera House begins to tutor her. But her talent and beauty also capture the attention of her childhood companion Raoul, the Vicomte de Chagny and patron of the opera. With a score by Andrew Lloyd Webber, including songs like "Think Of Me," "Music of the Night," and "All I Ask of You," the production from director Harold Prince still simmers with passion, desire, sensuality, and majesty.
Read: 30 LITTLE KNOWN PHANTOM FACTS AND BACKSTAGE STORIES
Find discount tickets to The Phantom of the Opera here.

OFF-BROADWAY
Rock of Ages
New World Stages
Open-ended run

When a small town girl meets a city boy, it's not just the start of "Don't Stop Believin'"—it's the setup for Off-Broadway's hit Rock of Ages. The two begin to fall in love on the Sunset Strip, but when their beloved bar is threatened, they need to rally and save the music. Filled with '80s hits like "Here I Go Again" and "Hit Me With Your Best Shot," the 10th anniversary production of the Broadway jukebox musical transports you back to a simpler time when awesomeness reigned supreme and love could always find a way.

Darling Grenadine
Black Box Theatre at the Harold and Miriam Steinberg Center for Theatre
Through March 15

This new musical from Roundabout Theatre Company oozes charm and romance. Songwriter Harry falls for witty chorus girl Louise, and suddenly the world is rosy. But can their relationship weather reality when the fantasy begins to fade? Starring Matt Dallal, Jay Armstrong Johnson (The Phantom of the Opera), Adam Kantor (The Band's Visit), Aury Krebs, Mike Nappi, and Emily Walton (Come From Away), don't miss this intimate limited engagement from writer Daniel Zaitchik.

Forbidden Broadway: The Next Generation
The York Theatre Company
Through February 16

If your idea of the perfect date night is a million laughs, look no further than the latest installment of theatrical spoof-tacular Forbidden Broadway. This cabaret-like show is best for those who love theatre and see a lot of it—the better to understand every layer of parody. The Next Generation includes numbers inspired by Oklahoma!, Hadestown, Tootsie, Dear Evan Hansen, Frozen, Moulin Rouge!, and more.

Sleep No More
The McKittrick Hotel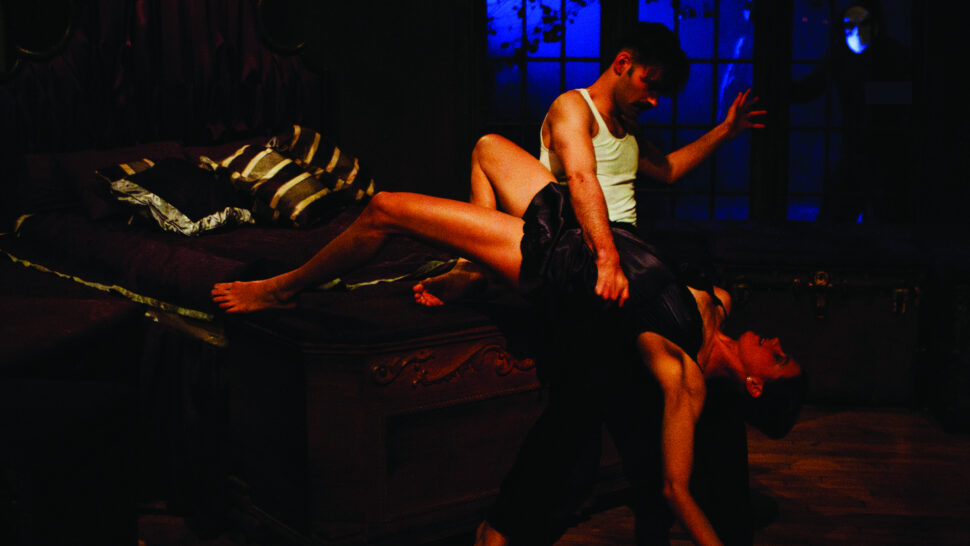 Laughter may be the best medicine for some, but for others, the mysterious feels more tantalizing. Look no further than the immersive Sleep No More. A site-specific, non-linear telling of Shakespeare's Macbeth, the dimly lit corridors and creepy atmosphere will have you and your date clinging to each other. Plus, the on-site bars and restaurants offer options to make your outing complete.
9 Tips for Attending the Award-Winning Sleep No More

Little Shop of Horrors
Westside Theatre
Through May 10

Whoop-da-doo the acclaimed Off-Broadway revival of Little Shop of Horrors has extended yet again! Currently starring Tony nominee Gideon Glick as the geeky horologist Seymour, Tammy Blanchard as his vulnerable love Audrey, and Christian Borle as her abusive dentist boyfriend, Little Shop is fresher than ever. (And Jeremy Jordan takes over the role of Seymour beginning March 17.) From the outstanding doo-wop songs by Howard Ashman and Alan Menken to the fierce choreography by Ellenore Scott, this horror story-meets-romance hasn't lost its edge. Songs like "Somewhere That's Green" and "Suddenly, Seymour" will have you swooning in your seat. Just remember: Don't feed the plant.

Romeo & Bernadette
A.R.T. New York's Mezzanine Theatre
Through February 16

In 1960s Brooklyn, Shakespeare's Romeo awakens to a very different world. He begins chasing a girl he thinks is Juliet, but it's actually Bernadette, the gorgeous daughter of a mob boss in this musical spoof of Romeo & Juliet. Directed and choreographed by Justin Ross Cohen, the musical comedy stars Nikita Burshteyn, Anna Kostakis, Carlos Lopez, Michael Marotta, Judy McLane, Michael Notardonato, Ari Raskin, Troy Valjean Rucker, Zach Schanne, and Viet Vo.