More than ever—and in the age of peak TV—more and more theatre actors cross over into work on television and streaming series.
With upcoming pilots and new seasons already underway, familiar Broadway faces make their way to TV. Check out the list of highlights below to see some of the theatre stars you can watch out for on the small screen.
RECENTLY PREMIERED AND AIRING/STREAMING NOW
The Good Fight
Broadway stars: Christine Baranski, Sarah Steele, Audra McDonald, Bernadette Peters
Baranski leads the cast as Diane Lockhart, a lawyer whose savings and lifelong hard work are completely destroyed after her goddaughter's reputation goes under. A spin-off of hit network series The Good Wife is now in its third season and follows Diane's journey as she tries to rebuild and start fresh at a new lawfirm. Steele, Broadway alum from The Humans, has been with the series from the start. McDonald joined the cast as a series regular in 2018 as Liz Reddick-Lawrence, a fellow attorney, and Broadway legend Peters makes recurring appearances on the series as Lenore Rindell, the wife of Diane's former financial aide, and the mother of her goddaughter, Maia. Tony nominee Brenda Braxton will appear this season. Past guest stars have included Andrea Martin, Corey Cott, Helene Yorke, Kelli O'Hara, Becky Ann Baker, and more. The Good Fight is one of those shows you'll always find Broadway faces.
How to watch: CBS All Access
Premiere Date: March 14, 2019

Sex Education
Broadway star: Gillian Anderson
High-schooler Otis Milburn teams up with his crush Maeve Wiley to set up a secret sex therapy business at school to help other students with their problems in the bedroom. Gillian Anderson plays Otis' mother, Jean, who is a licensed sex therapist and the reason why Otis knows so much about the subject in the first place. Theatrelovers will recognize Anderson as the star of the West End's All About Eve, playing at the Noël Coward Theatre in a limited engagement directed by Ivo van Hove.
How to watch: Netflix
Premiere date: Season 1 is currently streaming and a second season was recently announced.

The Other Two
Broadway star: Heléne Yorke
Yorke, who has starred in Bullets Over Broadway and American Psycho, plays Brooke Dubek, a former professional dancer who is struggling to come to terms with her younger brother's overnight fame. She and her older brother (Drew Tarver) try to cope with the 13-year-old's sudden success, while also trying to find their place in the world.
How to Watch: Thursdays at 10:30PM/9:30c on Comedy Central and catch up OnDemand or at CC.com
Premiere Date: January 24, 201
Fam
Broadway Stars: Brian Stokes Mitchell and Sheryl Lee Ralph
Nina Dobrev's character, Clem, finds her seemingly perfect life turned upside down when her younger sister Shannon (Odessa Adlon) moves in with her and her fiancé in a desperate attempt to escape their frustrating father, who Clem cut out of her life long ago. Tony Award winner Brian Stokes Mitchell (Shuffle Along, Kiss Me, Kate) plays Walt, Clem's soon to be father-in-law. Walt is a former Broadway star and often references his time on the Main Stem—a perk for theatreloving viewers. Tony nominee Sheryl Lee Ralph (Dreamgirls, Thoroughly Modern Millie) plays Walt's wife, Rose, a therapist.
How to Watch: CBS or CBS All Access
Premiere Date: Season 1 premiered January 10, 2019
One Day at a Time
Broadway star: Rita Moreno
The Netflix series follows the everyday life of a modern Cuban-American family, and focuses on the issues all American families face today. It also confronts some controversial topics such as mental health issues, religion, and addiction in each episode. Broadway legend Rita Moreno plays Lydia Margarita del Carmen Inclán Maribona Leyte-Vidal de Riera, mom to Penelope Alvarez and abuela to her two kids, Alex and Elena. (Note: Netflix recently announced the series will end after Season 3, but the Norman Lear reboot is looking for a new potential home.)
How to watch: Netflix
Premiere date: Season 3 premiered January 2019
The Enemy Within
Broadway stars: James Carpinello and Sophia Gennusa
CIA operative Erica Shepherd (played by Jennifer Carpenter of Dexter) complies with a Russian master criminal to save her daughter, played by Gennusa. When she is caught for her crimes, she is sentenced to life in prison for treason. The show picks up three years later, when the same Russian villain poses a new threat and the FBI needs Shepherd's help. Broadway fans will recognize the young star as one of the original Matildas in Matilda The Musical, a performance that earned her a Tony Honor for Excellence. Carpinello, who has been seen on Broadway in Saturday Night Fever, Xanadu, and Rock of Ages, plays recurring character Anthony Cabrera, another CIA official who worked with Shepherd prior to her arrest. Bonus: Coral Peña plays Anna Cruz on Enemy and is about to make her Off-Broadway debut in BLKS at MCC Theatre.
How to Watch: Mondays at 10PM/9c on NBC and catchup OnDemand
Premiere date: February 25, 2019
UPCOMING THIS SPRING
The Village

Broadway stars: Will Chase, Katrina Lenk, Hailey Kilgore
This new drama follows the intertwined stories of residents of a Brooklyn apartment building as they all come together to try and battle individual challenges. Chase, currently leading the Broadway revival of Kiss Me, Kate, will play John, a character introduced in the pilot. Lenk, a Tony winner for The Band's Visit and Kilgore, a Tony nominee for Once On This Island, will be seen later in the premiere season.
How to Watch: Tuesdays at 10PM/9c on NBC
Premiere date: March 19, 2019


Fosse/Verdon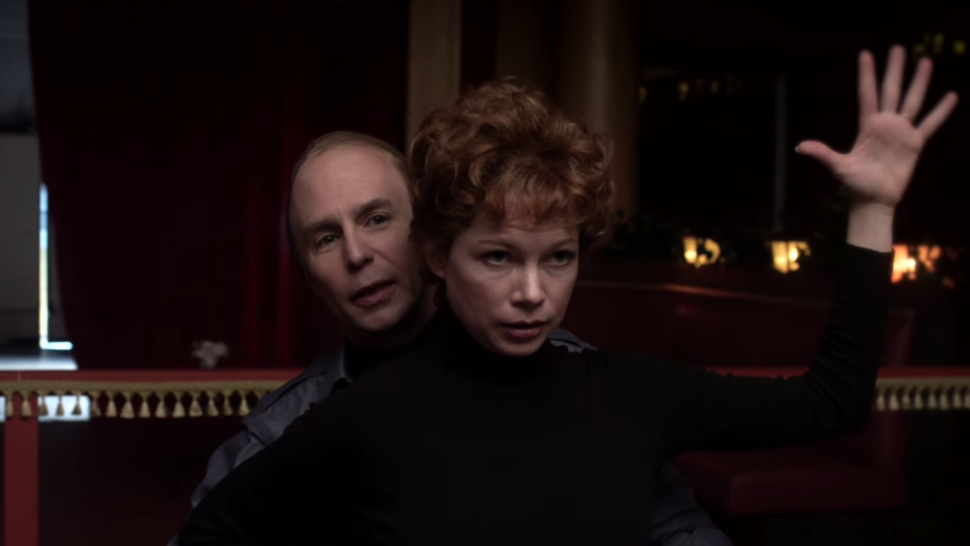 Broadway stars: Michelle Williams, Norbert Leo Butz, Laura Osnes, Brandon Uranowitz, Tyler Hanes, Kelli Barrett, Ethan Slater, Ahmad Simmons, Bianca Marroquin
The highly anticipated FX series chronicles the five-decades-long professional and romantic relationship of famed choreographer and director Bob Fosse and Broadway performer Gwen Verdon. This show is chock-filled with Broadway vets: Michelle Williams, Broadway's recent Sally Bowles, as Gwen Verdon, two-time Tony winner Norbert Leo Butz as Paddy Cheyefsky, two-time Tony nominee Laura Osnes as Shirley MacLaine, two-time Tony nominee Brandon Uranowitz as Dustin Hoffman, Cats alum Tyler Hanes as Jerry Orbach, Wicked alum Kelli Barrett as Liza Minnelli, Tony nominee Ethan Slater as Joel Grey, Hadestown performer Ahmad Simmons as Ben Vereen, and Chicago's Bianca Marroquin as Chita Rivera. Lin-Manuel Miranda and Alex Lacamoire will also executive produce, Dear Evan Hansen scribe Steven Levenson wrote the pilot serves as showrunner, and Andy Blankenbuehler is the show's choreographer.
How to watch: Tuesdays at 10PM/9c on FX
Premiere date: April 9, 2019
Ramy
Broadway star: Caroline Basu
Ramy Youssef plays Ramy, the son of Egyptian immigrants, who navigates through a politically polarized town in New Jersey while struggling to uphold the values of his Muslim community and fit in with his peers. May Calamnawy plays the female lead, Dena, and School of Rock alum Caroline Basu will play her younger self.
How to Watch: Hulu
Premiere date: April 19, 2019

Like Magic and American Princess
Broadway star: Rory O'Malley
Having originated the role of Elder McKinley in The Book of Mormon and having played King George in Hamilton, O'Malley now has two upcoming TV projects. Like Magic tells the story of aspiring magicians trying to make names for themselves in the dog-eat-dog world of magic. O'Malley will play Michael V, one half of a magic duo. In American Princess, a socialite runs away to join a local Renaissance Faire after her wedding doesn't go as planned. O'Malley is set to play the Faire's beloved Shakespeare.
How to watch: Like Magic has been picked up by NBC; American Princess on Lifetime
Premiere dates: Like Magic TBA; American Princess June 2, 2019

LOOKING AHEAD
What/If
Broadway stars: Samantha Ware
Billed as a show about "the ripple effects of what happens when acceptable people start doing unacceptable things," this season will see a newlywed couple accepting a morally questionable offer from an unknown female character. While we don't know much about Ware's character just yet, The Book of Mormon and Hamilton alum (she played Nablungi on Broadway and Peggy/Maria in Hamilton in Chicago) will be sure to bring her A game to the show that also stars Chicago actor Renee Zellweger. She was last seen Off-Broadway in the 2018 rock opera This Ain't No Disco.
How to Watch: Netflix
Premiere date: Upcoming 2019
Snowpiercer
Broadway stars: Daveed Diggs and Lena Hall
Snowpiercer, based on the 2013 sci-fi film of the same name, follows the story of survivors of the second Ice Age as they come together on a luxury train to battle the arctic climate. Things only get more complicated when the lower class train dwellers decide to overrun the train's management. Diggs will play a quiet but intelligent prisoner on the train who takes on a role in the uprising. Hall will play the train's archivist who is tasked with recording all of the events that take place on board. Both Diggs and Hall are Tony winners, Diggs for Hamilton and Hall for Hedwig and the Angry Inch. Diggs currently plays Off-Broadway in the new Suzan-Lori Parks play White Noise.
How to Watch: TNT
Premiere date: Upcoming 2019

His Dark Materials
Broadway stars: Lin-Manuel Miranda and Ruth Wilson
Based on the British novel trilogy of the same name, His Dark Materials follows young Lyra Belacqua and Will Parry as they travel through different universes. Tony-winning writer-composer-lyricist Lin-Manuel Miranda plays Lee Scoresby, who guides Lyra on her journeys to the North. Tony nominee Ruth Wilson, who made her Broadway debut in Constellations and will star in this season's King Lear, is Marisa Coulter.
How to Watch: Set to premiere on BBC, with an HBO release in the U.S.
Premiere date: Upcoming 2019
ALSO ANNOUNCED
Zoey's Extraordinary Playlist with Mary Steenburgen, Alex Newell, and Skylar Astin
Penny Dreadful: City of Angels with Nathan Lane
Filthy Rich with Corey Cott
Avenue 5 with Josh Gad
Heartstrings with Andy Mientus and Kathleen Turner
A Man's World by Theresa Rebeck
Mrs. Fletcher with Jasmine Cephas Jones
The Politician with Ben Platt, Laura Dreyfuss