Whether you're a Hamilfan who's been waiting with bated breath for Daveed Diggs and Rafael Casal's lauded film Blindspotting, or you've been looking for a romantic comedy starring your stage favorites, here are 14 stage stars taking their talents to the big screen from now until Labor Day.
Starring in: A Kid Like Jake
Release date: June 1
What it's about: Parsons and Claire Danes play the parents of a gender-nonconforming child in a story adapted from Daniel Pearle's play.
Theatre you know him from: Parsons currently stars in the 50th anniversary production of Mart Crowley's The Boys in the Band. He made his Broadway debut in The Normal Heart, for which he won a Drama Desk as part of the Outstanding Ensemble. He also starred in Harvey and Act of God on Broadway.
Starring in: Hotel Artemis
Release date: June 8
What it's about: The Hotel Artemis is refuge for criminals looking for no-questions-asked medical treatment. Sterling K. Brown plays one such criminal trying to keep his brother, played by Henry, alive.
Theatre you know him from: Before he starred in Donald Glover's Atlanta, Henry cut his chops on the stage and originated the role of The General in the Tony-winning musical The Book of Mormon. This year, he earned a Tony nomination for his performance as William in Kenneth Lonergan's Lobby Hero.
The film also stars: Zachary Quinto, currently starring in The Boys in the Band. He starred as Tom in the 2013 revival of The Glass Menagerie. He received the Theatre World Award for his performance as Louis in Angels in America Off-Broadway.
Gabriel Byrne
Starring in: Hereditary
Release date: June 8
What it's about: The horror flick from director Ari Aster finds a family grieving in the wake of a death when they're hit by a series of terrors.
Theatre you know him from: Most recently, Byrne earned a Tony nomination in 2017 for his role in Eugene O'Neill's Long Day's Journey Into Night, opposite Jessica Lange. In 2000, he was Tony-nominated for his performance in A Moon for the Misbegotten.
Starring in: Set It Up
Release date: June 15
What it's about: Two assistants decide they would have more time to date each other if their overbearing bosses, played by Diggs and Lucy Liu, were dating each other, too.
Theatre you know him from: A member of the original cast of Rent, Diggs created the role of Benny for the stage and screen versions of the Jonathan Larson musical. Over the years, Diggs has replaced in leading roles in shows such as Wicked (as Fiyero), Chicago (as Billy Flynn), and, most recently, in Hedwig and the Angry Inch (as Hedwig). Now, he's directing a new show: Thoughts of a Colored Man on a Day When the Sun Set Too Early.
Starring in: The Legacy of a Whitetail Deer Hunter
Release date: July 6 (Netflix)
What it's about: Buck Ferguson, TV host and mountain man, plans to use an episode of his hunting show as a father-son bonding trip.
Theatre you know her from: Coon won the 2018 Lucille Lortel Award for her performance in Amy Herzog's Mary Jane, for which she also earned a Drama Desk nomination. She was nominated in 2013 for her Broadway debut as Honey in Who's Afraid of Virginia Woolf?. An ensemble member of Chicago's Steppenwolf Theatre Company, Coon has also been recognized for her achievements on the screen, having earned an Emmy nomination last year for Fargo.
Daveed Diggs
Starring in: Blindspotting
Release date: July 20
What it's about: Written, produced, and starring Diggs and Rafael Casal, Blindspotting is a pulsing, poignant portrait of life in Oakland, exploring identity, race, friendship, and how labels affect the daily struggle. (And yes, there are original raps seamlessly integrated into the storytelling.)
Theatre you know him from: Diggs skyrocketed to fame with his masterful turn as Marquis de Lafayette/Thomas Jefferson in the original company of Hamilton, for which he won a 2016 Tony Award. Diggs and Casal are also a prominent part of the downtown theatre scene, running The #Bars Workshop at the Public Theater, a place "where verse and theatre come together" for actors, poets, performers, playwrights, and songwriters. (Note: Applications are now being accepted for Bars Workshop Session 4.) http://getrafael.com/bars/
The film also stars: Hamilton's Jasmine Cephas Jones.
The cast of Mamma Mia! Here We Go Again
Starring in: Mamma Mia! Here We Go Again
Release date: July 20
What it's about: As Sophie renovates her mom's Grecian hotel, visits from her mom's friends bring her back to Donna's younger days on the island via flashbacks of meeting the three men who were Sophie's possible fathers in the original Mamma Mia!.
Theatre you know them from: Though Meryl Streep hasn't hit the stage in a while (unless you count the 2016 Public Theater gala), many of her co-stars in this movie sequel to Mamma Mia! are stage staples. But even without Tony winner Christine Baranski and The History Boys' Dominic Cooper, this movie is a must-see for musical theatre fans ready for their ABBA fix.
Starring in: The Equalizer 2
Release date: July 20
What it's about: A sequel based on the 1980s action TV show of the same name.
Theatre you know him from: Washington earned his second Tony nomination this year for his portrayal of Hickey in the Broadway revival of Eugene O'Neill's The Iceman Cometh. He was also this year's New Dramatists honoree. In 2014, he earned a Drama Desk nomination for his work in A Raisin in the Sun. Prior to that, he won the 2010 Tony Award for playing Troy Maxxon in August Wilson's Fences, which he brought to the big screen in 2016. Directing and starring in the film version of the play from Wilson's Pittsburgh Cycle, Washington reunited nearly the entire original Broadway cast, including co-star and Tony winner Viola Davis, who then won an Oscar for the same role. Washington has also appeared on Broadway in Julius Caesar and Checkmates.
Timothée Chalamet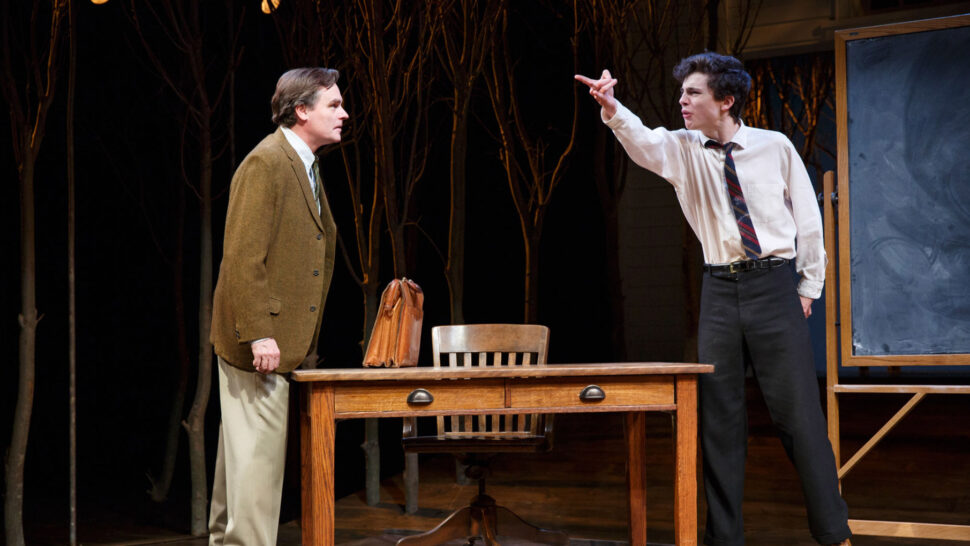 Starring in: Hot Summer Nights
Release date: July 27
What it's about: A coming-of-age story set during a summer on Cape Cod. If it's anything like Chalamet's last coming-of-age, you'll want to tune in.
Theatre you know him from: Chalamet burst onto the scene in John Patrick Shanley's Prodigal Son Off-Broadway, playing a younger version of the playwright. He was named a Clive Barnes Award finalist, earned a nomination for the Drama League Distinguished Performance Award, and won the Lucille Lortel Award.
Starring in: The Wife
Release date: August 3
What it's about: As Joan travels to Stockholm with her husband, who is there to accept his Nobel Prize, she finds herself questioning the trajectory of her life.
Theatre you know her from: Close reprised her Tony-winning role of Norma Desmond in the 2017 revival of Sunset Boulevard on Broadway. She has two additional Tonys to her name for Death and the Maiden and The Real Thing. Prior to Sunset, Close starred in Edward Albee's A Delicate Balance on Broadway in 2014.
Starring in: Juliet, Naked
Release date: August 17
What it's about: Based on the novel by Nick Hornby, Hawke stars alongside Rose Byrne in this summer romcom.
Theatre you know him from: Hawke made his Broadway debut in 1992 in Chekhov's The Seagull and, despite a successful film career, has consistently returned to the stage (Broadway and Off-Broadway). In 2003 he played Henry Percy in Henry IV; in 2006, with The Coast of Utopia, he earned a Tony nomination for Best Featured Actor in a Play. He earned back-to-back Drama Desk nominations in 2009 and 2010 for The Winter's Tale and A Lie of the Mind Off-Broadway, and took on the title of role in Macbeth at Lincoln Center Theatre in 2013. This winter, he takes the stage in the Broadway revival of Sam Shepard's True West opposite Paul Dano.
In Case You Missed It
Tony-winning director Michael Mayer and Tony-winning playwright Stephen Karam's adaptation of The Seagull played theatres earlier this summer starring Annette Bening, Corey Stoll, and Saiorse Ronan.
Speaking of Ronan, who starred in the 2016 revival of The Crucible on Broadway, she starred in the new movie On Chesil Beach which opened in theatres May 18.
For Grey Gardens fans, a documentary about the Grey Gardens duo called That Summer was released May 18.
Tony winner Alex Sharp (The Curious Incident of the Dog in the Night-Time) hit the big screen May 25 in How to Talk to Girls at Parties.