Looking at the Broadway boards, it can look as if all new musicals are based on movies, and that's not without cause—nearly half of all musicals currently performing on Broadway are based on movies. New musicals are often based on source material, be it a film, a book, a play. Original musicals—meaning shows without any source material whatsoever—have always been the exception, not the rule.
But the true original musical is far from unheard of on Broadway. We're taking a look at 15 shows that told completely original stories, with no movies, books, or plays from which to adapt.
[Editor's note: This is not intended to be an exhaustive list of all original musicals, but an introduction.]
1. Anything Goes
Opened on Broadway: November 21, 1934
If there was ever a "Golden Age" for original musicals, it would be the early years of the Broadway musical. The vast majority of new musicals pre-1943 did not have source material, but they also often featured flimsy and formulaic plots that existed only to move things along from song to song. Anything Goes, which opened on Broadway in 1934, is a standout among these types of shows, mostly due to Cole Porter's hit-filled score—the show introduced such tunes as "You're the Top," "I Get a Kick Out of You," and the title song—and its book. The first Broadway production also established Ethel Merman as a bonafide musical theatre legend.
Anything Goes tells the story Billy Crocker (a Wall Street broker), Reno Sweeney (an former evangelist and nightclub singer), and Hope Harcourt (an American debutante) as they get into a variety of humorous and romantic complications aboard the SS American. Just what those complications are depend on the version of the show—Guy Bolton and P.G. Wodehouse's original book has been heavily revised and edited over the years to allow for the inclusion of some additional Porter songs and to update the storytelling to be in line with the standards of today. The most recent revival in 2011 earned Sutton Foster a second Tony Award for her performance as Reno Sweeney.
2. Allegro
Opened on Broadway: October 10, 1947
The vast majority of Rodgers and Hammerstein's musicals had source material, but when looking to follow up their smash hit freshman and sophomore efforts (Oklahoma! and Carousel), the pair chose to tell an original story for their third show together. Allegro tells the story of a small town doctor who is lured away to a big city for the notoriety and riches of a fancier job, only to find that his life becomes less and less about actually helping people the more successful he gets. The story was deeply personal for Oscar Hammerstein, who had experienced similar struggles as he and Richard Rodgers became the toast of Broadway.
Oklahoma! and Carousel choreographer Agnes de Mille was promoted to director-choreographer for Allegro, becoming one of the first women to helm a musical on Broadway when the show opened in 1947. The musical received mixed reviews and never really caught on with audiences, but healthy pre-opening advance sales led to a run of seven months and 315 performances, which was more than respectable in those days. The show has yet to be revived on Broadway, though director John Doyle gave it the actor-musician treatment in a condensed 2014 Off-Broadway revival at Classic Stage Company.
3. Hallelujah, Baby!
Opened on Broadway: April 26, 1967
As the civil rights movement of the 1960s gained steam, composer Jule Styne paired with lyricists Betty Comden and Adolph Green and book writer Arthur Laurents to write Hallelujah, Baby!, which attempts to chronicle the black experience in America during the first half of the 20th century. Leslie Uggams starred as Georgina, a black woman who rises to stardom after making her way through the Great Depression and World War II. While the show was not any particular hit on Broadway in 1967—the production played for seven months and 293 performances—it did manage to make Uggams a star, winning a 1968 Tony Award for her performance. The show was also the Best Musical winner that year.
Perhaps predictably for a musical created by a group of white people writing about the black experience, Hallelujah, Baby! has not fared well in the years since its Broadway premiere. A pair of revised productions played New Jersey's George Street Playhouse and Washington D.C.'s Arena Stage in 2004 and 2005, respectively, but the show has largely remained unproduced since its 1967 premiere.
4. Follies
Opened: April 4, 1971
Stephen Sondheim loves an original story. When he teamed up with James Goldman to write Follies, he had already premiered original musicals Anyone Can Whistle and Company on Broadway, the latter a big hit and Tony Award winner. While Company first started with a collection of unproduced one-act plays written by George Furth, Follies truly started as an idea. Inspiration came from a New York Times piece covering the reunion of a group of former Ziegfeld Follies girls, and a photo in Life Magazine of silent film star Gloria Swanson wearing a gown and boa while standing in the rubble of a movie theatre, which eventually led to this musicalized story in which performers from the fictitious Weismann Follies reunite for one last time before their theatre is torn down. The show centers on two chorus girls, Sally and Phyllis, as they confront their youthful dreams and how they compare with the lives they actually led.
With a legendarily lavish physical production and large cast, Follies ran just over a year and did not make back its initial investment, though it did win seven 1972 Tony Awards. The show has become a favorite among theatre fans, with two Broadway revivals (in 2001 and 2012) and a number of concert productions, including a 1985 concert at Lincoln Center that is credited with reinvigorating the career of Barbara Cook.
5. Grease
Opened: February 14, 1972
After becoming a perennial favorite for high schools and community theatres around the world, Grease may not immediately come to mind as an original musical, but the show is indeed a completely original story. Greaser Danny Zuko meets the prim and proper Sandy Dumbrowski over summer vacation, but when Sandy ends transfers to Danny's school in the fall, the expectations of his friend group threaten to derail the high school romance.
This nostalgia-laced loved letter to the 1950s began in Chicago in 1971, in a form that was a lot more profane than the Grease we know today. Future TV star Marilu Henner was the original Marty in this Chicago production. The following year, Grease moved to New York in a slightly sanitized version that ran for eight years and over 3,000 performances. A wildly successful 1978 film adaptation starring John Travolta and Olivia Newton John made an already-successful show into a sensation, and 30 years later the show remains one of the most produced musicals worldwide. There have been two Broadway revivals (in 1994 and 2007) and, in 2016, Fox got into the live TV musicals game with Grease: Live.
6. A Chorus Line
Opened on Broadway: July 25, 1975
In January 1974, director and choreographer Michael Bennett attended a group session, hosted by Michon Peacock and Tony Stevens, filled with dancers telling their life stories. Bennett's interest was immediately piqued, and decided to turn what would become a series of taped sessions into a musical. Devised over a number of workshops, Bennett—along with book writers James Kirkwood, Jr. and Nicholas Dante, composer Marvin Hamlisch, and lyricist Edward Kleban—turned the stories into A Chorus Line. The musical takes place on a Broadway stage during auditions for a chorus line of dancers. Looking to get to know the auditioners as people, the director begins asking questions about the performers' lives. When all was said and done, the original cast—many of whom had been at the original taped sessions—performed stories that sometimes were their own and sometimes were that of one of their co-stars.
After opening Off-Broadway at the Public Theater in 1975, A Chorus Line became a near-immediate sensation and moved to Broadway within months. The show won nine 1976 Tony Awards including Best Musical, and became the fifth musical to win the Pulitzer Prize for Drama the same year. For many years, A Chorus Line was the longest-running musical in Broadway history, running for more than 6,000 performances. Since closing in February 1990, the show has continued to be produced around the world and was revived on Broadway in 2006.
7. Hedwig and the Angry Inch
Opened Off-Broadway: 1998
Writer and performer John Cameron Mitchell drew heavily from his own life when creating Hedwig and the Angry Inch, an Off-Broadway musical that premiered in 1998. Mitchell drew on some of his own experiences living as a child in West Berlin, specifically his time with a German divorcée and sometimes prostitute who babysat Mitchell. The resulting show features Hedwig, a genderqueer East German singer, playing a rock concert and telling the story of her botched sex change operation and journey from Germany to Kansas between songs (written by Stephen Trask).
Mitchell starred in the title role when Hedwig and the Angry Inch premiered Off-Broadway in February 1998. The show went on to become a downtown hit, running for 857 performances and featuring such names in the title role as Michael Cerveris, Ally Sheedy, and Matt McGrath. A 2001 film adaptation starring Mitchell featured a more narrative-driven story, while the original stage version came to Broadway in a new production starring Neil Patrick Harris in 2014. That Broadway production won four 2014 Tony Awards, including Best Revival of a Musical, Best Featured Actress in a Musical for Lena Hall, and Best Leading Actor in a Musical for Neil Patrick Harris.
8. Avenue Q
Opened on Broadway: July 31, 2003
This puppet-filled musical was heavily inspired by the popular children's program Sesame Street, though Avenue Q cannot claim it as source material. The decidedly more adult plotline of Avenue Q sees recent college graduate Princeton moving to Avenue Q and navigating adult life with varying degrees of success. Robert Lopez, Jeff Marx, and Jeff Whitty's irreverently funny piece features "educational" songs about being closeted, racism, and internet porn, each sung by one of a host of brightly colored Jim Henson-style puppets designed by original cast member Rick Lyons.
Though originally planned as a TV show, Avenue Q ultimately became a stage musical that premiered Off-Broadway at the Vineyard Theatre in 2003. The show transferred to Broadway two months later, and won three 2004 Tony Awards, including Best Musical. After closing on Broadway in June 2009, Avenue Q moved back Off-Broadway, where it continues to run today at New World Stages.
9. Caroline, or Change
Opened on Broadway: May 2, 2004
Another musical inspired by the author's childhood, Caroline, or Change was written by playwright Tony Kushner with composer Jeanine Tesori. Kushner looked to his childhood growing up in a Jewish family in Lake Charles, Louisiana, to create the story of the Gellman family and their black maid Caroline, who is allowed to keep any pocket change she finds while doing laundry. This setup becomes a point of pride and crisis for Caroline, who has difficulty coping with the greater changes in her life amidst the growing civil rights movement.
Following an Off-Broadway run at The Public Theater, Caroline, or Change opened on Broadway in May 2004, running just 136 performances. Despite a brief run, the piece made Anika Noni Rose a Tony winner (playing Caroline's daughter Emmie) and has become a favorite amongst theatre fans. A London revival is scheduled to play the West End beginning November 2018.
10. In the Heights
Opened on Broadway: March 9, 2008
Before there was Hamilton, Lin-Manuel Miranda started on Broadway as the writer and star of In the Heights, a musical love letter to Miranda's hometown neighborhood. Miranda began writing the musical while still at Wesleyan College in 1999. Book writer Quiara Alegría Hudes came onboard in 2004, which led to an Off-Broadway production in 2007. Miranda starred as Usnavi, a bodega owner in Washington Heights who watches the joys and heartbreaks of his tight-night community as they pass by his corner.
A Broadway transfer came in 2008, which won four 2008 Tony Awards including Best Musical. In the Heights went on to run for three years and over 1,000 performances; it put Miranda on the Broadway map and set the stage for his current megahit Hamilton. Since it closed on Broadway, In the Heights has been produced around the world. A film adaptation is scheduled to be released in June 2020.
11. Next to Normal
Opened on Broadway: April 15, 2009
Written by Tom Kitt and Brian Yorkey, Next to Normal centers on a mother suffering from bipolar disorder and the effects the illness has on her family. Originally titled Feelin' Electric, the musical began development in 1998. Following a handful of workshops and a production at the New York Musical Theatre Festival, Next to Normal workshopped at Second Stage and ultimately premiered there Off-Broadway in a full production in January 2008. The show was further re-written and produced at Arena Stage in 2008, after which it made the move to Broadway.
The show was a hit with critics and audiences, winning three 2009 Tony Awards and running for two years. Most notably, Next to Normal won the 2010 Pulitzer Prize for Drama, only the eighth musical to do so in the history of the award.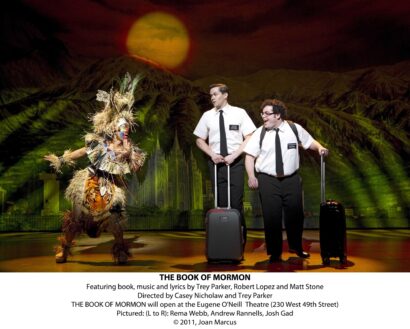 12. The Book of Mormon
Opened on Broadway: March 24, 2011
This musical shares its name with a book—a religious text of The LDS Church—but the story is all original. Elders Price and Cunningham, a pair of mismatched Mormon missionaries, are sent to Uganda to convert citizens to the Mormon religion. When they arrive in the remote village, they find a community grappling with poverty, AIDS, and violence. That may not sound hilarious, but as written by Robert Lopez and South Park's Trey Parker and Matt Stone, it is.
After several secretive workshops, The Book of Mormon opened on Broadway in March 2011 and quickly became a sold-out smash. The show nearly swept the 2009 Tony Awards, winning nine including Best Musical. The show continues to run on Broadway and on London's West End, along with tours in the U.S. and Australia. With a total gross of over $500 million, The Book of Mormon is one of the most successful musicals of all time.