Samantha Barks first turned heads across the globe with her standout vocals in the 2012 Les Misérables movie as Eponine. By then, she had already caught the eye of Andrew Lloyd Webber—thanks to the reality competition I'd Do Anything to cast a new Nancy in the West End production of Oliver!—and went on to play Eponine in the London production of the show and the 25th anniversary concert.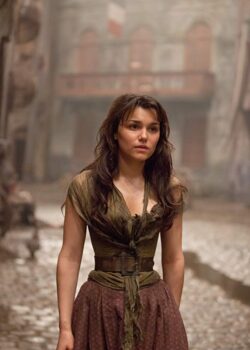 A star in Britain, the Manx actor met U.S. audiences on the West Coast with performances in the Hollywood Bowl's Chicago and the Berkeley Rep tryout of Amélie The Musical; but Broadway audiences now get their chance to fall in love with her as Vivian in Pretty Woman, which officially opens at the Nederlander Theatre August 16.
At just 27, she's had an impressive career, though not without struggle, and she's determined to carve out a future in this business. Part of Barks' success relies on her steady mentality, and the kinds of choices recommended in the book Actor for Life: How to Have an Amazing Career Without All the Drama
by Connie de Veer, an acting professor at Illinois State University, and Jan Elfline, master life coach. The duo have interviewed such stars as Sean Hayes, Judith Ivey, and Julia Murney whose words of advice also appear generously throughout the book.
Here, Barks shares three of the most important pieces of advice that helped her reach the milestone of her Broadway debut:
1. Rebound from Rejection
Number one: Rebound from rejection is so important because if you allow rejection to knock you down, it's such a hard road. Rejection just needs to become a part of something that you deal with and learn from and not be wallowing in self-pity. Also, you know, it's important to maintain a sort of level playing field for yourself because if you believe your own hype and you wallow in the criticisms and rejections, it's so exhausting. Just do your thing and don't ride that wave of emotions. Don't let yourself fall like that. Protect yourself.
2. Protect Your Energy
After all, it's only you that can do that. You've got to look out for yourself. You have to be able to pace yourself, because everyone wants you to do something—everyone wants you to do everything—which is great and you want to do everything to the best of your ability. But also, it's knowing that it's only you who's responsible for giving a good performance night after night, so the thousands and hundreds of things that you get asked to do, do what you can but also protect your own energy. Only you have to make it to the end of the week. So you have to say, "You know what, I actually can't do that," and that's OK. Know that's OK to say.
3. Commit for the Long Haul
"Commit for the long haul" is a really good one because this is a career that you want to do forever, and sometimes you have to make decisions that actually will give you longevity. Right now you might take a job that feels like 1/5 of the money of another job, which—in the now—might seem like a crazy "why would I do that" thing, but actually sometimes those decisions pay off in the long run. Maybe because they're artistically interesting decisions. (It's easier said than done because we've all got to pay our bills.) It's also self-discipline, and goes back to protecting your energy: You have to do the show eight shows a week for a year, potentially.