The fourth annual Elsie Fest rocked Summerstage at Central Park in New York City October 7. Founded by Emmy winner and Broadway performer Darren Criss, Elsie Fest is an outdoor music festival specifically starring singers of stage and screen offering a mix of their favorite musical theatre tunes and pop songs.
This year's fest featured headliners Sutton Foster, Joshua Henry, Alex Newell, and Criss with special guests Rufus Wainwright, Grant Gustin, Matthew Morrison, Casey Cott, Jodi Benson, as well as the casts of the upcoming movie musical Anna and the Apocalypse, the Broadway-bound Be More Chill, and Broadway's new musical comedy The Prom. But there were surprise appearances throughout the night—ones even Criss hadn't planned for. Here are the highlights from the "Coachella of Broadway."
Joshua Henry
The three-time Tony nominee killed during his half-hour set. It's actually too difficult to choose his best performance. Was it the haunting acoustic version of "Memory" he dueted on with Shuffle Along co-star Amber Iman? Was it the original tune he sang as he accompanied himself on the guitar? No, no, it must have been when his booming baritone shook the rafters on "Let It Sing" from Violet. But then he closed his set with the showstopping "A Change Is Gonna Come" and the audience nearly passed out from his strength, emotion, and vocals on the gospel tune.
Sutton Foster
The evening's headliner brought a folk music fest atmosphere to her set—singing demure songs like "Stars and the Moon" and "Up on the Roof." But her finale took the audience back to her start with "Gimme Gimme" from Thoroughly Modern Millie and that signature belt-mix sound reverberated through the park. She's still got it.

Jodi Benson
The Little Mermaid herself stepped onstage to sing "Part of Your World" and it was as if she recorded it yesterday. The actor, who started out in Broadway musicals like Marilyn, Smile, Welcome to the Club, and Crazy for You, will forever be remembered as the woman "ready to stand" and the sound of her unparalleled mix proved why.

Matthew Morrison
Criss and Morrison know each other from Glee, but both are Broadway babies. Morrison wowed the crowd with an eight-minute medley of Hairspray. Aside from pristine vocals—backed by a full brass section—Morrison reminded us that he is one hell of a dancer.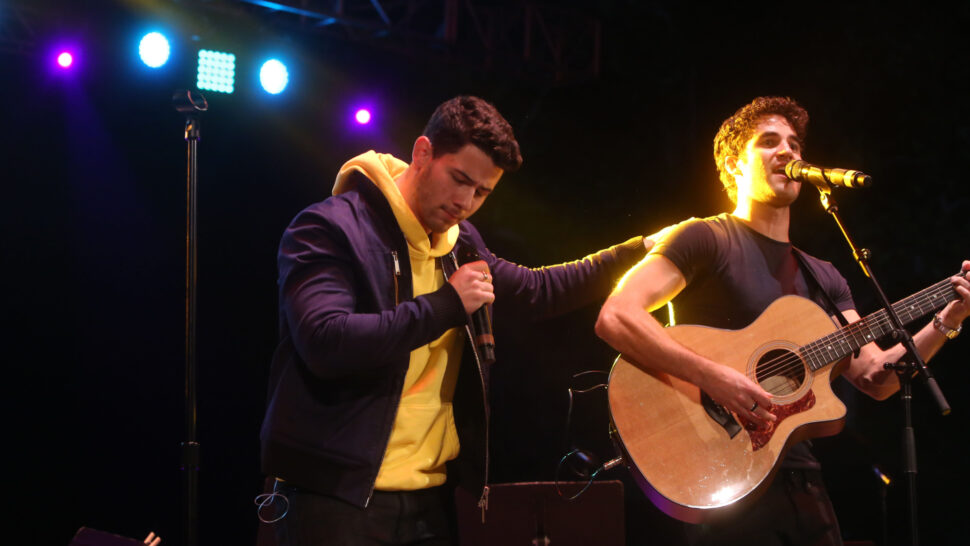 Nick Jonas—surprise!
Jonas wasn't on the billing, but the pop superstar who got his start as a child actor in the original production of Les Misérables, decided to swing by to visit his Broadway pals. Criss could not resist asking him to sing and so the two dueted on a slowed acoustic version of "Brotherhood of Man" from How to Succeed in Business Without Really Trying—the show that starred both actors as J. Pierrepont Finch in its most recent 2011 revival.

Sincerely, Me
This song from Dear Evan Hansen seems built for Elsie Fest. From a musical with an innate pop/rock vibe, the Elsie house band nailed the guitar riffs and injected the song with a blast of energy that makes it seem written for a venue like Summerstage. Criss sang as Evan, Be More Chill star Will Roland reprised his role as Jared, and Grant Gustin sang Connor Murphy—and it rocked.

George Salazar
Salazar aces the notes and the emotion of Be More Chill's "Michael in the Bathroom" every. darn. time. Elsie Fest was no exception.
What you didn't see:
Backstage, it was a boisterous reunion for the stars of stage and screen. Benj Pasek and Justin Paul arrived just in time to giddily rock out to Casey Cott sing a medley of songs from their movie musical The Greatest Showman. Zachary Levi swung by after appearing at New York ComicCon—he was persuaded to take to the stage to sing "Fly Me to the Moon." And actor-director Ben Stiller could be seen chatting to Be More Chill songwriter Joe Iconis.