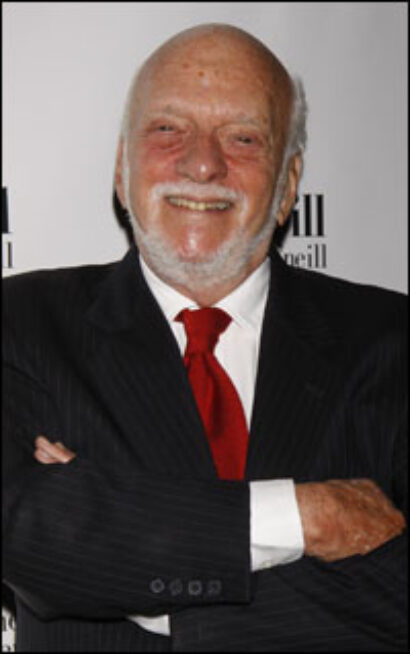 *
It becomes official Jan. 26: The Phantom of the Opera, with its lush score by composer Andrew Lloyd Webber, will have haunted the Majestic a full quarter of a century, and a formal black-tie audience is turning out to see and celebrate the historical performance that marks that spot — much like the black-tie audience that welcomed the Andrew Lloyd Webber musical to town Jan. 26, 1988.
Incredibly, this 25th anniversary of the Broadway show falls on the same week as the 85th birthday (Jan. 30) of the man that producer Cameron Mackintosh hired to helm the epic: Harold S. (for Smith) Prince, a.k.a. "Hal" and, sometimes, Prince Hal — one of the major hit-makers of the 20th century, with a Tony stockpile numbering 21 (so far — and doubtlessly more to come since the director is under the impression he's 60 or something and behaving accordingly, with a number of new musicals-in-the-making on his docket).
Neither he nor his Phantom show signs of winding down as you'll gather from this phone interview conducted Jan. 24, on a bitterly cold winter day in New York. A warm sun was shining in Prince's world, though.
I hope you're not at your office; I hope you didn't have to go out in this weather.
Harold Prince: No, no. I am in Miami. So smart. Ahead of the game, as usual.
HP: But I'm certainly coming in [to New York] later today. Come to think of it, tomorrow it's going to be snowing.
But that's a good omen. It snowed the night Les Misérables opened, and it was a late snow, too — a March snow.
HP: Well, I guess we don't need an omen this weekend.
I know. I don't know whether to say "Happy Anniversary" or "Happy Birthday."
HP: Thank you.
Isn't it remarkable these two events synchronized — your 85th birthday and the 25th anniversary of Phantom, in the same week?
HP: I certainly don't feel as old as the show. First of all, let me tell you about the 85th. I completely ignore it. My wife said, "Do you want to do anything? It'd be lovely if I could get some people for a party." And I said, "No, nothing." She said, "Well, maybe we should have some dinner out somewhere, but I don't feel like you want dinner." I said, "Not really. Why don't we just forget it? Until I feel remotely my age, why don't we just drop it?" So, that's how I feel about it. As far as I'm concerned, it's just the 25th anniversary of Phantom [we're celebrating].
Period.
HP: Now, did I ever dream it would happen? No, of course not. I knew [from staging the London production] we had a hit, but, in the theatre that I was raised in, a long run was 1,000 performances. That was a big, big hit. Then, My Fair Lady ran five years. But [a 25th anniversary] is another world, and I'm happy to have been part of it.



Photo by Joan Marcus
Have you any idea why it has run so long?
HP: Sure. People like it. It's romantic. It's a real escape. They cry from the romance. It gets all the responses from an audience you want. It's a miracle of storytelling.
It's funny, you go to work on a show with all optimism, and sometimes they really work. When people say, "Did you think anything like this would happen?," my wife always says, "No. The first day of rehearsal was just a day like any other day. Hal went off to work with talented people." And that's exactly accurate.
You brought in Sierra Boggess for Hugh Panaro's Phantom for the anniversary weeks.
HP: Yes. Sierra's played Christine a lot — in Las Vegas, in London. She's one of the most talented girls I've ever worked with. She's the meaning of that corny word Star — she really is — she has all of it. She has a great voice, she's a wonderful actress —
She also did the sequel to Phantom, Loves Never Dies, didn't she?
HP: Yeah, and, basically, when the idea that she could play this particular celebration — the weeks before and after — it was just wonderful. I'm so happy she could do it.
Do you recall how Phantom all began?
HP: I do. I was at dinner one night at a place called Caprice, and I was sitting alone. I was in London working, and Andrew [Lloyd Webber] was sitting at another table with his then-wife who would be our original leading lady [Sarah Brightman]. He said, "Come over and have a coffee with us." So I had my coffee with them, and he said, "What would you think about a musical version of Phantom?" It's not likely that I would say, "Oh, hey, I'll do it," but I said, "Oh, hey, I'll do it." I think he and I both responded — as Cameron had — to the idea of a romantic musical.
There have been — interesting enough, given the musical form — very, very few romantic musicals:
South Pacific
in 1949,
She Loves Me
in 1963,
My Fair Lady
in 1956,
The King and I
in 1951,
Show Boat
in 1927 — but, gee, very few. I think
Phantom
's feeding that [need].
I've seen Phantom several times, and it always looks in great shape. You must check it out pretty regularly.
HP: That's the point. Mutually, we all work on it. I go back and rehearse it about four times a year, but I go in to see it all the time. In fact, I'm seeing it tonight. The producers attend to the scenery and costumes and all production values all the time so we never ever let anything get shoddy. It always looks in mint condition. In fact, I think many of the costumes are more elaborate than they were originally.
Phantom on stage and Hannibal Lecter on screen must be the smallest lead roles of all time.
HP: It is a small role, but it's an intense role. He's only on stage about 30 minutes, but he has to play at a high level that's quite exhausting. From the moment you first hear him behind the mirror till the end of the show, he is way up there. He's sort of a little like Sweeney. It's a very, very draining assignment to be that intense.
Then, it's a good thing it's a small role, I guess.
HP: But it doesn't feel like a small role. You have to work towards it. The makeup takes quite a long time before the show. It can be depleting. It's not so much how much time you spend on a stage but what the quality of the time you spent on there is.



Photo by Joseph Marzullo/WENN
There, certainly, is a great musical in your life — and you're actually working on one, right? Prince of Broadway? Who's going to play you? Robert Morse?
HP: He did that — a long time ago [Morse played the Prince-inspired Ted Snow in 1958's
Say, Darling
]. When I saw it, I thought, "My God, have you been tailing me?" He hadn't — but he caught me. It was fun.
Are you a character in Prince of Broadway?
HP: No. I'm a voice, a presence. There are some surprises, and I don't want to give them away. No, I ain't on the stage, I assure you of that.
Considering the career you've had, I'm expecting The Ultimate Broadway Musical. How could it be anything else?
HP: Well, I hope so. It's going to be not quite like anything anybody has ever seen. We'll go into rehearsal next year, with Susan Stroman, Linda Lavin, Sierra Boggess, Richard Kind — 11 people in all, a goodly list of talented people that I've always wanted to work with.
This 25th anniversary performance of Phantom is going to be black-tie. Remember when they had black-tie opening nights?
HP: Yes, I sure do. I remember when people actually wore coats and ties to theatre every night. They don't anymore. It's very different. I wore a black tie to the opening of Phantom.
Your opening-night party was at the Beacon Theatre. Do you recall anything about it?
HP: Not too much. I just remember it was very elaborate and swell, very festive. I met David Merrick coming in, and I was glad to see him. He had had a stroke and could not talk, really, but he was very friendly. We started the same year — 1954 — across the street from each other. I was in the St. James with The Pajama Game, and he was in the Majestic with Fanny. I always had a good time in theatre, even when shows don't turn out as well as I'd like. I've always been happy in the theatre — a Pollyanna — but I don't live much in the past. That's maybe more to the point than anything else. I really like to live in the future.
You're famous for having the first meeting for your next show the morning after you have a show open — a little thing you picked up from your mentor, George Abbott.
HP: Yes, he said it. It was good because, if you have bad reviews, you have to go to the office and work on something else, and, if you have good reviews, you regret that you have to get up that early in the morning but you're happy.
Well, I hope you continue that tradition and have many more mornings planning your next show.
HP: I'm working on more than one.
I know. The one you did in London . . .
HP: Paradise Found's sitting there as a script because we did it in the wrong venue. We did it in a small theatre. I was talked into that. It needs to be big, and that's difficult these days in the theatre because of costs so I'm waiting for maybe an opera company or an operetta company or something like that to come forth. I've just sort of put it out of my mind for the moment because it requires so much and it really is terrific material.
How far along are these shows you're planning?
HP: They're in the early stages, and obviously I'm not going to talk about them. I'm just really trying to say what I really mean, which is: Your eye's on the prize, your eye's on the future. It's nice to know that a lot of wonderful things have happened to your life and that so much of it has been successful. That's great, but the work is really what makes it fun — and that has to be the future.
Well, that fun you convey in spades. I can't think of anybody else who is more deserving of having the all-time capper of Broadway hits.
HP: Harry, that's a lovely thing to say, and I much appreciate it.
Thank you. And happy anniversary!
(Harry Haun is a longtime Playbill magazine staff writer whose work regularly appears on Playbill.com, for which he pens the popular Playbill On Opening Night column.)