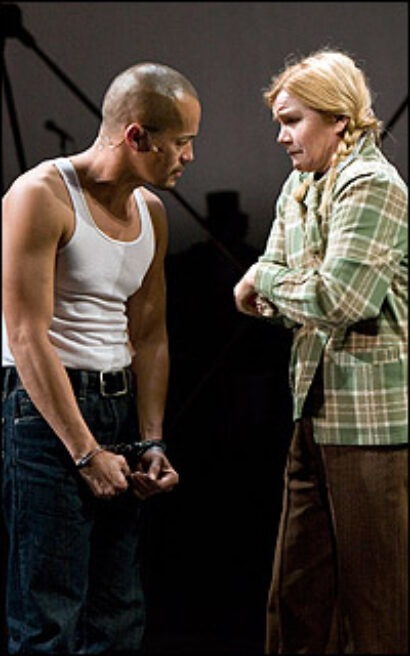 *
"It's set in and around an isolated lighthouse in Maine during World War II," Duncan Sheik says. "There's a young boy named Christopher whose father was shot down over the Pacific by the Japanese. His distraught mother has been taken to a sanitarium, and he has been sent to live with his Aunt Lily, who is not so great with children, to use a bit of [an] understatement."
Also at the lighthouse is a Japanese servant named Yasujiro. "Christopher," Sheik says, "is incredibly mistrustful of Yasujiro because his father was killed by the Japanese, and he begins to suspect that the servant may be a spy. In the middle of it all, it appears that the lighthouse may be haunted by ghosts — all of whom were members of a band playing on a ship that went down in 1912."
Sheik, the Tony– and Grammy Award–winning composer of Spring Awakening, is talking about his new musical, Whisper House, premiering this month at the Old Globe Theatre in San Diego. Sheik has written both music and lyrics; book and lyrics are by Kyle Jarrow, an Obie winner Off-Broadway for A Very Merry Unauthorized Children's Scientology Pageant. The director is Peter Askin, whose credits include Trumbo and Hedwig and the Angry Inch.
It all started, Sheik says, when a friend, the actor Keith Powell (Twofer on "30 Rock") got him and Jarrow together with the idea of creating a theatre work that would involve ghosts and lighthouses. Jarrow wrote a draft, and there was a workshop with no music. Six months later, in early 2008, "Keith, Kyle and I went down to South Carolina," says Sheik, "and basically came up with a draft of a complete show, with a set of songs." Sheik recorded the songs, which became his new album, marking his return to writing both music and lyrics after several years of working with Steven Sater, the lyricist and librettist of Spring Awakening.
"It was a lot of fun to become a lyricist again," Sheik says. "What was also fun was that it's the ghosts that sing, so I was writing not as Duncan Sheik but from the perspective of these ghosts, who are whimsily malevolent characters."
The ghosts "operate in some ways as Christopher's inner thoughts and fears," he says. They are dressed in costume from the turn of the 19th century, as an illusionist in a top hat, a Hessian soldier, a reveler at a Venetian carnival and a geisha. "They are in part a Greek chorus commenting on the pathos of these human beings in the lighthouse, and they speak the characters' unspoken fears and heartaches."



photo by Craig Schwartz
The actors playing the humans "never sing. They speak the text. The ghosts sing and never really speak. In a way the show is really a play, with the songs integrated into the piece. There are two alternate realities that co-exist." Sheik is trying, he says, "to be progressive in terms of musical theatre. I've been seeing a lot of musicals and learning and understanding more and more about the form than I knew when I was writing
Spring Awakening
. I feel I have a much better sense of how to do this; I have a confidence about it. I'm taking the traditional rules of the form and trying to bend them a little to make them more my voice."
Because the ghosts' ship sank in 1912, the Titanic comes to mind. Is there a connection?
"Not really," Sheik says, and laughs. "I guarantee that Celine Dion will not be singing this material."